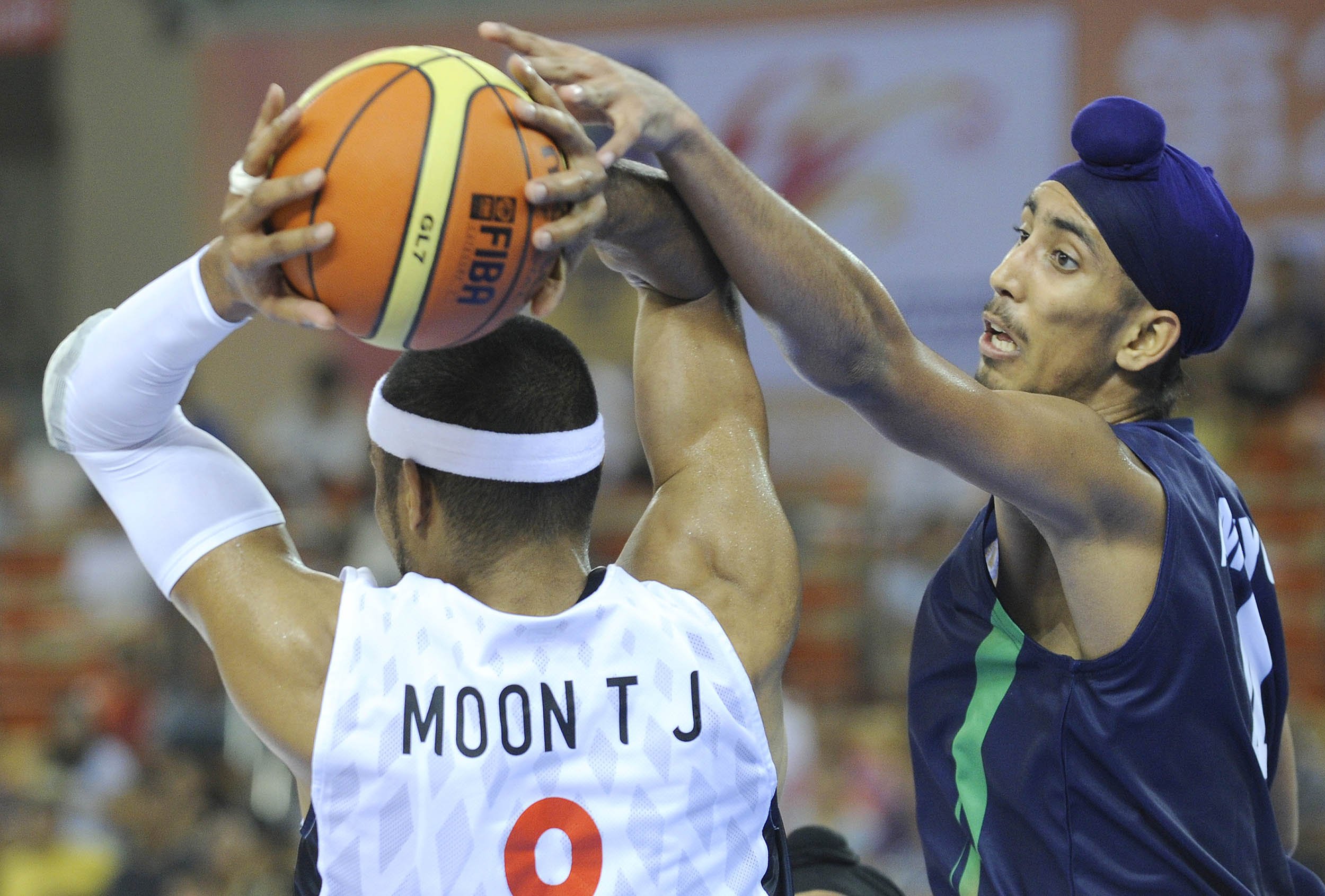 The most recent headgear controversy in athletics concerns a sport that may surprise you: basketball.
Last Saturday night at the FIBA Asia Cup, India had to start its game against Japan minus two of its top players, 6-foot-11 Amrit Pal Singh and 6-foot-8 Amjyot Singh. Minutes before the contest began in Wuhan, the largest city (population 10 million) in central China, referees had informed the two turban-clad men, who are both followers of the Sikh religion, that they were in violation of Article 4.4.2 of FIBA's official rules, which states, "Players shall not wear equipment (objects) that may cause injury to other players."
And so while Amrit Pal and Amjyot scrambled to doff their turbans and band their flowing manes—many Sikhs do not cut their hair—the game began without them. The pair checked in about two minutes later, but the distraction and discomfort led to a 23-point defeat to the Japanese—although it must be noted that Amrit Pal scored a game-high 15 points
"We have always played in turbans, even in last year's FIBA Asia Championship in Manila," Amrit Pal, 23, told writer Karan Madhok, whose blog, Hoopistani, is the definitive word on Indian basketball. "But playing in the Japan game without it felt very awkward. I wear a turban in practice, too, and it was strange to not have it on during the game."
Amrit Pal, the son of a Punjabi farmer who was introduced to the sport only four years ago, has been tying turban for just a few years. Amjyot, 22, who bears an eerie resemblance to Kobe Bryant, has worn a turban his entire life. "I find it much more comfortable playing with the turban, of course," Amjyot told Hoopistani. "That is part of my habit."
The issue of religious headgear and FIBA restrictions has come up before (though, not, as far as anyone knows, with nuns' habits). In a FIBA Asia Under-18 three-on-three tournament last year, the team from Maldives forfeited when its members were prohibited from wearing hijabs. On the eve of the Asia Cup, Scott Flemming, the American head coach of the Indian national team, had secured permission for his Sikh players to wear their turbans—or so he thought.
"I spent a long time advocating for our players the day before the Japan game and finally thought we got the OK for [them] to wear their turbans," Flemming told Madhok. "I was then told right before the game there was a misunderstanding on what we agreed to. We had no choice. I would never make our players do anything they were uncomfortable with according to their religious practices. It was up to them."
The idea that turbans or, for devout Muslims, hijabs may cause harm during a game to other players seems far-fetched. Elbows, which cannot be removed, are far more potentially lethal. Then again, Amrit Pal and Amjyot seemed to adjust to FIBA's suppression of their religious custom with alacrity. The following night, India played host nation and prohibitive favorite China, which it had never defeated in its 78 years as a national team, and won 65-58.
India's leading scorers in the historic upset? Amrit Pal Singh and Amjyot Singh, sans turbans, paced the team with a game-high 13 points apiece.
Uncommon Knowledge
Newsweek is committed to challenging conventional wisdom and finding connections in the search for common ground.
Newsweek is committed to challenging conventional wisdom and finding connections in the search for common ground.
About the writer
John Walters is a writer and author, primarily of sports. He worked at Sports Illustrated for 15 years, and also at NBC Sports where he won two Sports Emmys for his on-air writing at the Athens and Beijing Olympics. He has also worked at AOL Fanhouse and The Daily, as well as waited at a popular Manhattan steakhouse. Walters is the author of The Same River Twice: A Season With Geno Auriemma and the Connecticut Huskies. He is the founder of mediumhappy.com, a pop culture blog that he updates daily. He holds a B.A. from the University of Notre Dame, where he studied pre-med and rowed crew.