Turducken Pringles Sell Out, Other Flavor Thanksgiving Chips Released by Kellogg's
Thanksgiving is just around the corner and it won't be long until turkey dinners with all the trimmings will be awaiting hungry families. But what if all the flavors of the nation's favorite dinner could be loaded into a chip?
No, you haven't stumbled into Willy Wonka's Chocolate Factory; this is what Pringles has done with its Turducken Kit. It includes turkey-, duck- and chicken-flavored Pringles chips that can be stacked to create a "three bird feast." The Friendsgiving Feast Turducken Kit also includes cranberry sauce-, stuffing- and pumpkin pie-flavored chips packed in a special tray to create one epic Friendsgiving feast.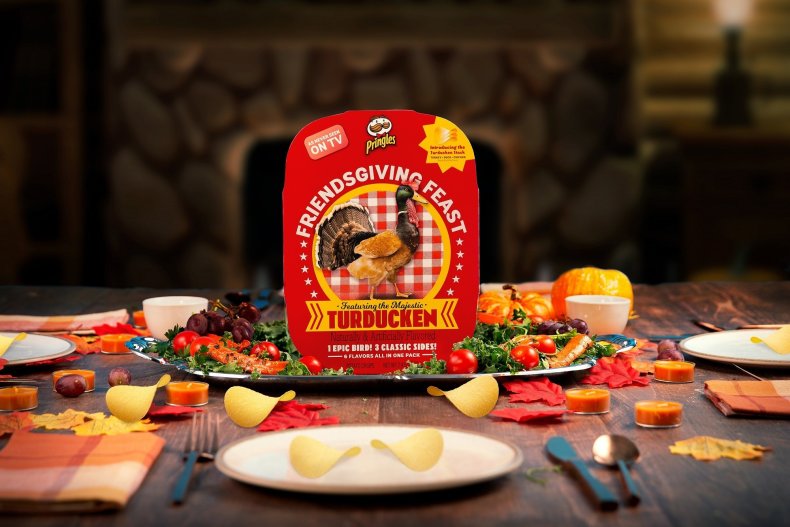 "We pride ourselves on offering consumers insanely accurate flavors with endless stacking possibilities," said Gareth Maguire, senior director of marketing for Pringles. "For our third year, we created the perfect kit for those who are infatuated with the Thanksgiving meat masterpiece that is the almighty Turducken, as well as anyone looking to enjoy a new take on a Friendsgiving feast."
Already sold out on the website, Pringles lovers can get 20 percent off their next order as a reward for being a loyal fan. The company posted on its Instagram that its website had gone done due to customers' "hunger for the Friendsgiving Feast."
Unfortunately, there were a lot of unhappy Pringles fans who had got to the checkout, only for the website to crash, resulting in them missing out on the offer. One social media user wrote: "This was dumb. Finally got it in my cart and then it crashed. Refreshed repeatedly and got to check out screen and it crashed. Refreshed repeatedly and got to shipping info and it crashed. Two hours in and I still got nothing. I give up. Thanks for that epic waste of time Pringles."
Another commented: "What a shame. Had them in my cart on 4 separate tries and each time I tried to pay it wouldn't go through to the next page and crashed again. Very disappointed."
Luckily, Pringles is launching its Turkey Feast crisps in shops for a limited time. Commenting on its Instagram account, the company wrote: "Just like Thanksgiving, our Friendsgiving Feast was over too soon. We are now sold out. If you missed it, fear not! We have Pringles Roasted Turkey hitting shelves now - but only for a limited time."
While the Friendsgiving Feast is currently out of stock, Pringles lovers can buy brand apparel via the Kellogg's online store.