Turin: How a False Alarm Led to Mass Injuries During a Champions League Match Viewing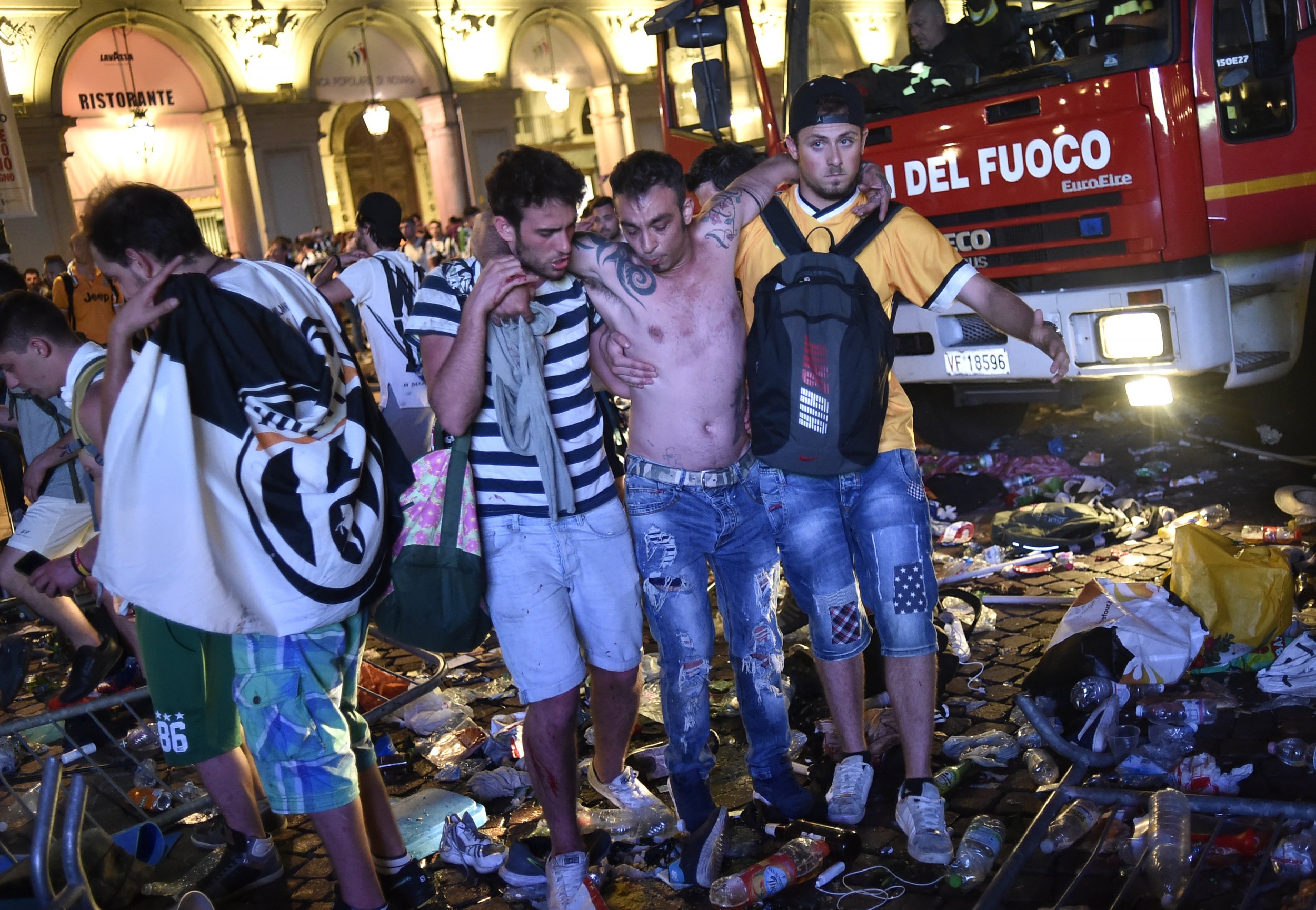 The Italian city of Turin is looking at what could have been done to prevent a stampede in which more than 1,500 people, including children, were injured during a public viewing of the Champions League final.
Police have appealed for witnesses to come forward as authorities investigate the events of Saturday night, in which Juventus fans fled a public square after apparently mistaking the sound of a firecracker for gunshots or an explosion.
Addressing municipal councillors on Monday, Chiara Appendino, the mayor of Turin, said that security measures taken that Saturday had been tried and tested during public events in 2015. She said the reasons behind the incident were still unknown and did not lay blame on any of the parties involved.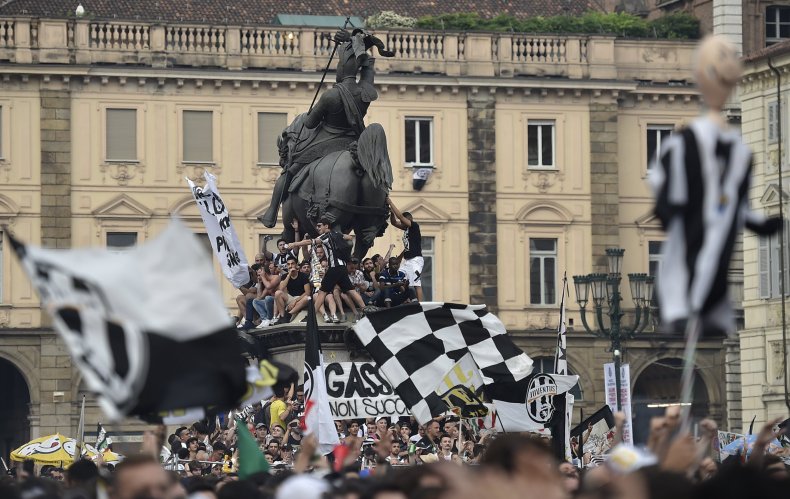 Several councillors questioned the mayor, with a few calling for her resignation or an apology. They said there needs to be a different approach to security at public events, as mass gatherings worldwide have been repeatedly targeted by such attacks, one of which unfolded in London just after the false alarm in Turin.
About 30,000 people had congregated to watch the final match between Real Madrid and Turin's Juventus FC. Juventus fans were hoping their team would win the Champions League, European football's most prestigious title. The match started at 8:45 p.m., but Piazza San Carlo, where a giant screen had been mounted for the public to watch the game, started filling at midday. When Matteo, a young doctor and a Juventus fan, arrived with his friends at around 5 p.m., the square was just about filled to capacity.
Matteo told Newsweek that police officers patrolled the access points on the narrower sides of the square but did not check every single backpack that entered the space. A lot of alcohol was being consumed, with illegal vendors selling bottles of beer out of small trolleys. "There was a crazy amount of glass bottles," Matteo says, "especially around the arcades, which is exactly where people then ran off to."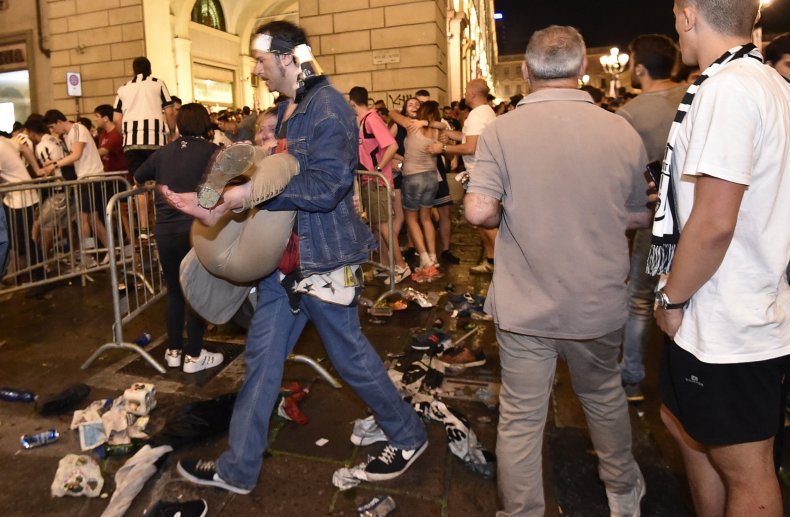 Matteo and his friends, all trained as doctors, looked at the thousands of people in the square, thinking how difficult it would be to help someone in the middle of the crowd. "There were no emergency corridors," he says. "I don't think there were any police forces inside the square. Lots of people were climbing on the statue [a monument in the middle of the square] and on the lampposts, and despite repeated announcements to climb down, the police did nothing to enforce that."
Despite the overcrowding, the match had been proceeding with relatively few problems. "The only annoying things were the smoke bombs that kept on being lit [by some of the Juventus supporters]," Matteo says, recalling that some people began leaving the square because the smoke was irritating their eyes and throat.
Juventus was on its way to losing the match (it would end 4-1 for Real Madrid) when panic began to spread among the crowd. Investigations are ongoing, but police said a small firecracker might have gone off. A camera from AFP captured the stampede as people pushed into each other from one side of the square to the other in order to flee the area.
"No one heard the bang," Matteo says. "The noise we heard was that of the crowd running and screaming, and so obviously we thought there had been an attack." Matteo was one of many who were thrown to the ground in the melee, landing on his back and being crushed by the stampede. The glass shards from the beer bottles cut his back, arms and legs as he tried to drag himself away from the crowd.
Piazza San Carlo is a large rectangular square that is home to some of Turin's most luxurious cafés and shops. It is known by locals as the "fine drawing room" of the elegant Baroque city center.
Underneath the pedestrian square, a car park could be accessed via a ramp protected by a metal fence. That fence fell under the pressure of the crowd, causing people to fall down the stairs underneath and producing a loud bang, which sparked further panic.
Matteo, who managed to get back on his feet despite the pain, started looking after those who needed medical treatment, as did other volunteers from emergency services and the doctors and nurses who were in the crowd.
"The first people we needed to help were those who had fallen down the car park stairs and those who had been trampled on, who had to be laid on the ground on spine boards. Some had to be intubated as they had difficulties breathing; some had panic attacks. Then there were those who got cuts, particularly on the soles of their feet as they lost their shoes and stepped on the glass shards," Matteo says. "Some of those were pretty bad cuts."
A police statement said 1,527 people needed medical treatment. According to Matteo, not everyone sought it, even though the cuts from the glass bottles would have justified a visit to the emergency room, if only to get a tetanus shot.
"The effective number of those injured is a lot higher than that reported," Matteo says. "I alone attended to 30 people injured, and there were a total 70-80 people who were providing medical support."
Half an hour after the first stampede came a second one, this time heading in the direction where emergency services had set down the people who had fainted or were badly injured. "I can't say how or why that happened," Matteo says. "I was crouching to check if people were breathing, and I saw a crowd coming in our direction. I thought, 'God, they're going to kill us,' but luckily we managed somehow to move them away beforehand.
"That's the only moment when I got really scared, besides from when I was being trampled on."
Among those seriously injured in the stampede was a 7-year-old boy named Kevin. According to local media reports, he had been put in an induced coma, and doctors were going to wake him Monday if his condition improved. Two other women, a 26-year-old and 64-year-old who reported thoracic trauma, remain in induced comas as doctors wait for their condition to stabilize.
The Juventus managerial team visited Kevin in the hospital, but there has been no official statement from the football team on its official page. Center-back Leonardo Bonucci shared a message on social media: "I feel close to the families of those injured in Turin," he wrote on Saturday on Twitter. "Let's hope everything will end with just a big scare."