Turkey, a NATO member, has allegedly used munitions containing white phosphorus against civilians in northern Syria.
Multiple sources have reported that the munitions are believed to have been dropped in the border town of Ras al-Ayn, after images and video surfaced of civilians, including children, suffering gruesome burns associated with the chemical.
Anthony Loyd, a journalist for The Times of London, was present at a Syrian-Kurdish hospital in Tal Tamir where a 13-year-old boy was brought in with associated injuries.
"The burns on the screaming child brought into the Syrian-Kurdish hospital at Tal Tamir were enough to reduce even hardened medical staff to silence yesterday," he wrote.
"Yet the terrible wounds that had all but flayed the 13-year-old Mohammed Hamid Mohammed's skin from his torso, penetrating deep into his flesh, suggested his injuries were caused by something far worse than blast alone.
"They added to the growing body of evidence that suggests Turkey, a NATO member, is using white phosphorus against Kurdish civilians in its eight-day offensive into northern Syria."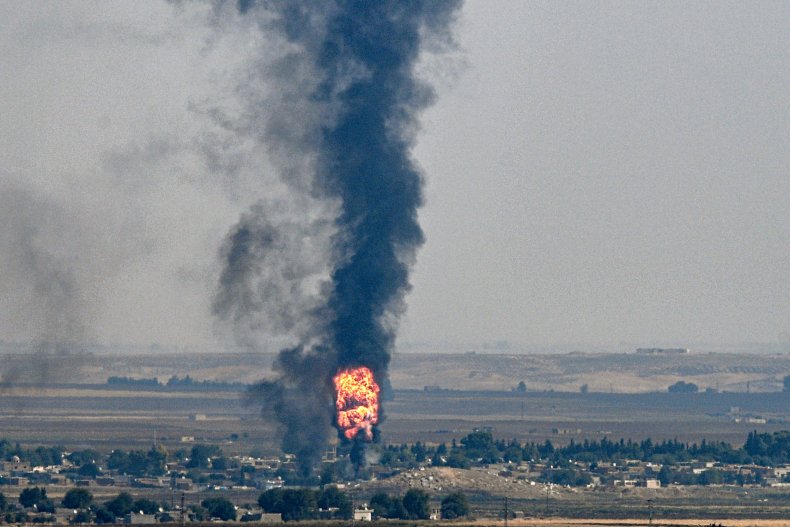 Loyd shared the images with Hamish de Bretton-Gordon, a British chemical weapons expert, who confirmed in his estimations that white phosphorus was used.
"This very much looks like it was caused by white phosphorus," Bretton-Gordon said.
"In 24 hours I have been shown more photographs of these kinds of burn than at any recent stage in Syria's war. White phosphorus is a horrific weapon, which can be delivered by aircraft or artillery. It reacts to the moisture in the skin in a way that intensifies its burning, so that water cannot put it out."
The alleged use of the chemical was also documented by Mustafa Bali, head of media relations for the Syrian Democratic Forces (SDF)—the Kurdish-led group currently trying to keep the Turkish invasion into northern Syria at bay.
"After eight days of fierce resistance by our fighters against heavy ground and aerial attacks of Turkey in Serekaniye, we suspect that unconventional weapons are used against SDF fighters upon the reports and signs we receive from the besieged town," Bali said on Twitter.
"We urge international organizations to send their teams to investigate some wounds sustained in attacks. The medical facilities in NE Syria lack expert teams following withdrawal of NGOs due to Turkish invasion attacks."
A corresponding video shows several children with severe burns around the body and face.
The deployment of incendiary weapons against civilian targets is banned by the Geneva and Chemical Weapons conventions. However, white phosphorous is used in a great variety of munitions and devices for a number of purposes. It is not universally illegal, although many countries have disavowed its use in civilian areas. Moreover, not all such devices can be considered chemical weapons. The U.S. uses white phosphorous in devices like smoke grenades, tracer rounds and artillery shells.
It is not yet clear exactly what kind of munitions impacted Ras al-Ayn and how they were deployed.
A spokesperson for the U.N.'s Organisation for the Prohibition of Chemical Weapons (OPCW) told Newsweek: "The OPCW is aware of the situation in northern Syria and is collecting information at OPCW Headquarters with regard to the alleged use of chemical weapons.
"So far, the OPCW has not yet determined the credibility of these allegations."
The allegations come as a press release on the OPCW website released on Thursday stated that Turkey donated €30,000 to the body in order to support construction of a new facility.
"The OPCW plays a significant role in the field of disarmament and international security and it is the central actor in the chemical non-proliferation regime," Turkey's ambassador to the OPCW Şaban Dişli said in the accompanying statement.
"This contribution is another display of the strong commitment of Turkey to the Chemical Weapons Convention and to the OPCW."
The allegations surfaced shortly after an announcement from Vice President Mike Pence on Thursday that a ceasefire deal was reportedly agreed between Turkey and Kurdish-led forces.
Both sides have pushed back against the remarks, however, and evidence of clashes have continued to mount on Friday.
Turkey has denied any use of chemical weapons in a statement released on Thursday. It claimed that terrorists were staging the attacks.
"We receive information that terrorist organizations, after using chemical weapons on themselves, will throw the blame onto our armed forces and try to create perception," Minister of National Defense Hulusi Akar said.
"It is a fact known by everyone that there are no chemical weapons in the Turkish Armed Forces' inventory."
Newsweek has contacted the Department of Defense, the White House and NATO for comment.
This story has been updated to include a statement from the OPCW, and to clarify the terminology around white phosphorous and chemical weapons.