Turkey Attacks U.S.-Backed Fighters in Syria, Forcing American Troops to Move
The Pentagon has confirmed that U.S. troops have been repositioned in northern Syria after Turkey chose to conduct an operation of its own against Kurdish fighters backed by Washington.
In a statement published Tuesday, Pentagon spokesperson Jonathan Hoffman dispelled reports that President Donald Trump did not inform top officials such as Defense Secretary Mark Esper and Joint Chiefs of Staff chairman Army General Mark A. Milley of his stated decision Sunday to move U.S. troops following a call with Turkish President Recep Tayyip Erdogan, who has threatened to attack Kurdish groups backed by Washington but considered terrorist groups by Ankara.
"Despite continued misreporting to the contrary, Secretary Esper and Chairman Milley were consulted over the last several days by the President regarding the situation and efforts to protect U.S. forces in northern Syria in the face of military action by Turkey," the statement read.
"The Department's position has been and remains that establishing a safe zone in northern Syria is the best path forward to maintaining stability," it added. "Unfortunately, Turkey has chosen to act unilaterally. As a result we have moved the U.S. forces in northern Syria out of the path of potential Turkish incursion to ensure their safety. We have made no changes to our force presence in Syria at this time."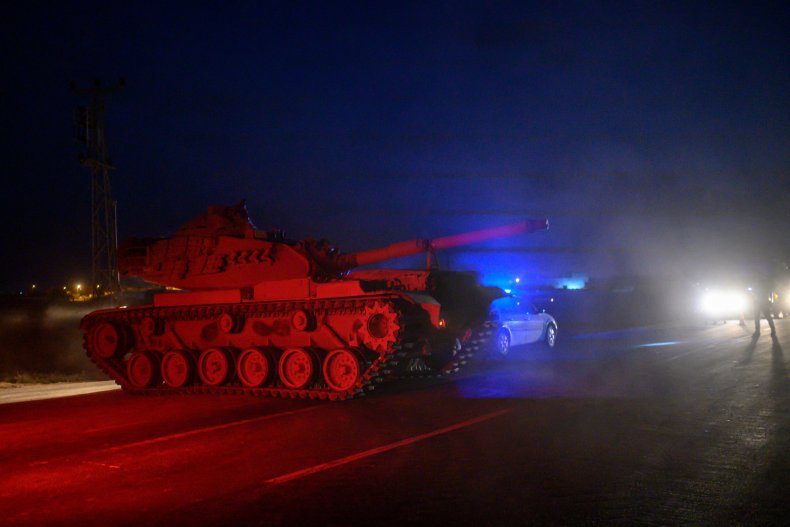 Shortly before the statement was released, the Coordination and Military Operations Center of the majority-Kurdish, U.S.-backed Syrian Democratic Forces reported an attack on one of its positions in Ras al-Ain, along the Syrian-Turkish border. U.S. troops were pictured with armored vehicles near the city, known in Kurdish as Sere Kaniye and located in the northeastern province of Hasakah, just days before.
"The Turkish military is shelling one of our points on #SereKaniye Border with Turkey. There were no injuries to our forces. We didn't respond to this unprovoked attack. We are prepared to defend the people and the people of NE #Syria," the center's account tweeted.
The U.K.-based, pro-opposition Syrian Observatory for Human Rights also reported on Tuesday's shelling at Ras al-Ain, along with an artillery attack on the town of Marimeen and the vicinity of the Menegh Military Airport in Syrian Democratic Forces-held territory in northern Aleppo province. The monitor refuted Syrian state-run media reports that earlier claimed of a Turkish airstrike against a Kurdish position in northeastern Syria near the Iraqi border, contending that the attack itself actually took place on the Iraqi side of the boundary.
The Syrian Democratic Forces have criticized the White House decision to step aside, which could lead to Turkey and allied Syrian rebel groups expanding across northern Syria without any so-called "safe zone" agreement."
Trump on Monday threatened to wreak havoc on the Turkish economy if it did anything he considered "to be off limits" in northern Syria. But the following day he praised his "very good" relationship with the "NATO and Trading partner" and denied that he had "Abandoned the Kurds, who are special people and wonderful fighters."
The Pentagon officially partnered with the Syrian Democratic Forces in 2015, shifting away from an increasingly Islamist insurgency focused more on attempting to overthrow Syrian President Bashar al-Assad than battling the Islamic State militant group (ISIS). As the Syrian opposition lost ground to the government, backed by Russia and Iran, Turkey remained the embattled faction's last major foreign supporter.
The Syrian Democratic Forces have remained largely neutral in Syria's civil war, but have alternatively fought with and against Syrian government forces disavowed by the U.S. and Turkey. In recent years, relations with Syrian rebel groups have significantly deteriorated and clashes between Pentagon-backed Kurds and formerly-CIA-backed insurgents supported by Turkey have broken out.
Syrian President Bashar al-Assad has called on Syrian Kurds to reconcile with Damascus, abandon their push for self-rule and join pro-government efforts to repel any Turkish incursion. Russia and Iran have also expressed concern over Turkey's respect for Syria's territorial integrity, with the latter outright expressing opposition toward any Turkish military moves in northern Syria.
Despite backing the opposition, Ankara has worked alongside Moscow and Tehran as part of a trilateral peace process largely dismissed by Washington. All four countries recently endorsed a recent U.N.-backed push to create a new Syrian constitution. However, it was unclear if Turkey's potential operation would affect this, as the Syrian Democratic Forces were not included in those talks.
This article has been updated with additional reports by the Syrian Observatory for Human Rights.