What Happened to Jamal Khashoggi? Saudi Journalist 'Dismembered' in Consulate, Turkish Officials Say
Turkish officials investigating the disappearance of a prominent Saudi Arabian journalist who was critical of his kingdom's ruling monarchy reportedly believe he was killed and dismembered in Riyadh's consulate in Istanbul.
Turkish President Recep Tayyip Erdogan told reporters Monday that Saudi Arabia would have to produce evidence that Jamal Khashoggi left the consulate after he was apparently last seen entering the building Tuesday. The Washington Post, to which Khashoggi contributed throughout this career, Reuters and BBC News have all cited Turkish officials as saying they believed Khashoggi was killed inside the consulate, a view shared by Erdogan's adviser Yasin Aktay.
Saudi Arabia has vehemently denied any involvement in Khashoggi's vanishing, but an unnamed U.S. official told The Post on Monday that Turkish investigators were so far under the impression that he was not only murdered in the consulate but subsequently cut into pieces and flown out of the country in boxes.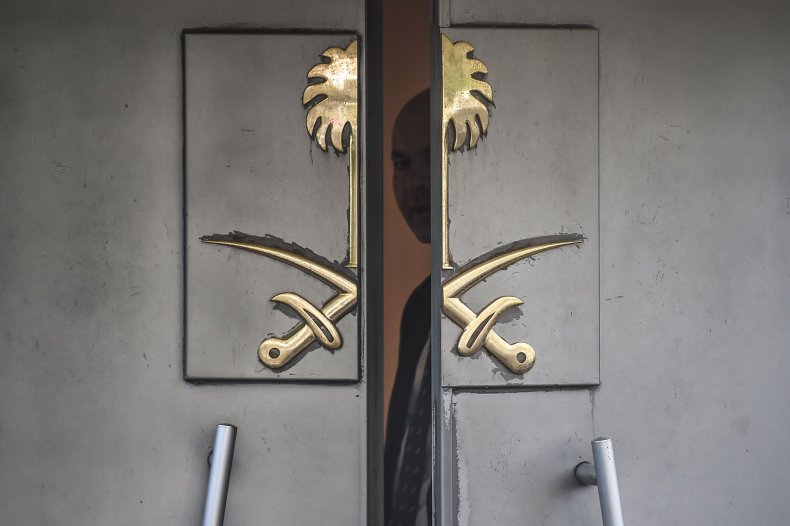 Days earlier, U.K.-based news site Middle East Eye quoted a senior Turkish police source as saying Khashoggi was "brutally tortured, killed and cut into pieces" and that the entire ordeal was videotaped as proof.
Khashoggi was once a leading media figure within Saudi Arabia before reportedly fleeing last year after facing backlash due to his criticisms of the Saudi-led war in Yemen. He was engaged to a Turkish woman and was believed to have entered the Saudi consulate in Istanbul in order to finalize his divorce to his Saudi wife in his home country.
Saudi Crown Prince Mohammed bin Salman, who has led purges of senior Saudi officials and prominent figures within the kingdom, denied allegations surrounding his country's involvement in what may have happened to Khashoggi and offered to allow Turkey to search the consulate.
"The premises are sovereign territory, but we will allow them to enter and search and do whatever they want to do," Prince Mohammed said in an interview with Bloomberg News on Wednesday. "We have nothing to hide."
On Monday, Turkey's state-run NTV channel reported that Turkish authorities officially requested to search the consulate in response to the royal's offer.
President Donald Trump, who has portrayed Saudi Arabia as a close ally of the U.S. due to their common enmity for Iran and has recently entered into a dispute with Turkey over its detainment of a U.S. Christian pastor charged with working with banned groups, weighed in for the first time on Monday.
"I am concerned about it. I don't like hearing about it," Trump told reporters, according to Reuters. "Hopefully that will sort itself out. Right now nobody knows anything about it."