Turkey Bombards ISIS in Syria, Killing 55 Militants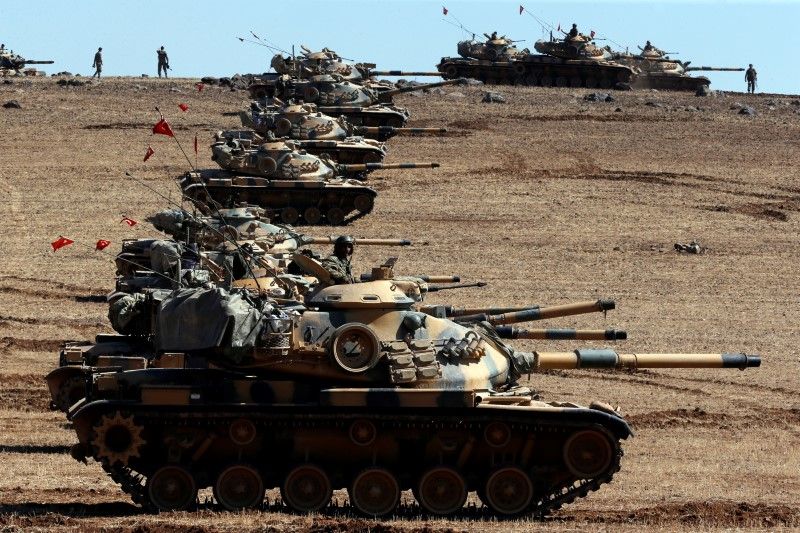 Turkish shelling killed 55 Islamic State militant group (ISIS) insurgents in northern Syria on Saturday, military sources said, in retaliation for weeks of rocket attacks on a Turkish border town.
Artillery fire hit the regions of Suran and Tal El Hisn north of Aleppo, as well as Baragidah and Kusakcik, taking out three rocket installations and three vehicles in addition to killing the militants, the sources said on Sunday.
The Turkish border town of Kilis, which lies just across the frontier from ISIS-controlled territory in Syria, has been regularly struck by rockets in recent weeks, killing about 20 people and wounding 70 more, according to state-run Anadolu Agency.
The Turkish military usually responds with artillery barrages into northern Syria, but officials have said it is difficult to hit mobile ISIS targets with howitzers. Turkish officials have said they need more help from Western allies in defending Kilis and the border.
"None of those who claim to fight against Daesh in Syria have neither inflicted as many losses on it as we have, nor have they paid as big a price as we have," President Tayyip Erdogan said in a speech, using an Arabic acronym for ISIS.
"They left us alone in our struggle against this group that hurts us with suicide bombings and attacks on Kilis."
Kilis is about 37 miles north of Aleppo—Syria's embattled, biggest city and a big prize in the more than five-year-old civil war—and is sheltering about 110,000 Syrian refugees.
Turkish officials have said ISIS fighters often drive up to the Turkish border on motorcycles and then launch rockets at Kilis before fleeing.
On Saturday, U.S.-led coalition air strikes in Syria killed 48 Islamic State militants, according to an Andalou report.