Turkey Keeps Capturing Former ISIS Leader's Family, But They Have Complicated History in Syria
Turkey has announced the capture of at least four family members of former Islamic State militant group (ISIS) leader Abu Bakr al-Baghdadi in as many days this week, claiming a resounding victory against a group it's been accused of empowering in the first place.
Turkish President Recep Tayyip Erdogan first announced Wednesday that his security forces "have captured his wife, sister and brother-in-law" of Baghdadi. The following day, the Turkish president revealed during another speech that a "DNA test has confirmed" that another captured individual was a child of the dead militant leader.
Erdogan revealed little about when or how these operations occurred, but Reuters first reported Monday that Baghdadi's older sister, Rasmiya Awad, was caught in the northern Syrian town of Azaz in Aleppo province, citing a senior Turkish official. The news was confirmed that same day by communications director Fahrettin Altun, who called it "yet another example of the success of our counter-terrorism operations" on Twitter.
"Much dark propaganda against Turkey has been circulating to raise doubts about our resolve against Daesh. We have been leading in the fight against terrorism in all its forms," he added, using the Arabic-language acronym for ISIS. "Our strong counter-terrorism cooperation with like-minded partners can never be questioned."
The Associated Press cited another Turkish official Thursday as saying that Baghdadi's wife was identified as Asma Fawzi Muhammad al-Qubaysi and that his daughter identified herself as Leila Jabeer. Both were said to have been detained in southern Turkey nearly a year and a half ago on June 2, 2018.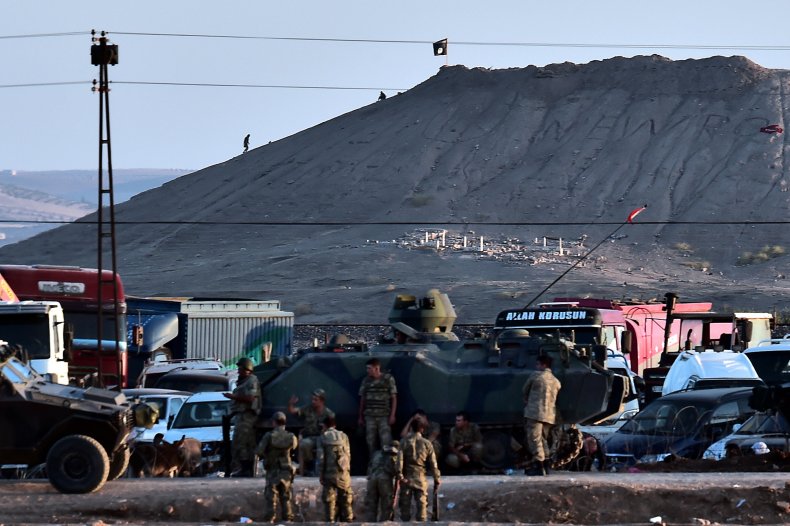 One senior State Department official said Thursday that President Donald Trump's administration was "tracking the Turkish reports" regarding the capture of Baghdadi's sister, declining whether or not the news had been confirmed by the U.S. side.
"If true, it's another victory in our efforts to take ISIS fighters, leaders, and enablers off the battlefield and ensure that they're held accountable for the crimes they've committed," the official said.
Reports of this capture and others announced by Turkey came the second week after Baghdadi himself was killed late last month in a U.S. Joint Special Operations Command Delta Team raid on a compound in the village of Barisha in Syria's northwestern Idlib province. The operation, which was first reported by Newsweek, took place just several miles from the border with Turkey, which did not receive prior information on the U.S. plans.
Baghdadi died after fleeing into a tunnel and detonating a suicide vest, killing him along with two of his children. Two of his wives also killed during the raid.
Another one of Baghdadi's relatives, brother-in-law Mohammed Ali Sajid, was reportedly detained last year in Iraq and offered information that assisted in the targeting of the ISIS founder, including insights into his methods of communication. Baghdadi himself was notoriously elusive, having made only one public appearance since rising up the ranks of Al-Qaeda in Iraq and transforming it into what became known as ISIS, expanding into neighboring Syria.
As hard-line Sunni Muslim insurgents took advantage of a 2003 U.S. invasion targeting Iraqi President Saddam Hussein, they also capitalized on a 2011 uprising against Syrian President Bashar al-Assad. In the latter conflict, the U.S. and Turkey initially covertly teamed up to support the opposition, but later diverged in 2015 as ISIS made sweeping gains and Russia entered the fight, joining Iran in backing Assad.
That same year, the U.S. teamed up with a mostly Kurdish force known as the Syrian Democratic Forces, whose primary component was the People's Protection Units (YPG), a militia that Turkey links to the banned Kurdistan Workers' Party (PKK). The PKK has for decades waged a deadly insurgency against Turkey, including out of outposts in Iraq and Syria.
With the Syrian government and Syrian Democratic Forces waging their own rival campaigns against ISIS, Turkey continued to back an increasingly Islamist rebellion, even as it was confined to Idlib due to Syrian military and allied advances. The insurgent bastion's dominant faction, Hayat Tahrir al-Sham⁠—led by Baghdadi associate-turned-rival Abu Mohammed al-Julani⁠—has espoused a violent ultraconservative ideology, but set a deeply hostile environment for ISIS.
Still, Baghdadi was found in Idlib, under the nose of adversarial militants and Turkish troops manning observation posts. NATO allies Turkey and the U.S. both view ISIS and the PKK as terrorist organizations, but have long accused one another of helping one group to spite the other.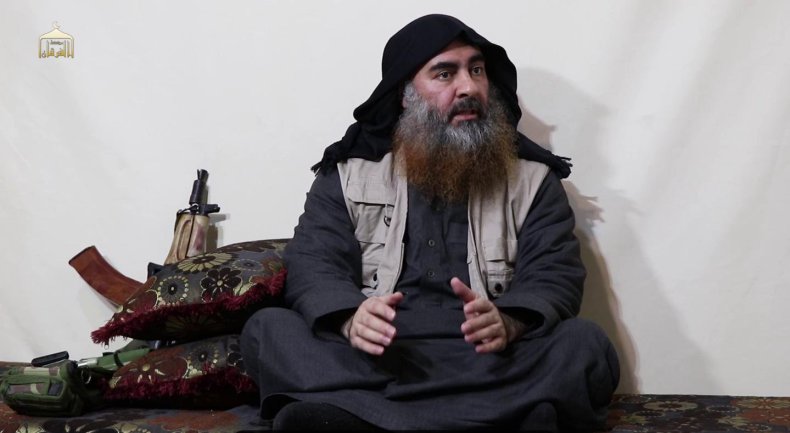 Last month, as a Turkish-led, anti-YPG operation involving allied Syrian insurgents accompanied a U.S. exit from northern Syria, a senior State Department official described the YPG as "the Syrian offshoot of the PKK." Turkey, which has been the victim of deadly attacks launched by both PKK and ISIS over the years, has denied any collaboration with the latter, but experts have said it likely fostered a friendly environment for the group to thrive across the border, through which countless prospective militants passed.
"Turkey played a significant role in allowing ISIS to rise by keeping the border open and allowing foreign ISIS fighters, thousands of them, to flock into Syria," Elizabeth Tsurkov, the Foreign Policy Research Institute, told Newsweek. "Currently, by attacking the SDF, it's decreasing their ability to combat ISIS."
The Syrian Democratic Forces have repeatedly gone so far as to allege direct ties between Ankara and ISIS, with media adviser Bahtiyar Amut sharing two videos Tuesday on Twitter that sought to prove "a partnership in terrorism between Turkey and ISIS and Turkey's recent attempts to revive terrorism through its campaign in northern Syria."
Back in Turkey, however, this narrative has been roundly rejected. Altun, who confirmed media reports of the capture of Baghdadi's sister Monday, also commented on the news of his wife being detained, tweeting: "Anyone who doubts our determination about going after all terror groups should take another look at Turkish government's record in pursuing terrorists, be it Daesh, PKK or YPG among others."
This article has been updated to include comments by a senior State Department official.