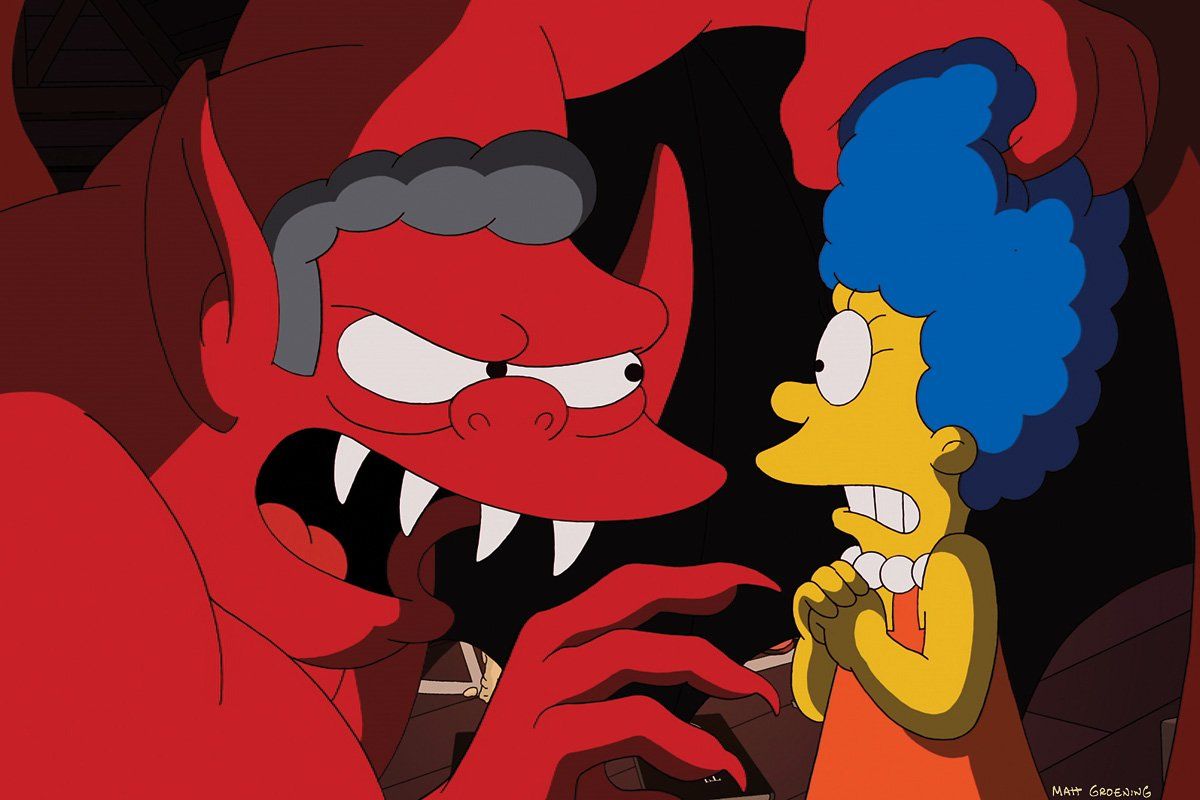 Pop culture icons have always had their ups and downs in Turkey, from Paul Auster to James Bond, and now Homer Simpson is the latest target of an increasingly conservative political climate. Airing an episode of The Simpsons, in which God is shown as taking orders from the devil, resulted in a fine of more than $30,000 for the private Turkish broadcaster CNBC-e.
In the episode titled "Treehouse of Horror XXII," the Simpson family's pious neighbor Ned Flanders becomes a serial killer after hearing God tell him to murder people, whereas, in fact, it was Homer Simpson tricking him with a Bible-shaped radio receiver. The episode also shows "God" serving coffee to Satan, and Satan having sex with Flanders's deceased wife Maude.
The storyline and the tone of the humor is not surprising for those who are familiar with the long-running series. The Simpsons is well known in Turkey; CNBC-e has been running it continuously for the past 10 years. But one variable is that Turkey's pro-Islamist Justice and Development Party (the AKP) government has recently grown more intolerant when it comes to matters of fiction. Its sensitivities translate into fines levied by RTÜK, an official council with a majority from the ruling party that oversees television and radio.
CNBC-e has had more than its share of battles with RTÜK. The network, whose daytime programming is devoted to economics, becomes an entertainment channel at night that airs foreign films and popular series in their original languages with subtitles. In order to avoid heavy fines, it often translates the word "gay" as "marginal" or at times skips episodes with gay content in them. An episode of The New Adventures of Old Christine in which two female characters perform a mock marriage was snubbed to avoid conflict with RTÜK. The network does all it can to avoid RTÜK's wrath, whose topics of sensitivity include not just homosexuality or religion but also smoking. The channel conceals cigarettes with a flower image during shows such as Mad Men.
Yet it is still regularly fined. Most recently, it was for a scene in Oliver Stone's film Alexander, which the council considered to depict "violence against women." "Treehouse of Horror" is also not the first time The Simpsons has been the subject of fines from RTÜK. When Lisa Simpson was exposed to secondhand smoke in an episode, CNBC-­e had to pay the price. An episode of Aliens in America, which was in fact promoting anti-smoking, was misinterpreted by the RTÜK and cost the network another fine in the amount of approximately $30,000. The council also issued several warnings for various South Park episodes.
Although the network is used to these fines, the timing could not be worse for Ferit Şahenk, a media mogul who owns CNBC-e along with two other channels. Most recently, Prime Minister Recep Tayyip Erdoğan, who's known to be a habitual TV viewer, condemned a popular TV series titled The Magnificent Century, a Tudors rip-off depicting the Ottoman era, for not respecting the memory of the country's ancestors. It airs every Wednesday at prime time on Star TV, another Şahenk media enterprise, and is somewhat of a national phenomenon, topping the ratings charts. Part of its popularity is due to moderate love scenes between the sultan and his ladies. During his rant about the TV show, Erdoğan mentioned that his administration "has informed the judiciary and they'll do what is necessary about the subject matter."
Many newspaper commentators expected that Şahenk would shelve The Magnificent Century despite its popularity. But he has remained silent so far, even if the businessman is careful about keeping his relations with the government in order. Last year, he fired several TV anchors from his media conglomerate's news network because they were critical of government policies. His company, Doğuş Holding, has a construction branch that is often involved in government contracts and large civil projects.
So far, contrary to expectations, neither the judiciary nor the RTÜK have taken any steps against The Magnificent Century—its most recent episode was once again the most viewed program—yet the controversy still triggered an AKP parliamentarian to file a motion in the General Assembly to ban "fictional content that misrepresents historic characters."