Turkey Condemns NATO Allies for Arming Kurdish 'Terrorists' in Syria: 'This Is Your Hypocrisy'
Turkish Foreign Minister Mevlut Cavusoglu has condemned some of his NATO allies for their opposition to Ankara's invasion of northeastern Syria, branding their criticism hypocritical and accusing them of arming terrorist organizations.
Cavusoglu delivered his attack after a meeting with NATO Secretary-General Jens Stoltenberg in Istanbul on Friday. He rejected European opposition to the Turkish operation, which critics have claimed is a prelude to demographic re-engineering of Kurdish Syria.
Turkish forces began Operation Peace Spring on Wednesday, seeking to clear the Syrian Democratic Forces—led by the Kurdish People's Protection Units, or YPG— from a buffer zone of some 20 miles beyond the Turkish-Syrian border.
The Turkish government considers the YPG an extension of the Kurdistan People's Party, a designated terrorist group which has been waging a guerrilla war in Turkey since the 1980s.
However, the YPG-led SDF became the most effective Western ally in the fight against militant group Islamic State (ISIS), largely clearing the group from Syria and taking thousands of casualties in the process. Until Sunday, U.S. troops were deployed in the Turkish-Syrian border region to guard the SDF against foreign incursion.
Stoltenberg called on Turkey to "act with restraint" in Syria, though acknowledged that the country had "legitimate security concerns" along its southern border. Both the European Union and the U.S. have previously noted Ankara's concerns, also describing them as "legitimate."
Cavusoglu suggested that if Turkey's concerns can be considered legitimate, then so can its armed action against Kurdish forces in northeastern Syria. "We don't have the responsibility to explain this, but we already did," he told reporters.
France, Germany, the U.K. and the European Union have all condemned the Turkish action. EU Commission President Jean-Claude Juncker said the bloc would refuse to fund any Turkish "safe zone" established in Syria, and urged Ankara to exercise restraint, Deutsche Welle reported.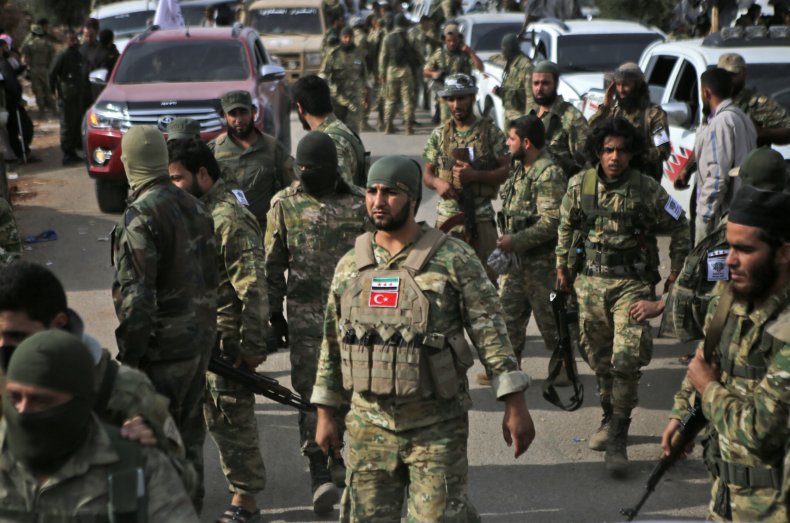 German Foreign Minister Heiko Maas said his country condemned the invasion "in the strongest possible terms" and that Turkey was risking "further destabilization of the region while risking a resurgence of [ISIS]." Both the French and British foreign ministers also expressed serious concerns about the operation.
Cavusoglu dismissed their objections on Friday. "You say this is legitimate but at the same time you are against the operation," he said. "This is not my problem, this is your problem…You gave arms to these terrorist organizations, this is your hypocrisy."
Before his meeting with Stoltenberg, Cavusoglu told Hurriyet that invading Turkish troops are facing U.S.-supplied weapons. He said the Kurdish forces were armed with "sophisticated and heavy" American weaponry, citing reports from Turkey's military and intelligence.
"And the majority of them have been supplied by the U.S. even three days ago," he claimed. "Trucks full of weapons were supplied by the U.S. to this terrorist organization. There should be a serious reason to back this terrorist organization instead of NATO ally."
The graphic below, provided by Statista, illustrates which factions are controlling territory in Syria.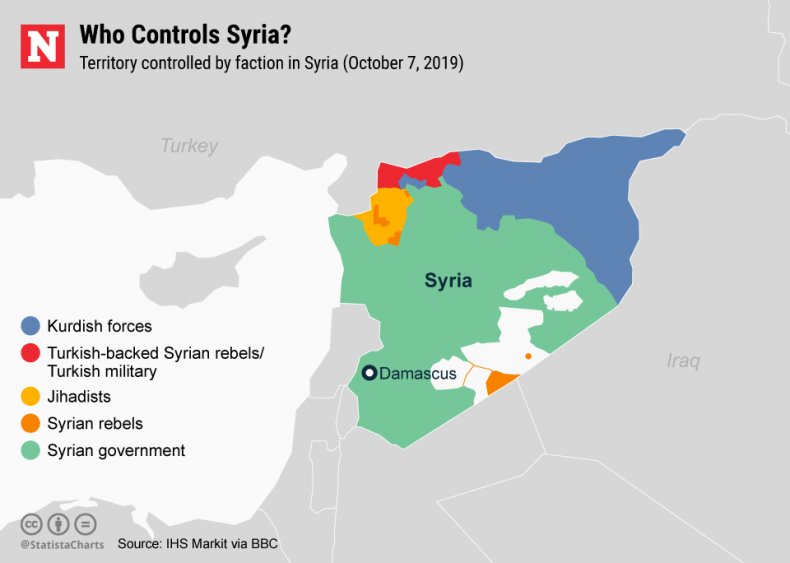 This article was updated to include an infographic.