Turkey Makes a Dubious Host For Talks on Gender Equality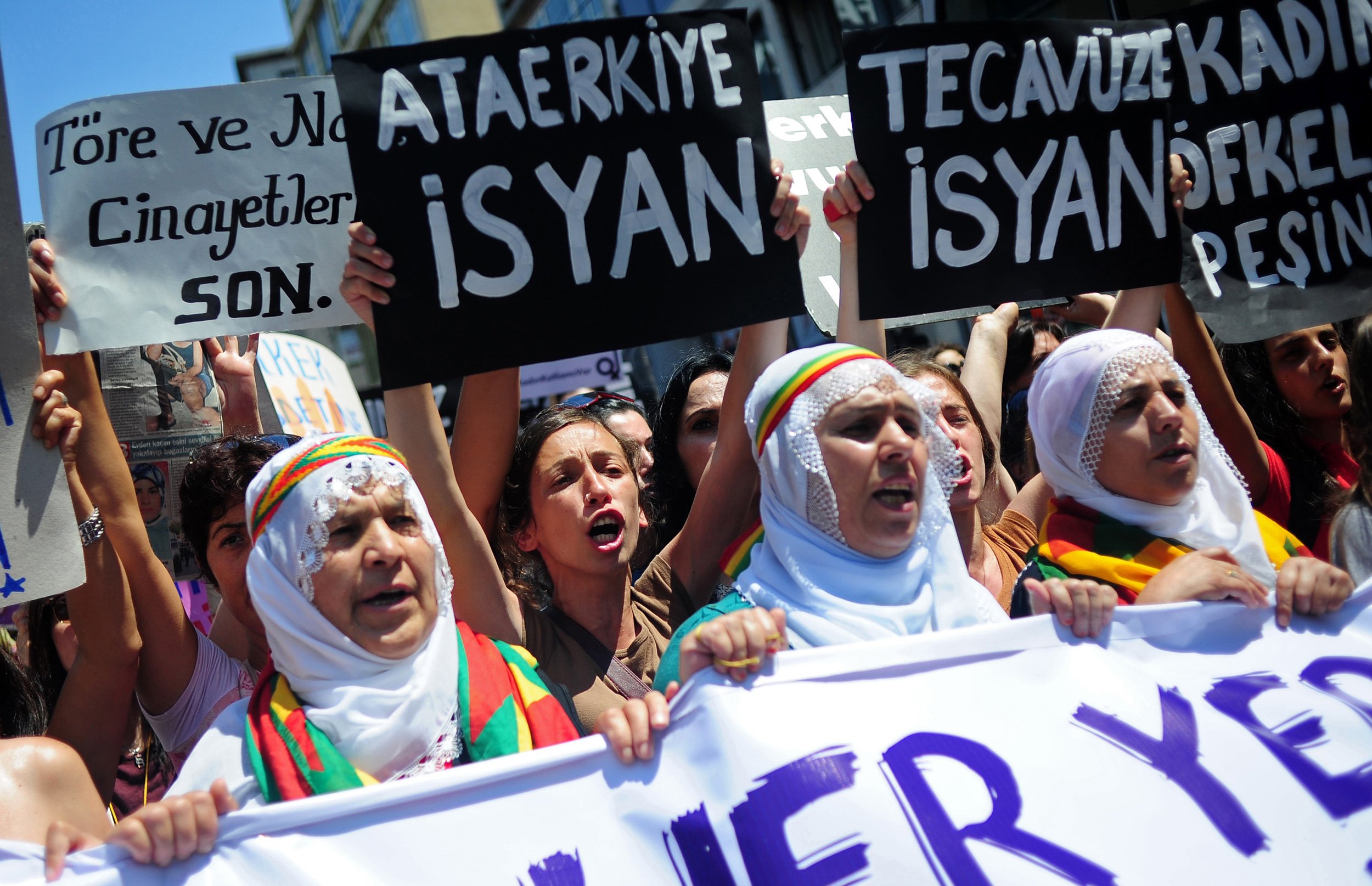 Thousands of world leaders, international organizations and aid workers will convene in Istanbul on Monday for the inaugural World Humanitarian Summit. As gender equality in crises features prominently on the agenda, Turkish women may wonder whether Turkey is a credible host to discuss topics like "stopping sexual violence" and "empowering women."
Since the summit location was announced over two years ago, Turkey's own record on women's rights has deteriorated precipitously. That's even after being the first to sign Europe's 2011 Istanbul Convention treaty to combat violence against women.
President Recep Tayyip Erdogan's statements that birth control is akin to "treason" and that a woman is "above all else a mother" are just a couple of the examples of insidious rhetoric that reinforces patriarchal notions of womanhood. The government has also been repeatedly criticized for not doing enough to stop the beating and killing of women, as gender-related homicides have steadily increased.
Since last summer, clashes in the southeast between Turkish military forces and PKK rebels have displaced hundreds of thousands—and women are suffering more than most as a result of the fighting. The Global Fund for Women stated that women and children "are being disproportionately impacted by the war," with an increase in sexual violence and limited access to healthcare and an increase in the number of miscarriages due to lack of medical attention or trauma. But this conflict will likely be a footnote—if that—at the WHS.
Turkish leaders will surely be on hand to tout their humanitarianism. However, if participants are careful not to let their presence been seen as the offer of a fig leaf in the face of Turkey's violations of human rights, including women's rights, there could be an opportunity to use the global spotlight to apply pressure on the government.
When Istanbul was chosen as the host city for the WHS, it was regarded as a beacon of humanitarianism and generosity. Even as Jordan and Lebanon closed their borders in 2014, Turkey continued to accept the ever-increasing flow of Syrian refugees. Turkey now hosts 2.8 million Syrian refugees—more than half of the Syrian refugee population—and has spent over $8 billion in an effort to meet refugee needs.
The country was seen as a critical soft power, with a steadily growing economy and a central role as a donor country to humanitarian crises around the world.
The fight for women's rights also saw some successes in the years leading up to Turkey's selection as host for WHS. In 2012, the government criminalized marital rape and addressed gender-biased language in the penal code. In 2013, Erdogan, who was prime minister at the time, was praised for eliminating a 90-year-old ban on headscarves in state institutions, a move that broadened access to jobs and education for veiled women.
But the country has taken several steps backwards in just the last two years.
Turkey's democratic credentials have been crumbling of late, with Erdogan consolidating his power in the Parliament. The president has cracked down on opposition and reinforced conformity within the party; shut down newspapers and jailed journalists; and even harassed individuals who poke fun at him over social media.
And despite welcoming almost 3 million Syrian refugees since 2011, Turkey has recently closed its borders, and there are reports of guards violently forcing desperate refugee families away.
For women and girls, the WHS agenda emphasizes issues such as eradicating sexual and gender-based violence, treating survivors with dignity, and empowering and protecting women and girls in conflict. According to UN Women, one in five refugees or displaced women has experienced sexual violence.
Leaders will be called upon to meet the needs of women in emergencies. From 2012 to 2013, only 0.4 percent of all funding to fragile states went to women's groups or women's ministries. There will also be an oft-repeated call to include more women in decision-making in crisis settings. Still, women make up less than 5 percent of power brokers at peace talks, worldwide.
Turkey knows these issues better than most. Since the Syrian crisis began, it has seen among girls an increase in child labor, early marriage, demand for maternal healthcare, and sexual violence, and Turkey has invested in trying to address these problems for Syrians.
Whether it can apply the same concern to Turkish women remains to be seen.
Nihal Kayali and Christina Asquith are journalists with The Fuller Project for International Reporting (@fullerproject), which reports on issues affecting women and girls around the world.