Turkey Earthquake: At Least 21 Killed In 6.8 Magnitude Quake
At least 21 people have been killed and more than 500 injured in an earthquake in eastern Turkey.
The 6.8 magnitude quake hit the Elazig province, which is around 340 miles east of the capital Ankara, at around 8:55 p.m. local time on Friday. It was followed by more than 270 aftershocks, Reuters reported.
Hundreds of residents were left homeless as buildings collapsed in affected towns near the center of the tremor, which was felt in neighbouring Syria, Lebanon and Iran.
The quake struck at a depth of 4 miles near the town of Sivrice in Elazig, Turkey's Disaster and Emergency Management Presidency (AFAD) said.
Turkish health minister Fahrettin Koca said the search for survivors buried in rubble is ongoing and warned the death toll could rise.
Rescue workers and security forces have been searching through the debris by hand and giving out tents, beds and blankets, where overnight temperatures had fallen to below freezing.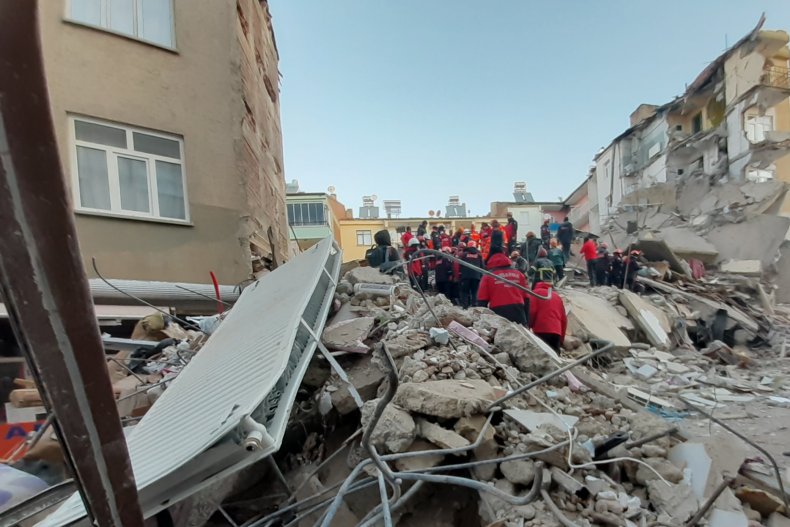 AFAD warned people not to return to damaged buildings because of the risk of further aftershocks.
Local buildings and businesses, including mosques, schools and sports centers have been opened for those forced to leave their homes.
Turkish officials said 17 people were killed in Elazig and four more in the neighboring province of Malatya, the BBC reported.
Around 30 buildings collapsed in the two provinces, according to Environment Minister Murat Kurum.
Turkish President Recep Tayyip Erdogan said in a tweet that all measures were being taken to "ensure that the earthquake that occurred in Elazig and was felt in many areas is overcome with the least amount of loss."
"I wish God's mercy to our brothers who lost their lives in the earthquake, and urgent healing for those who were injured," he said on Twitter.
Interior Minister Suleyman Soylu described the earthquake as a "level 3" incident, according to Turkey's emergency response plan. This means the country called for a national help response but did not require international help.
Drones have been deployed in search operations and to communicate between provinces.
Turkey is located on top of two major fault-lines and earthquakes are frequent.
Two strong earthquakes struck north-west Turkey in 1999, killing around 18,000 people. A magnitude 6 earthquake killed 51 people in Elazig in 2010.
In 2011, an earthquake hit the eastern city of Van and a nearby town, killing more than 500 people.