Turkey Election: Will Strongman Erdogan Crush His Opponents or Lose Power?
Turkey's strongman president Recep Tayyip Erdogan thought calling snap elections would be a good way to remain in power for at least another five years.
But in the days leading up to the June 24 elections in Turkey, his position looks more precarious than before. Opinion polls suggest that his party could lose its parliamentary majority, forcing him to enter a second round in the presidential race.
There's a lot at stake for Erdogan. If he wins, he will abolish the position of prime minister and transfer all powers to himself, the President. If he loses, it's possible that he could face trial for corruption or be forced into retirement. It would be an ignominious ending for the political career of a man who has held onto power since 2002. Many analysts say he's unlikely to let that happen, but suspense hangs in the air.
"He's still Turkey's more popular politician, he gets around a 43 percent approval rating depending on what poll you look at," Aaron Stein, a Turkey analyst at the Washington, D.C.-based think tank Atlantic Council, told Newsweek. "But it's uncertain. In the past it was certain, we'd debate whether he'd get over 330 seats [in the 600 seat assembly]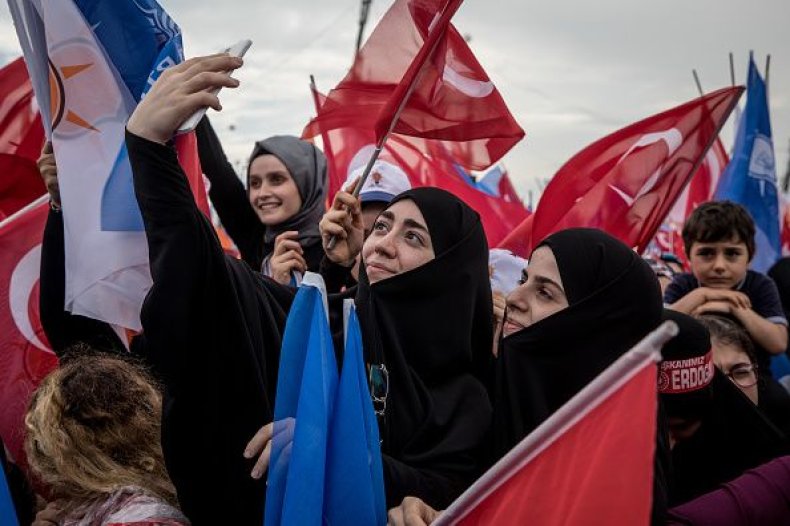 There are two main coalitions running in Turkey's parliamentary election Sunday: the People's Alliance and the Nation Alliance. Erdogan's Justice and Development Party (AKP) has teamed up with the far-right National Movement Party (MHP) to form the People's Alliance. Erdogan's coalition is opposed by the Nation Alliance, a hodgepodge of parties made up of the center-left Republican People's Party, the new right-wing Good Party, the ultraconservative Felicity Party and the center-right Democrat Party.
Republican People's Party leader, Muharrem Ince, is Erdogan's biggest rival for the presidency, and he has gained the support of some Kurds in Turkey's restive Southeast.
"Ince, who can certainly be seen as the winner of this campaign, has positioned himself as a serious challenger to Erdogan in the past weeks. While some even compare his style of campaigning with that of Erdogan himself in the early 2000s, he presents himself—a well-established career politician andCHP [Republican People's Party] parliamentarian—as an underdog and 'man of the people,' bridging traditional divisions between conservative and secular Turks as well as reaching out to the Kurds," Magdalena Kirchner, a senior analyst and Turkey expert at Conias Risk Intelligence, told Newsweek. "However, it will be seen on election day if nationalist and conservative voters buy into this narrative or vote along traditional cleavages."
There are a number of factors that have weakened Erdogan's position in the run-up to the election. Turkey's economy is spiraling downward and the country is embroiled in ongoing battles with Kurdish groups in Iraq and Syria. Erdogan has long claimed that his party brings stability and economic prosperity to the country, but that argument is starting to look feeble. Turkey's currency, the lira, has lost around a fifth of its value over the past six months.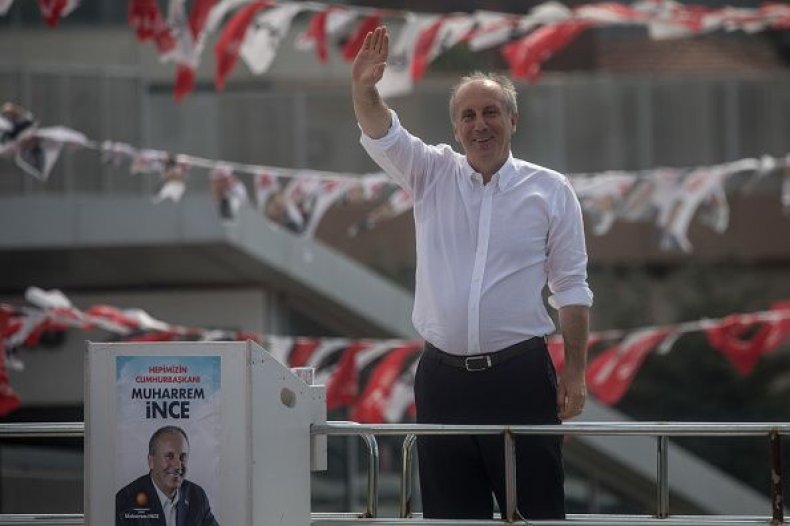 Still, Erdogan is one of those wily politicians who always appear to find a way back from the brink. His party lost its parliamentary majority in 2015, only to win it back again less than six months later in another snap election. And after a failed military coup in 2016, Erdogan consolidated power by launching a harsh crackdown against his political rivals and perceived enemies. The country has been in a state of emergency ever since, and thousands have lost their jobs or been jailed for allegedly supporting a U.S.-based Islamic cleric Erdogan blames for having started the coup.
One of the people in prison is Selahattin Demirtas, the leader of the Kurdish People's Democratic Party (HDP). Demirtas is also a candidate for the presidency, campaigning directly from prison. Despite this disadvantage, voter turnout among HDP supporters could play a key role in determining whether Erdogan's AKP keeps its parliamentary majority or not, experts say.
"Erdogan has the clearest path to the presidency, either the first ballot or in the runoff. But I think the first ballot will be very close. The parliament is difficult because it's all about the Kurdish minority," Stein told Newsweek.
"HDP is running outside of the National Alliance but is in a de facto alliance with the Nation Alliance because they have a shared interest in breaking the AKP's control over parliament...If it goes to round two, will Kurds show up and vote for who Demirtas endorses?" Stein asked.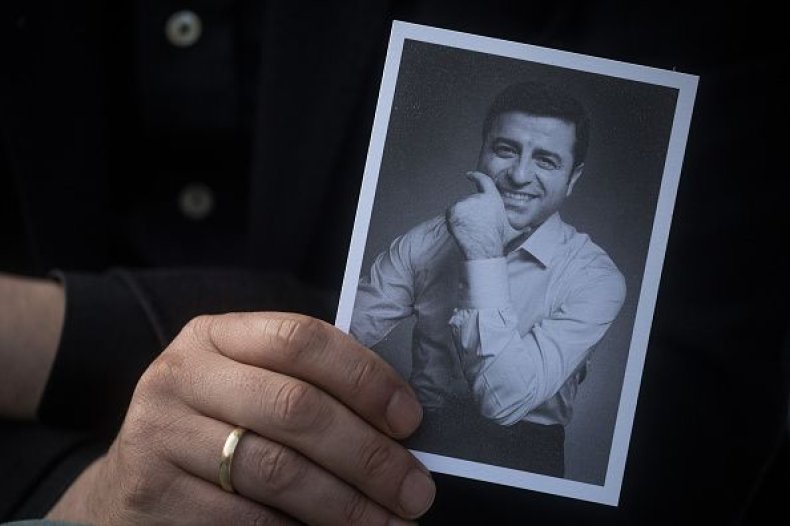 Meanwhile, Erdogan controls the media landscape completely, giving him a significant advantage over other candidates whose political rallies and campaign slogans are less visible. Some analysts have also said they fear ballot boxes could be tampered with. Elections in Turkey have traditionally been fair, but some say the system has been plagued by irregularities in recent years.
"While the polls point to the second round of voting, many factors lean to AKP's favor. Media coverage overwhelmingly favor Erdogan and his allies, opposition events have been suppressed, polling stations in the east have been moved, meaning Kurdish voters will have trouble turning out, and the electoral commission has loosened laws governing the validity of punched ballots, making vote rigging more possible," Ryan Gingeras, an expert on Turkey at the Naval Postgraduate School, told Newsweek. "All in all, there is a lot that points towards an unfair and perhaps unfree election."
If Erdogan were to lose his parliamentary majority, however, it wouldn't be the first time early elections have gone wrong. Britain's Prime Minister Theresa May, for example, had hoped to strengthen her party's mandate to negotiate the country's exit from the European Union by calling snap elections last year. Instead, her party lost its parliamentary majority entirely and was forced to form a coalition with another conservative party. Erdogan has said that his party too would consider seeking the support of another group in order to maintain control over parliament. But many analysts suspect Erdogan will not suffer this fate, and will instead hold onto power as he always has.
"The post-election system was built according to Erdogan's design," Gingeras told Newsweek. "How it will function without him is unclear. Given this, it's hard to imagine him leaving, let alone leaving quietly."