Why Turkey Might Try To Block Sweden, Finland Joining NATO
Turkish President Recep Tayyip Erdoğan has raised an obstacle to the NATO aspirations of Finland and Sweden, saying that he would not back them joining the pact, which requires unanimous agreement among all its members.
A day after Helsinki announced plans that it would seek to join the security bloc that Ankara has been a member of for 70 years, Erdoğan said on Friday, "we don't hold positive views," of the proposed membership of Finland and Sweden.
He also said the Nordic countries were "guesthouses for terrorist organizations," Reuters reported.
"They are even members of the parliament in some countries," he said. "It is not possible for us to be in favor."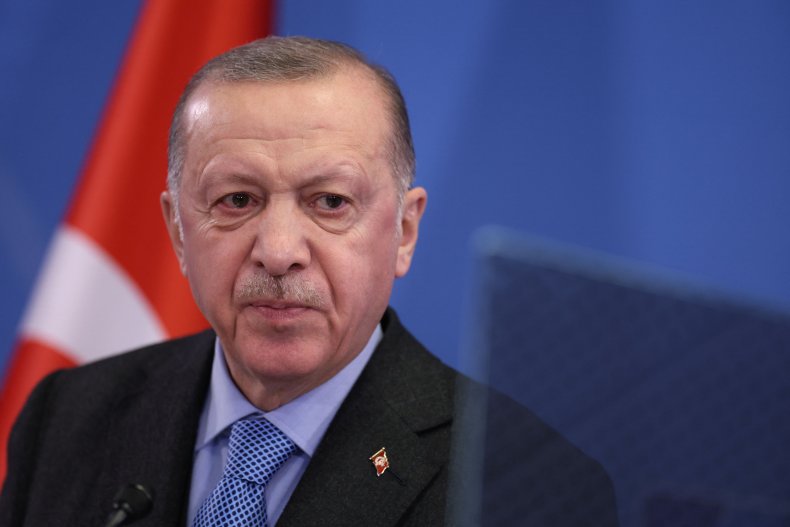 Erdoğan told reporters in Istanbul it was a mistake for NATO to accept Greece as a member in 1952, the year Turkey joined and that "we don't want to repeat similar mistakes."
Turkey has long accused Nordic countries, in particular Sweden, of harboring extremist Kurdish groups and supporters of Fethullah Gülen, the U.S.-based preacher whose supporters Ankara says carried out a coup attempt in 2016, an accusation Gülen and his supporters reject.
Russia's aggression in Ukraine has focused minds in Sweden and Finland on NATO membership. While they are close partners with the alliance and take part in NATO drills, the Nordic countries cannot benefit from its collective defense clause—that an attack on one ally is an attack on all, unless it is a member.
On Thursday, Finland's President Sauli Niinistö and Prime Minister Sanna Marin said Helsinki "must apply for NATO membership without delay." The announcement was welcomed by the bloc's secretary general Jens Stoltenberg, who said "the accession process would be smooth and swift."
However, Erdoğan's comments pose a problem for the Nordic countries' hopes to join the bloc. All 30 members have to agree unanimously to extend a formal invitation to a country once it has decided it wants to apply, which is followed by membership negotiations.
The final approval could take place at a NATO summit in Madrid at the end of June if all members ratify the decision.
"Turkish national security elites view Finland and Sweden as semi-hostile, given the presence of PKK and Gülenists," tweeted Aaron Stein, research director at the Foreign Policy Research Institute. "It's gonna take arm twisting to get sign off."
Turkey has criticized Russia's invasion, helping to arm Ukraine with drones and trying to facilitate peace talks between Moscow and Kyiv. But it has not supported Western sanctions on Moscow and seeks to maintain close ties with Russia.
Newsweek has contacted the Finnish and Swedish foreign ministries for comment.