Turkey's Erdogan Is 'Thumbing His Nose at Trump' by Testing Russian Weapons and Attacking Kurds, Senator Says
Turkish President Recep Tayyip Erdogan is openly flouting his country's alliance with the U.S. by testing Russian weapons and continuing an incursion into northeastern Syria, according to Senator Christopher Van Hollen.
Relations between the two NATO allies have been strained by Turkish decisions to purchase a Russian anti-aircraft system and invade northeastern Syria, fighting against the Syrian Democratic Forces which the U.S. backed as part of the campaign against the Islamic State.
Turkey's purchase of the Russian S-400 anti-aircraft missile system has been a particular point of contention. The U.S. threatened to impose sanctions on Ankara over the purchase, fearing that the inclusion of Russian military hardware within a NATO military could threaten the security of the alliance.
Washington was especially concerned that the Russians would be able to uncover secret details of its F-35 stealth jet program on which Turkey is a partner producer and buyer. Washington eventually kicked Turkey out of the F-35 program over the dispute at the cost of hundreds of millions of dollars.
On Monday, Turkey began radar detection tests for its S-400 system, prompting further anger in Washington.
Maryland Senator Christopher Van Hollen said on Twitter than Erdogan "is thumbing his nose at Trump, the U.S. + NATO, and crossing another red line on S-400s."
"Existing law requires Trump to impose sanctions," Van Hollen added. He also suggested that Secretary of State Mike Pompeo "must also confront Turkey about its latest 'safe zone' violations and attacks against the Kurds."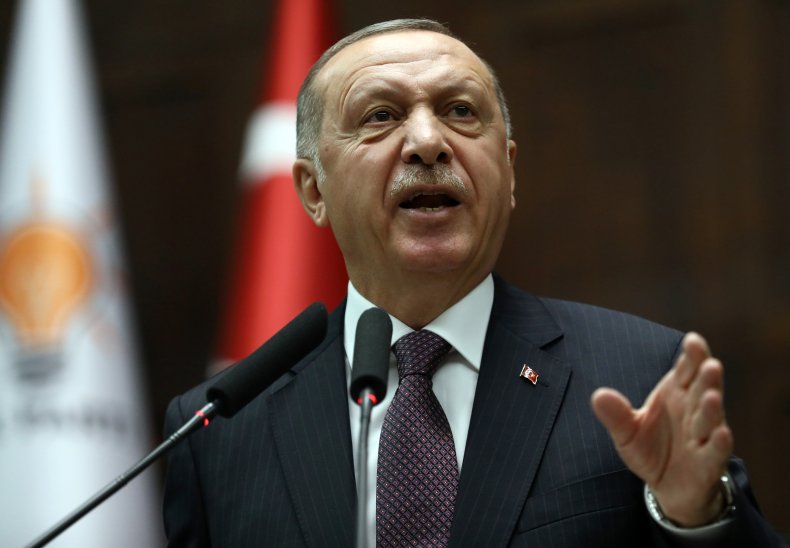 Trump announced he would impose sanctions on Turkey in October after Erdogan's troops invaded northeastern Syria. The threat came soon after Trump ordered U.S. forces out of their positions in the combat area, facilitating the Turkish assault.
The president has since withdrawn the sanctions and even hosted Erdogan at the White House. Trump has claimed credit for a "permanent ceasefire" in the area, though fighting continues daily.
Erdogan has stood firm against U.S. threats regarding the S-400 deal with Russia, signed in 2017 and worth some $2.5 billion. Ankara is set to receive two battalions of the systems with a along with a partial transfer of production technology, Russian state news agency Tass reported.
Turkey is the first NATO nation to introduce the S-400, rejecting a U.S. proposal to purchase American-made Patriot missile systems in its stead. On Tuesday, the head of Russian state arms exporter Rosoboronexport Alexander Mikheev told the RIA news agency that next year could bring even closer Russian-Turkish military cooperation, Reuters reported.
"I want to stress that military technical cooperation with Turkey is not limited to the supply of the S-400s," Mikheev said. "We have big plans ahead."