Turkey's Erdogan Sends Tweet in Armenian for First Time, but Is It About Healing Wounds or Increasing Power?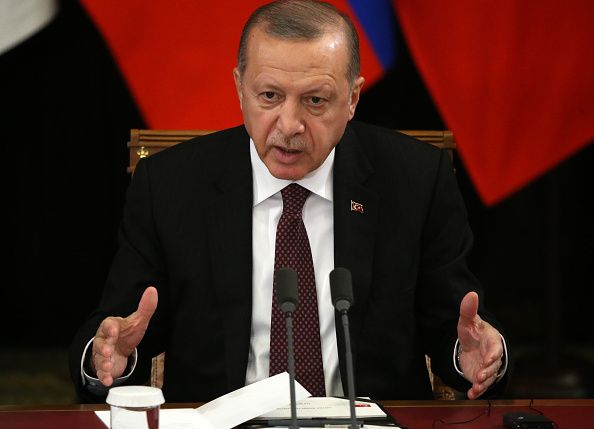 A little more than 100 years after the Ottoman Turks killed about 1.5 million of the empire's Armenian citizens, Turkey's president tweeted in Armenian.
On Friday, Turkish President Recep Tayyip Erdogan surprised Twitter users with a message in the language of Turkey's small neighbor Armenia, with whom Ankara has had a tense relationship since World War I.
"I was deeply saddened by the death of the Armenian patriarch of Turkey, the honorable Mesrob Mutafyan. I offer my condolences to his family, relatives and our Armenian citizens," Erdogan tweeted on Friday in Armenian, in a message directed at the estimated 60,000 Armenians living in Turkey today.
The tweet was written following the death of the Armenian Patriarch Mesrob Mutafyan, who died on Friday after having early onset dementia for more than a decade. His death will pave the way for the election of a replacement, something Turkey's small but influential Armenian population has been requesting for years.
Erdogan's message was the first in Armenian by a Turkish head of state on a major platform like Twitter. That fact, coupled with recent overtures by the new Armenian Prime Minister Nikol Pashinyan, who suggested that diplomatic relations could potentially be re-established between the two countries, raised questions about whether the frosty relationship was starting to thaw. Erdogan has only once before released a message in Armenian, and never to his 13.5 million Twitter followers.
"It is in my memory the first time that a Turkish head of state has expressed condolences in Armenian and in such a visible and public way. I am not sure if he has done anything similar in other minority languages, I would be surprised if he has, so this is indeed quite interesting," Artyom Tonoyan, a research associate at University of Minnesota, told Newsweek.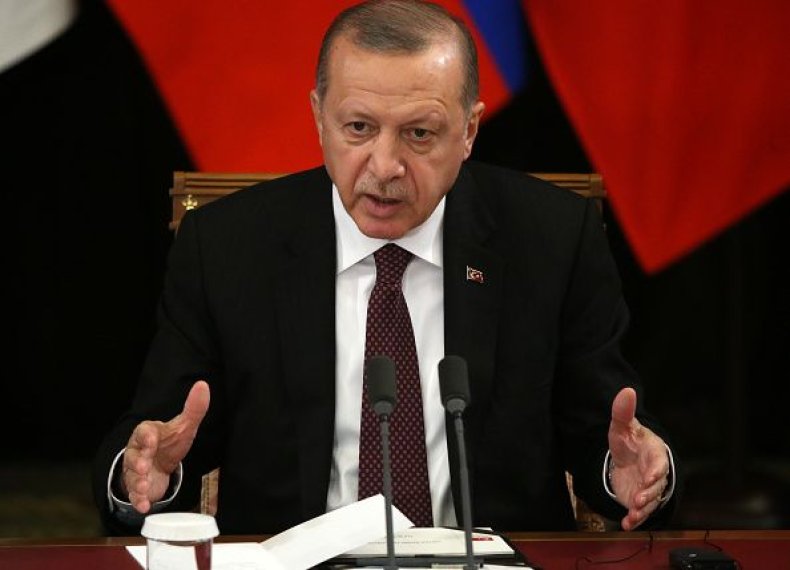 But some experts argued that, far from a move toward reconciliation or inclusivity, Erdogan's message was a political power play. With a single tweet, Turkey's president was aiming to influence internal factors in his country, not alter the relationship between Ankara and Yerevan, analysts said.
"Erdogan is both a populist and simultaneously wants extreme control," Vicken Cheterian, author of the book Open Wounds: Armenians, Turks, and a Century of Genocide, told Newsweek. "In the last years, he tried to please the Armenian community in Turkey, [while] at the same time trying to control the major Armenian institution in Turkey, the Armenian Patriarchate."
"While Patriarch Mesorb was ill, he did not permit elections to select a new head of the church, thus keeping at its head someone who was suitable to Ankara. The tweet comes in this context," Cheterian continued.
Bedross Der Mattossian, author of the book Shattered Dreams of Revolution: From Liberty to Violence in the Late Ottoman Empire, agreed that the tweet was aimed at influencing the election for a new patriarch. He noted that Turkey's Armenian community was split between those who supported the government's role in choosing a new patriarch and those who didn't.
"On February 21, a group of 72 Armenian writers, journalists and artists released a statement in which they said they desire social harmony, and that harmony would only emerge when a legal election of a patriarch happened in a fair manner," Der Mattossian, told Newsweek.
"Armenians are an important minority in Turkey. It has to do with the genocide, it has to do with Turkish denial, it has to do with criticism of the Turkish government and the constant active policy of denial that it pursues against the Armenians," he continued. "So these are politics, not a huge gesture… It's politics because [Erdogan] wants to be shown as a tolerant leader who cares about his own flock."
Erdogan has repeatedly said that Turkey could not accept the label of genocide, but he had offered condolences for the events of World War I. "It is Turkey's conscientious and ethical responsibility to share the historical pain of our Armenian citizens," Erdogan said in a statement last year.
Some argued that Erdogan needed Turkey's Armenian population to bolster his image.
"The votes from the most influential Christian community of the country could be a way to diversify the political image of the ruling regime, both locally and internationally," Varuzhan Geghamyan, a scholar focusing on Turkey, told Newsweek. "Another symbolic importance lies in Erdogan's tendency to be compared to Ottoman sultans, who were rulers not only for Muslim, but also Christian and other subjects of the empire."
"The tweet in Armenian language was innovative, but the appeal in itself was not unprecedented or unique," Geghamyan added. "The Ottoman-now-Turkish state tradition requires the ruler to extend his condolences or wishes to the heads of religious communities. This happened many times starting from 1461 when Sultan Mehmed II established the Armenian Patriarchate of Constantinople. Erdogan is basically keeping up the old tradition, but uses the new technologies."
Even the tweet itself, which was written in the Western Armenian dialect, provides some clues about Erdogan's intentions, experts said.
"The word Armenian, the 'a' should be in upper case, it's a very important aspect, when you're referring to a nation you don't write it in lower case in Armenian. So there are certain shortcomings," Der Mattossian told Newsweek, adding that the word "family" also had a letter missing in the tweet.
Turkey and Armenia do not currently have diplomatic relations and the border between the two countries remains closed. Russian soldiers man much of the dividing line separating them.
Armenia wants Ankara to recognize formally that Ottoman Turkey attempted to exterminate the Armenians when 1.5 million of them were killed during World War I. The issue of genocide recognition has embittered Turkey's relationship with Armenia, and with some of the roughly 28 countries, and the majority of U.S. states, which recognize the Armenian genocide.
Turkey, for its part, maintains that the murders took place during skirmishes and uprisings, and claims that the goal was not to exterminate all Armenians. The country also argues that its smaller neighbor has designs on some of Turkey's territory.