Turkish forces defused a mine on Saturday that drifted away in the Black Sea where it shares a maritime border with Ukraine and Russia who have been locked in a month-long war.
Russia's main intelligence agency warned on Monday that several mines were floating out in the sea after they parted from cables near Ukrainian ports, Reuters reported. However, Ukrainian authorities dismissed that claim and alleged that the Russians made the announcement in an effort to close parts of the sea.
The Turkish Defense Minister Hulusi Akar said in a statement on Saturday that the "old-type" mine was "neutralized" by the Underwater Defense Group (SAS), which is a defense team that is specialized in explosives.
"In the morning, information came from a commercial ship off the Bosphorus that a 'mine-like object was seen'. Our units were already carrying out intensive patrols and duties in those regions. Our SAS team was quickly transferred to the area after the object in question was determined to be a mine, [and] it was withdrawn to a safe area," the defense minister said.
Fishermen alerted the coast guards after discovering what appeared to be the mine floating off the Bosporus strait near a docking area, according to Reuters.
In response, the coast guards sent out radio warnings to ships in the area, according to the Directorate General of Coastal Safety. One witness said that a minehunter ship from Istanbul was seen heading to the area where the mine was found.
Another witness told Reuters that a loud sound was heard off the coastal village of Rumelifeneri, an area where naval ships and military aircrafts were operational.
"Necessary coordination was made with the coast guard and other relevant institutions and organizations, in particular our naval forces. In order to ensure the safe continuation of maritime traffic, necessary measures have been taken. Maritime traffic continues safely," Akar added in his statement.
He also said that he contacted Russian and Ukrainian authorities about the mine discovered, adding that "coordination continues" among all three nations.
Turkey has been part of the negotiating efforts to ease the conflict between Ukraine and Russia after the latter invaded the Eastern European country late last month, causing millions of Ukrainians to flee their homeland in search for safer areas in neighboring nations such as Poland.
"We will continue our talks with both Mr. Putin and Mr. Zelensky from now on as well," Turkey's President Recep Tayyip Erdoğan said this week, according to a statement from his office. "All our efforts aim to create an atmosphere of peace by bringing together the two leaders."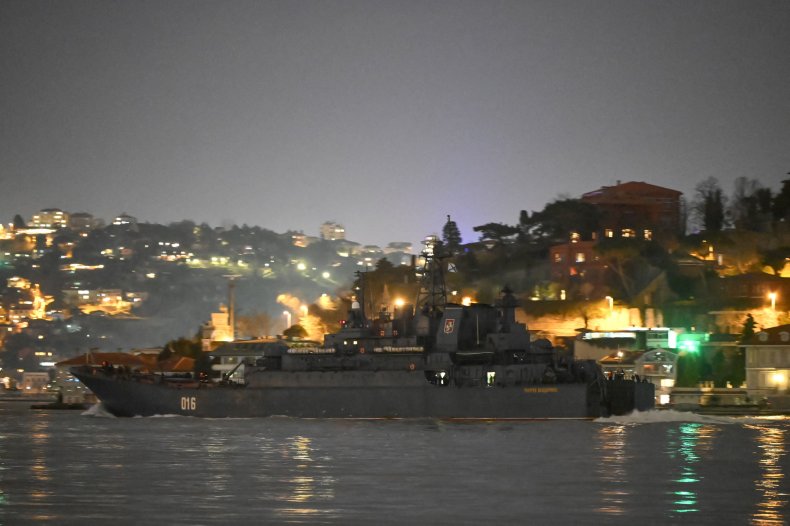 On Friday, Erdoğan said that Ukraine and Russia are getting closer to a conflict resolution as they shared an understanding concerning four out of six main topics of disagreement, including NATO, partial disarmament, collective security and Russian language. However, no agreement has been reached yet on Crimea and Donbas—two Ukrainian areas that Russia deems as its own territories.
Newsweek contacted the Russian Defense Ministry and the Ukrainian Foreign Affairs Ministry for comment and will update the story once a response is received.