Turkey Flotilla for Gaza Intercepted by Israel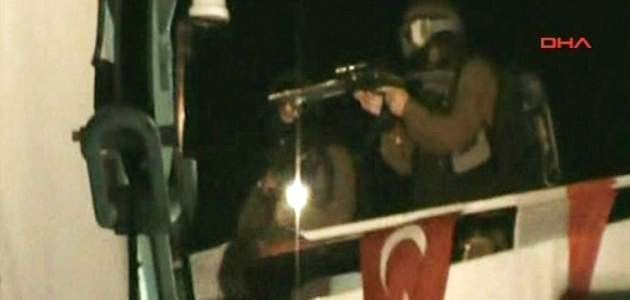 Israel's bloody attack on a convoy of ships carrying aid to the Gaza Strip highlights a broader reality about the three-year-old blockade of Gaza: by most measures it has been an abject failure. Israel imposed the blockade after Hamas grabbed power in Gaza in 2007, on the notion that restricting the flow of goods in and out of the area would weaken Hamas, stop rocket attacks on Israeli territory, prevent the smuggling of weapons into Gaza, and force the release of captured Israeli soldier Gilad Shalit.
None of these goals has been achieved. In fact, most of them are more elusive today than they were three years ago.
Consider the matter of Hamas's relative strength in Gaza. Polls show its popularity has ebbed and flowed over the past three years. But a more concrete measure of its power is Hamas's ability to generate revenue streams from fees and taxes.
Before the siege, Palestinian goods flowed through organized crossing points between Israel and Gaza, where the duties collected went to Mahmoud Abbas's Palestinian Authority. Since 2007, most of Gaza's commerce has been channeled through a network of underground tunnels dug up illicitly between Gaza and Egypt. According to the Palestine Trade Center, which monitors economic data in the West Bank and Gaza Strip, the huge volume of goods traversing the tunnels includes an estimated 100,000 liters of gas and 100,000 liters of diesel every day. Though the tunnels are private enterprises, dug and operated by Palestinian businessmen, Hamas collects a licensing fee for each tunnel excavated and levies taxes on many of the imports. The extra revenue has allowed the group to put more Gazans on its payroll and expand its support base at the expense of the more moderate Fatah group.
Nor has Israel managed to restrict the arms smuggling—an issue it said was at the heart of its operation against the ships bound for Gaza on Monday morning. Analysts say guns are less visible on the streets of Gaza these days, but only because Hamas has strictly enforced a decree that its forces alone can carry weapons. As a result, some Palestinians are selling their guns for export to Egypt, where they fetch a higher price, according to one tunnel owner who candidly described his business recently to an American journalist. Rocket attacks on Israel indeed have declined. But analysts attribute the ebb largely to Israel's assault on Gaza in 2008 and 2009, which killed as many as 1,400 Palestinians and decimated Gaza's civilian infrastructure.
What has Israel gained from the siege? Mostly a public-relations headache. The United Nations has denounced the blockade as collective punishment, and human-rights groups say Israel has brought Gazans to the verge of starvation. Israel responds by regularly publishing a list of the humanitarian shipments it does allow into Gaza through its otherwise dormant border crossings. For security reasons, Israel has said, it refuses to deliver cement and fertilizer, both used in the manufacturing of rockets. But rights groups say the list of things Israel prohibits includes such innocuous items as avocados, spices, jam, and chocolate. An Israeli military official said these were luxury items that Israel was not obligated to make available to Gazans.
Whether the flotilla of up to nine vessels making its way to Gaza contained more than just food and medicine will surely be the subject of debate in the coming days. The Israeli military said sailors who boarded the lead ship from helicopters before dawn were confronted by angry protesters wielding switchblades, slingshots, and metal bats. The troops, members of an elite naval unit, apparently panicked and opened fire, killing as many as 14 people. The Israeli military posted videos of the raid on YouTube, saying they showed passengers attacking the soldiers.
Kevin Clark, an American spokesman for the Free Gaza Movement, which organized the flotilla, said the group had not heard from people on board since the raid. "If you're on a ship in international waters and all of a sudden there are helicopters overhead and people are rappelling down ropes with machine guns, at that point it is certainly understandable that people have the natural response to defend themselves with anything available," he said.