Turkey Is World's Leading Jailer of Journalists: CPJ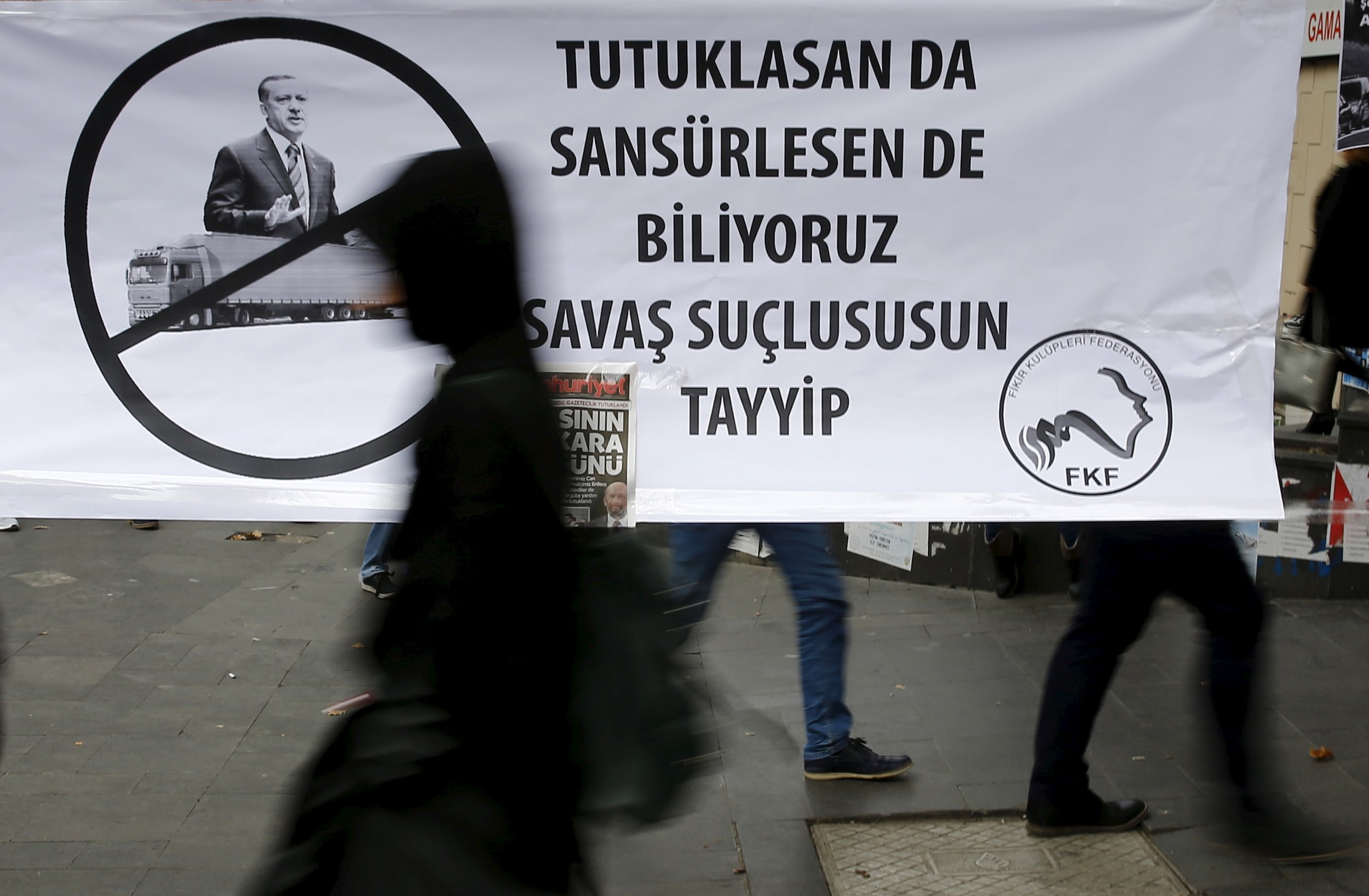 The number of journalists imprisoned globally is at a 26-year high, and Turkey is leading an "unprecedented" crackdown on the media, according to a new report from the Committee to Protect Journalists (CPJ).
The total number of journalists in jail was 259 as of December 1, the highest since 1990, according to CPJ's annual worldwide tally. Turkey, which faced an attempted coup by the military in July, accounts for nearly a third of the global total; it has 81 journalists imprisoned. That is "the highest number in any one country at any time," according to the report. Since July, Turkish authorities have shut down more than 160 news outlets.
Related: China is the world's leading jailer of journalists for second year, says report
Across the world, the number of jailed journalists has increased by 30 percent since last year, when there were 199 imprisoned.
China, the leading jailer of journalists for the past two years, this year dropped to second place, followed by Egypt, Eritrea and Ethiopia. Iran is not included in the list of top five countries this year, the first time since 2008.
Journalists are among the estimated 125,000 people, including police officers and teachers, who have been dismissed or suspended since the coup attempt in Turkey. An additional 40,000 people have been arrested, according to the report. Turksih authorities began shutting down news sites in early 2016 and detained a number of high-profile writers, including Murat Sabuncu, editor-in-chief of secular newspaper Cumhuriyet, in October. Following the attempted coup in July, there were additional attacks on Kurdish journalists, including those from Jin News Agency (JINHA), an organization with an all-female staff.
In a particularly disturbing moment from the night of the coup, the CNN Turk TV station broadcast live as Turkish soldiers entered the newsroom and forced anchors off air.
Meanwhile, China has 38 journalists in jail and in recent weeks has "deepened its crackdown on journalists who cover protests and human rights abuses," according to the report. There are 25 journalists who have been imprisoned in Egypt, including a freelance photographer known as Shawkan, who has been held in prison without conviction since 2013.
In the Americas region, there are four journalists in prison, up from zero last year, said CPJ. A number of journalists have been threatened with arrest or detained at the U.S. border while en route to cover the Standing Rock anti-oil-pipeline protests in North Dakota. Ed Ou, a photojournalist, detailed in Time magazine his experience of being detained and treated as a "suspected terrorist" by border agents. Amy Goodman, host of Democracy Now, faced criminal trespass charges while covering the protests, which saw police launch sound and water cannons, and rubber bullets.
Many also fear what the U.S. media landscape will look like after President-elect Donald Trump takes office next month. Trump attacked the press throughout his campaign, and continues to tweet his disapproval of various organizations he perceives as giving him unfair coverage, including CNN and NBC.
Read more on Newsweek.com
-Turkey suspends 12,800 police from duty after failed coup
-Slovakia: Prime minister calls journalists "dirty prostitutes"
-How Donald Trump supporters attack journalists