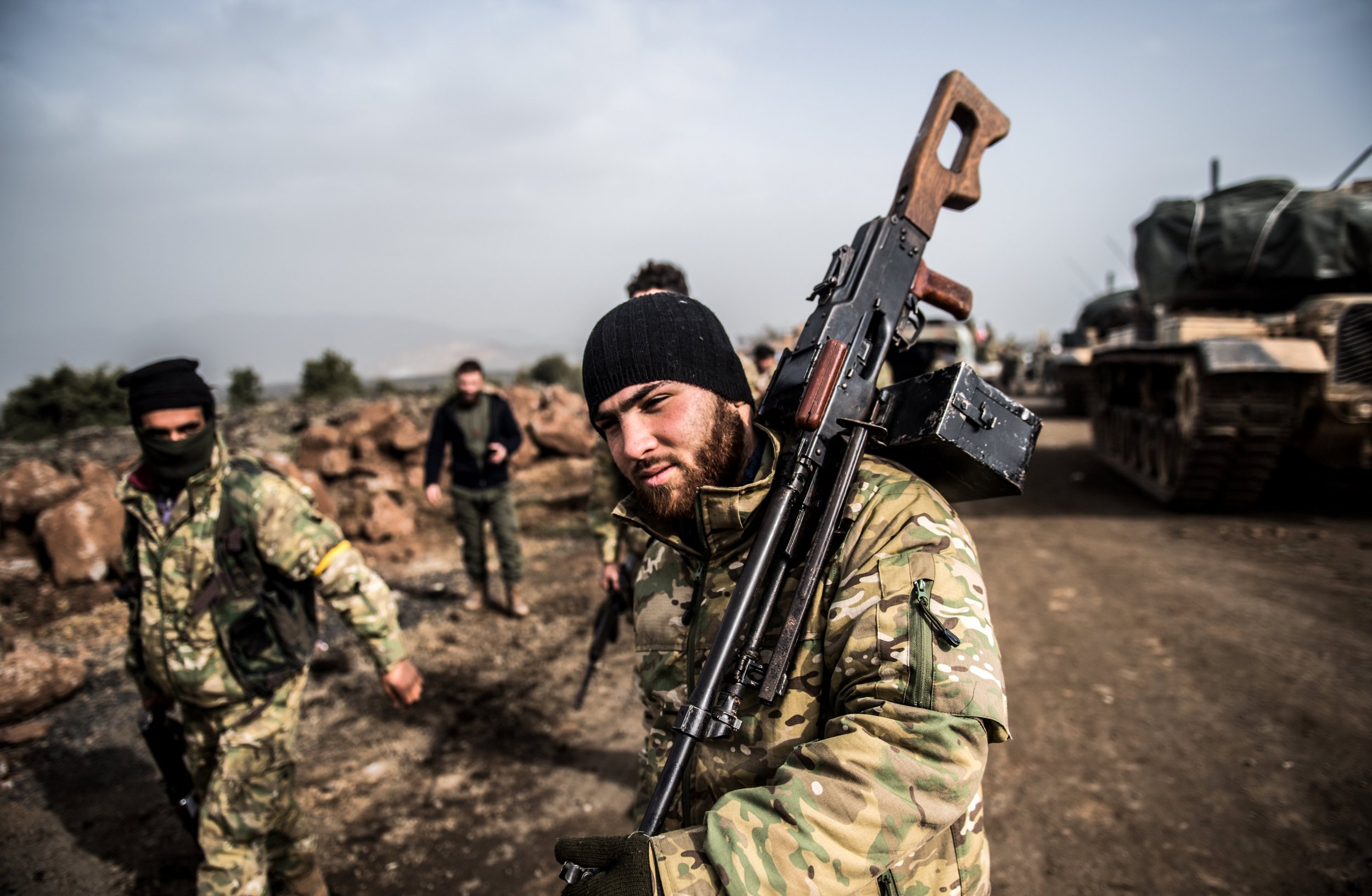 ON DEFENSE SECRETARY MATTIS'S E4-B OVER THE PACIFIC OCEAN—U.S.-backed Kurdish forces—a key ally in the battle against ISIS—were pummeled by Turkish government forces in northern Syria over the weekend, complicating the delicate alliance between the United States and fellow NATO member Turkey in the battle against terrorism.
Turkish military officials called U.S. military brass ahead of the strike, which targeted Kurdish People's Protection troops in an area that had been freed from ISIS by the group's forces, U.S. Secretary of Defense James Mattis told reporters on Sunday. More than 100 targets were hit, Turkish military officials claimed.
"Turkey was candid, they warned us before they launched the aircraft that they were going to do it," Mattis said, speaking with reporters while flying to Indonesia for a series of meetings.
Turkey is a key ally against ISIS thanks to air bases that it allows the U.S. to use, so the defense secretary declined to characterize the U.S. response to the weekend assault.
"It's easy to understand why Turkey has concerns about the chaos," Mattis said.
Turkey's shelling and subsequent invasion of the city of Afrin, a Kurdish enclave near Syria's border with Turkey, comes despite Kurdish People's Protection troops playing a key role in the U.S.-led effort to push ISIS out of Syria. Turkey remains concerned because it believes the so-called YPG is plotting with the separatist Kurdistan Workers' party, or PKK, to undermine the Turkish government, perhaps violently.
Although the exact link is not clear, some associated with the Workers' party have traveled to Syria to fight with the YPG.
The Workers' party has been involved in fighting against the Turkish government for decades, trying to carve out an independent Kurdish state near the Syrian border.
Mattis was quick to both praise the YPG efforts against ISIS, and to acknowledge Turkey's concerns.
"Turkey is a NATO ally, it is the only NATO country with an active insurgency inside its borders," he said.
Mattis began arming the YPG in May, 2017, as the U.S. wanted a local ally to take the primary lead in fighting in close-quarters combat against ISIS. Turkey was immediately upset by the decision, and the U.S. moved to placate Turkey by giving it a database with the serial numbers of weapons provided to YPG fighters so that they could track their use.
"By having our officers and NCO's on the ground we monitor that they are using what we are giving them for support to go against ISIS and they have proven their effectiveness," Mattis said. "It has cost them thousands of casualties. You have watched them, with the coalition support, shred ISIS' caliphate in Syria."
The U.S. plans to wind down its support of fully armed militias, but commanders are now trying to build police forces that can protect the territory that was taken from ISIS, forces that will likely include some drawn from the YPG.
Asked by Newsweek if there is an alternative to using Kurdish forces, Mattis said that a range of local groups would have to be created, although they would not be heavily armed.
"As we uncover territory from ISIS control you obviously have to set up some kind of local authorities," he said. "We're training them, we're trying to use international policing standards in order to make sure they're trained properly. I would put them along the lines of a heavily armed police force. Obviously you don't want someone with a side arm only dealing with ISIS."
Mattis said that the local forces aren't the end goal, and that some kind of diplomatic agreement, currently being debated in Geneva, would be required.
"A diplomatic solution is what we're doing this for, and not for a long term presence," he said. "We're not occupying that place, we're just making sure it gets turned over responsibly to the locals and that the locals have a seat at the table in Geneva."
The air assault on the Kurdish-controlled city of Afrin—which killed seven civilians, including a child, plus three soldiers, a YPG spokesman said—appears to be just an opening salvo from Turkish President Recep Erdoğan,
Erdoğan said he would next move on Kurdish-controlled Manbij in an operation called "Olive Branch" that would force the Kurdish militia from all positions west of the Euphrates River," the Guardian reported.
The goal, added Turkey's prime minister, Binali Yıldırım, is to "eliminate the Kurdish Democratic Union and the Kurdistan Workers' party—and Daesh [ISIS] elements in Afrin," the Guardian report added.
With Russia continuing to back Syrian regime forces loyal to leader Bashar al-Assad, adding Turkish forces directly into the mix only complicates the cloudy picture over how to diplomatically resolve the ongoing Syrian civil war.
Although ISIS has ostensibly lost its territory, U.S. forces continue to help clear pockets of fighters, although Mattis said that it's increasingly giving responsibility to the State Department to create stability.
"This is a force that holds," he said. "There will be some U.S. military there, but the main effort shifts to State Department's diplomats. They're putting more of their diplomats in."