As Many As 100,000 May Have Already Been Displaced by Turkish Offensive in Syria, Rights Groups Say
Rights groups in northeastern Syria have claimed that as many as 100,000 people may have already been displaced as a result of Turkey's offensive operation targeting territory held by the U.S.-backed Syrian Defence Forces, the Kurdish group controlling the region.
As the Turkish offensive began this week, the International Rescue Committee had warned that the lives of as many as two million civilians, many of whom had already survived trauma at the hands of the Islamic State militant group (ISIS), as well as multiple displacements, could be at risk.
In a statement issued on Wednesday, the IRC warned that Turkey's military offensive could see as many as 300,000 people displaced, while also cutting off access to life-saving humanitarian services.
"Even a limited military initiative could see 60,000 displaced, the majority of whom were already in dire humanitarian need," the rescue committee said.
By Thursday, however, in the hours after Turkey launched its ground and air assault, rights groups in Syria said the number of those displaced had already surpassed that number, with the Rojava Information Center reporting that as many 60,000 to 100,000 people were believed to have been displaced, citing estimates from Human Rights Organization of Afrin, a local rights monitoring group.
The Rojava Information Center told Newsweek on Thursday that the Human Rights Organization of Afrin had estimated that as many as 100,000 people had been displaced.
However, it later told Newsweek that the Syrian Observatory of Human Rights, which is based in Britain, provided a lower figure, estimating that around 60,000 people had been displaced within the first 24 hours of fighting.
Steve Gumaer, the CEO of Christian nonprofit Partners Relief & Development, which has been assisting displaced people on the ground, independently told Newsweek that his team, located in Qamishli, had also estimated the numbers to be as high as 100,000, based on information coming from local groups, as well as from what team members were observing.
"It's chaos in the cities being bombed," Gumaer said.
While it is still unclear exactly how many people have been displaced, the Rojava Information Center said the majority of those who have fled have left the border towns of Ras al-Ayn and Tel Abyad, where IRC staff on the ground had reported shelling and airstrikes, while some had also fled Qamishli and other cities as well.
Video shared on social media, including by the Rojava Information Center, appeared to show traffic jammed with civilians fleeing south in trucks, while photos show families fleeing in vehicles and on foot.
Human rights groups had previously warned that any Turkish offensive into northeastern Syria could have "disastrous" humanitarian consequences, with Sara Kayyali, a Syria researcher for Human Rights Watch telling Newsweek earlier this week that such an incursion would result in "massive displacement" and cause a "strain on a humanitarian response that is already at its limit."
In a statement sent to Newsweek on Thursday, Médecins Sans Frontières said it could not confirm the number of people who had so far been displaced, but that it had seen "people being displaced from locations along the border due to the conflict."
"We are extremely worried that the military intervention will threaten the safety and wellbeing of the Syrian people," MSF said. The organization said it was also "preparing for a potential increase of patients linked to the conflict" and remained "ready to provide medical care."
"MSF calls for restraint and for the respect international humanitarian law to ensure the protection of the civilian population, hospitals, ambulances and medical personnel as well as humanitarian workers."
According to the Rojava Information Center, at least "10 civilians" were believed to be killed in the Turkish bombardments as of Thursday, with at least 15 more civilians wounded.
The number marks a rise from the seven people believed to have been killed in Turkish attacks on Wednesday, according to a report from The New York Times.
This article has been updated with statements from the Rojava Information Center.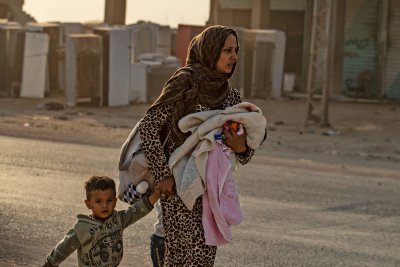 Turkey's offensive began just days after a call between President Donald Trump and Turkish President Recep Tayyip Erdoğan was followed by the U.S. leader announcing that troops would withdraw from the northern border region.
On Wednesday, U.S. Secretary of State Mike Pompeo defended Trump's decision, while also denying that the U.S. ever gave Turkey a "green light" to launch its offensive.
In an interview with PBS, Pompeo said Turkey had a "legitimate security concern" and a "terrorist threat to their south."
However, he said reports that Trump had allowed Turkey to launch its assault were "just false. He added: "The United States didn't give Turkey a green light."
Trump also claimed that the U.S. did not "endorse this attack," branding the initiative a "bad idea."
The U.S. leader had further sought to defend his decision to withdraw U.S. troops by making the extraordinary argument during a press conference that the Kurds had not fought alongside the U.S. in World War 2, citing Normandy as an example.
"We have spent a tremendous amount of money helping the Kurds," the U.S. leader said. "They're fighting for their land. When you say they're fighting with the U.S., yes. But they're fighting for their land," he said.
For nearly five years, Kurdish forces have fought against ISIS alongside the U.S., with thousands of fighters killed—as many as 11,000.
The SDF has warned that the incursion could lead to an ISIS resurgence, with Kurdish forces holding thousands of ISIS fighters in a number of detention facilities in northeastern Syria.