Turkey Releases Two Alleged Foreign Spies but Keeps American Pastor Andrew Brunson Amid U.S. Row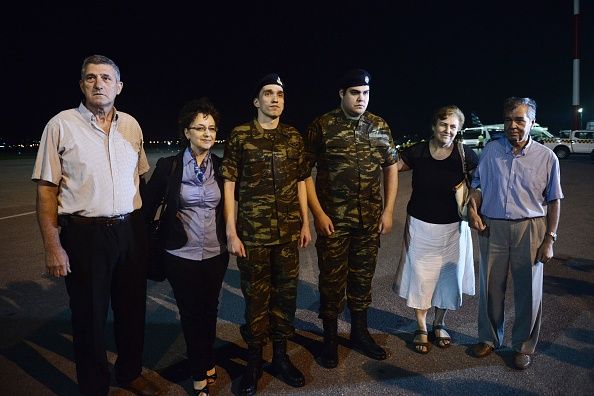 In a move that will likely strengthen the relationship between North Atlantic Treaty Organization (NATO) allies Turkey and Greece, two Greek soldiers accused of espionage were released from custody by Ankara and flew home on Wednesday.
The two soldiers had crossed into Turkey from Greece in March. Athens claimed that the border breach was an accident because the two men were following the trail of some undocumented migrants. But Turkey seized the two and accused them of military espionage. On Tuesday, however, a court ruled that the two soldiers were free to go. They were greeted by their parents at the airport the next day.
"The release of the two Greek officers is an act of justice which will contribute to friendship, good neighborly relations and stability in the region," Greek Prime Minister Alexis Tsipras said in a statement.
The incident stands in stark contrast to the ongoing diplomatic fight between the U.S. and Turkey, which are also NATO allies. Turkey arrested Andrew Brunson—an American pastor who had lived for decades in Turkey—in the wake of a failed military coup against Turkish President Recep Tayyip Erdogan in 2016. Ankara has accused Brunson of supporting the movement of U.S.-based Islamic cleric Fethullah Gulen, whom Erdogan blames for the coup. Brunson has maintained his innocence, however, and the U.S. government has been lobbying to have him released. So far, the only concession Turkey made was to move Brunson from jail to house arrest. He could spend up to 35 years behind bars if he is eventually found guilty by a Turkish court.
Meanwhile, President Donald Trump has demonstrated a tendency to use trade policy and economic sanctions as foreign policy tools, and he slapped steep tariffs on Turkish steel and aluminum in response to Ankara's decision to hold Brunson. Turkey's economy was already in bad shape due to Erdogan's refusal to raise interest rates, among other questionable fiscal policies, but the sanctions have caused the Turkish lira to drop even further. The war of words has also escalated between Erdogan and Trump, and Erdogan called for Turkish citizens to boycott the use of iPhones and other U.S. electronics.
It's unclear why Turkey was conciliatory with Greece but not with the U.S. when it comes to releasing prisoners. Some have suggested that Turkey is using Brunson as a bargaining chip to pressure the U.S. to extradite Gulen from his home in Pennsylvania.
"A NATO ally should not be taking hostages. And it's not just American hostages, also European hostages," Jim Phillips, a research fellow at the Heritage Foundation who focuses on Turkey, told Newsweek. "It is part and parcel of Erdogan's general drift away from the West."