'I'm in Turkey. When Rescuers Find Someone, Hundreds Stand in Silence'
I've always been interested in humanitarian work. My family experienced the Turkish-Greek war in the '70s, so I've always felt displaced. I want to help others who have gone through similar, which is why I began volunteering with organizations to support refugees in 2020.
In 2022, I quit my full-time job as a tree surgeon to work as an operations manager for a nonprofit organization that helps refugees. My job consists of traveling to refugee camps in France, Greece, and Turkey, delivering necessities to families in need, meeting partners who help us, and planning out the next steps for the organization, Refugease.
A large part of my job has also been managing the organization's operations in Ukraine during the Russia-Ukraine War, where we do frontline evacuations for elderly and disabled people, as well as daily aid deliveries to small towns in the Donbas area. The charity I work for has been providing aid for refugees in Turkey, Syria, and Jordan for eight years. It is a very intense time.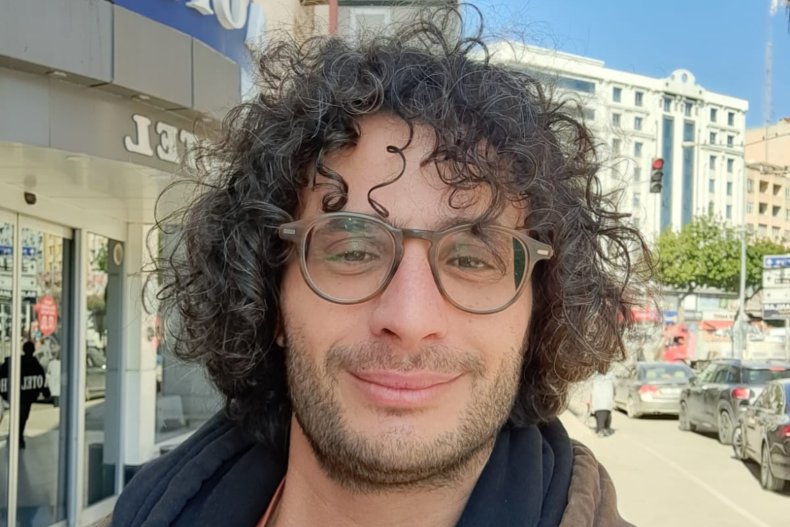 The aftermath of the earthquake
When the 7.8 magnitude earthquake hit Turkey and northern Syria on February 6, I left the U.K. that same afternoon and traveled to Antakya in Turkey.
I arrived there on Tuesday and there were bodies on the streets, everywhere. Entire blocks had collapsed. As I walked through the city, I saw piles of rubble everywhere. I thought: How can a building shatter into so many pieces?
People were in floods of tears. They were completely inconsolable and alone. I also saw groups of 10 people standing next to diggers, trying to retrieve their loved ones. It was absolutely otherworldly; I'm still processing it.
In Antakya, I joined a search and rescue party for the first few days. We got a call that somebody was alive and we rushed to the place. The digger helped excavate the floors, and we moved the rubble and found the person. This was a continuous process for days.
When the diggers find somebody, they put their hands up, signaling the machines to be turned off. There's silence, and hundreds of people stand still and listen. Everybody then cheers and claps when that missing person is found alive, but for us, finding the living was very rare and sadly my crew only found that one person alive. When we found that person, everyone was yelling "Allahu Akbar!" and the person was rushed into an ambulance while people were clapping at either side. I have heard that others have carried more living people out of buildings that they were stuck in.
Taking part in the search and rescue attempts has been an overwhelming experience for me. A week after staying in Antakya, I moved to Reyhanli, a small town near the border between Turkey and Syria, so that I could offer aid to Syrian refugees.
I've been living with a Syrian shopkeeper for a week and a half. He's very welcoming and hospitable. When I wake up, he makes me a cup of coffee and offers me biscuits and tea, and he also cooks dinner for me. He feels horrible about what's been happening. All of the necessities that I buy and give to refugees come from his shop, he sells these products to me at the cheapest price and he doesn't make any profit from it.
There is a camp in Reyhanli some Syrians have set up on a community sports ground. Many of these refugees don't have tents or any form of shelter, so we've been working with them by bringing them food and baby supplies.
Currently, there are 75 children and babies at that camp. One of the boys is epileptic, and he's not receiving any medication which is heartbreaking. I love how resilient and thankful these families are. They are always so delighted when we bring them aid.
In Turkey, we are still experiencing aftershocks from the earthquake. Some buildings are still collapsing and the sheer volume of death is tragic.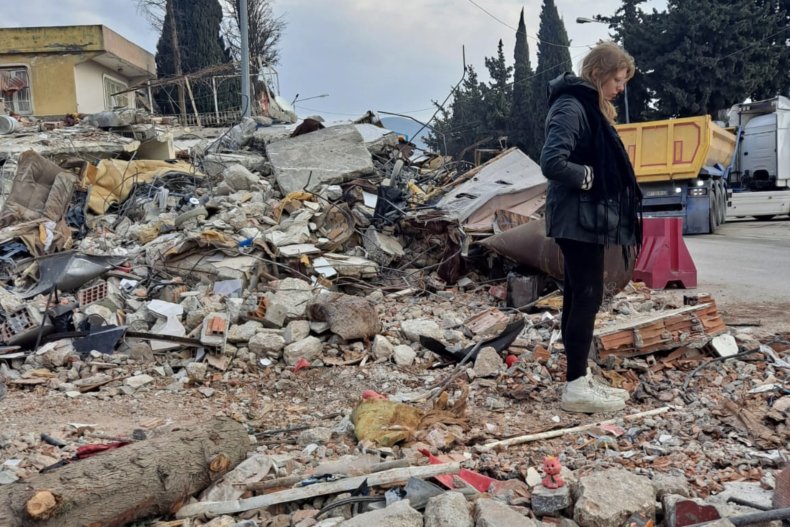 Seeing the community coming together
I have heard and witnessed many inspiring stories so far. An elderly dentist and his wife were trapped under the rubble of their building from February 6 to February 8. According to them, they had essentially survived by talking about God and their lives together. They hugged one another for warmth, and when they were found, they were completely unharmed.
It was wonderful to hear about this story from the firefighters and we had dinner with this married couple of days later and their story is amazing. Being a little part of moments like that is incredible.
One friendly cafe owner claimed that he was saved by his bird, which is incredible. He and his bird have a very lovely relationship, and moments before the earthquake happened, the bird flew out of the cafe. The owner then ran after the bird, seconds before the building collapsed.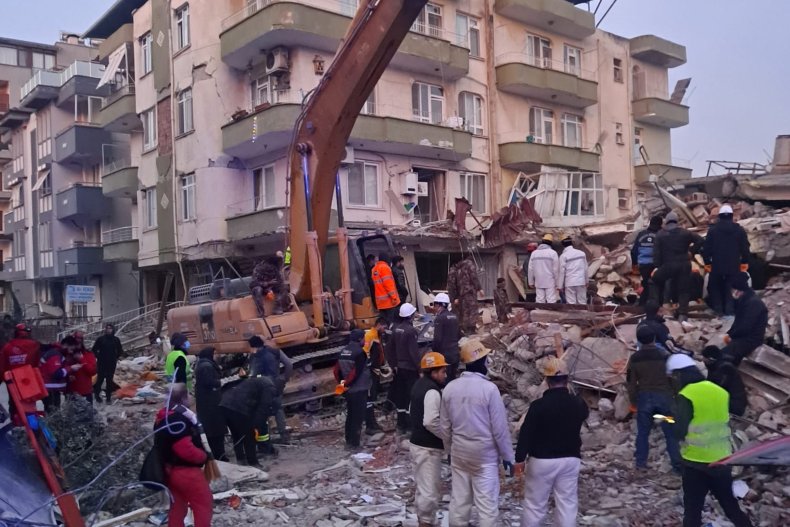 I met two civil engineers from the United Arab Emirates (UAE) who flew over to Turkey as soon as they heard about the earthquake. They told me that they are hoping to build a large, makeshift hospital with two operating theaters. It makes me very emotional to think about it; it's incredible and unbelievable.
When catching up with them in a cafe, they explained that they are working many hours. They came to Turkey without any equipment, or staff, and had to hire equipment from Istanbul. Over the course of a few days, news of what they were doing had spread and many people had volunteered to help them.
One of the engineers, Ibrahim, was beside himself with a mixture of joy and horror. And all he kept repeating was, "I didn't build it, Allah built it." He then said "Everyone in the world needs to put humanity first. Humanity is the most important thing." That was very moving. The hospital was finished on February 17 and the first operation was completed the same day.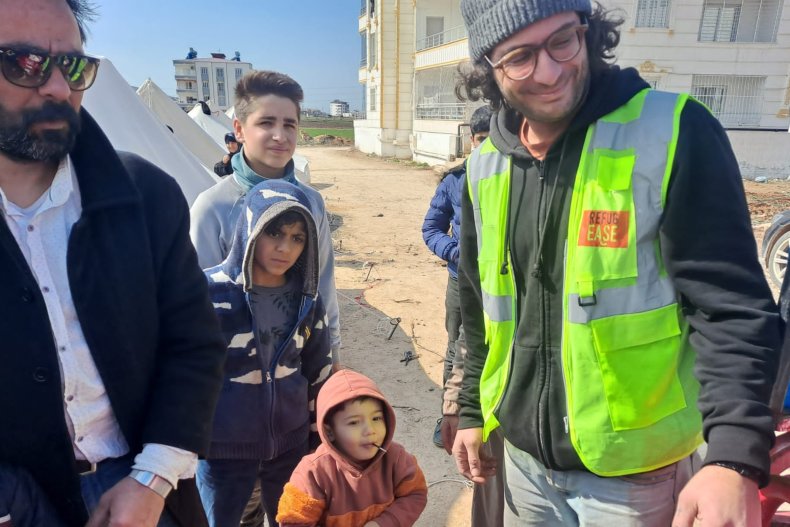 I have been assisting in building tents for the people in Reyhanli and as an organization, we're planning to build a hydro farm on the land so that they can eventually grow their own food, as well as building a chicken coup so they can be self-sustaining.
On February 17, I returned to Antakya as another aftershock brought down more buildings. Sadly, we don't have enough funds to support everybody the way that we'd like to. That's why we're encouraging everybody to donate to our aid shop. When you buy an item, it is personally delivered to refugees by me. People buy items online through the aid shop, and thanks to our partnerships in the region, I am able to deliver those items the following day.
Ryan Karacochi is the operations manager at Refugease, a nonprofit organization specializing in offering humanitarian aid to victims in Syria, Turkey, and various other countries. To donate to victims in Turkey and Syria, click here.
All views expressed in this article are the author's own.
As told to Newsweek associate editor, Carine Harb.
Do you have a unique experience or personal story to share? Email the My Turn team at myturn@newsweek.com