Turkey Turns to Russia and Not U.S. or NATO for Help in Syria
Turkey turned to Russia for assistance on Thursday after a group of militants began shelling a Turkish observation outpost in the Syrian province of Idlib.
The move comes as Turkey's relationship deteriorates with the United States and its allies in the North Atlantic Treaty Organization (NATO) and as Ankara's military cooperation with Russia deepens.
"Given the lethal threat to its personnel, the Turkish command turned to the Russian Center for Reconciliation of the Opposing Sides, requesting assistance in ensuring the security of its military and carrying out strikes against the terrorists' positions," Russia's Ministry of Defense said in a statement.
Turkey and Russia have not always seen eye-to-eye in regards to Syria policy, but the relationship between the two countries appears to have been bolstered by Turkey's controversial decision to purchase an S-400 missile defense system from Russia. The U.S. and Turkey's NATO allies have consistently argued that the system is incompatible with NATO weapons systems. The U.S. has threatened to stop selling F-35 fighter jets to Turkey in response to the sale, and it is possible that Turkey could be subject to sanctions for having purchased Russian military equipment.
"As soon as Russia is ready to deliver them to us, we will be ready to accept them," Turkish Foreign Minister Mevlut Cavusoglu told reporters about the missile defense system during a press conference late last month.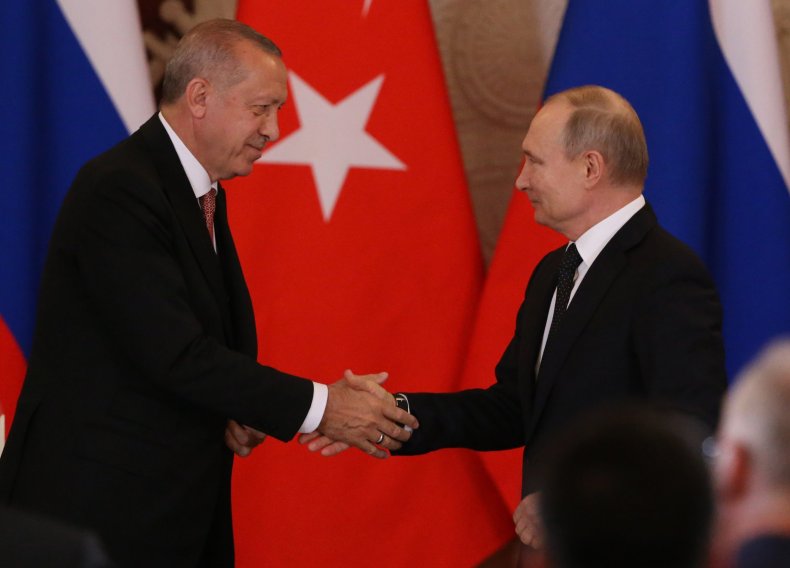 Officials have suggested that the delivery could be made by July.
"Turkey has already bought S-400 defense systems. It is a done deal. I hope these systems will be delivered to our country next month," Turkey's President Recep Tayyip Erdogan reiterated on Thursday.
Geopolitical experts note that the past year has been significant for Turkey's relationship with Russia because the ongoing war in Syria has forced the two sides to cooperate. But that doesn't necessarily mean that this cooperation will be durable.
"Turkey's relationship with Russia is historically fraught with suspicion and friction. Since the end of the Cold War, however, the two countries have established an important economic relationship, and they have set a bold, perhaps unreachable target of $100 billion in bilateral trade," reads a 2018 report from the geopolitical intelligence platform Stratfor.
"Even so, this economic aspiration is counterbalanced by differing prerogatives in the strategic and geopolitical realm," the report continues. "Recent developments in the Syrian civil war have resulted in a strange congruence of interests and seeming cooperation between Ankara and Moscow, but it would be a stretch to argue that this cooperation will deepen into an enduring strategic relationship."