Turkey Says U.S. Ally Kurds Use Same Chemical Weapons Assad Is Accused of Possessing in Syria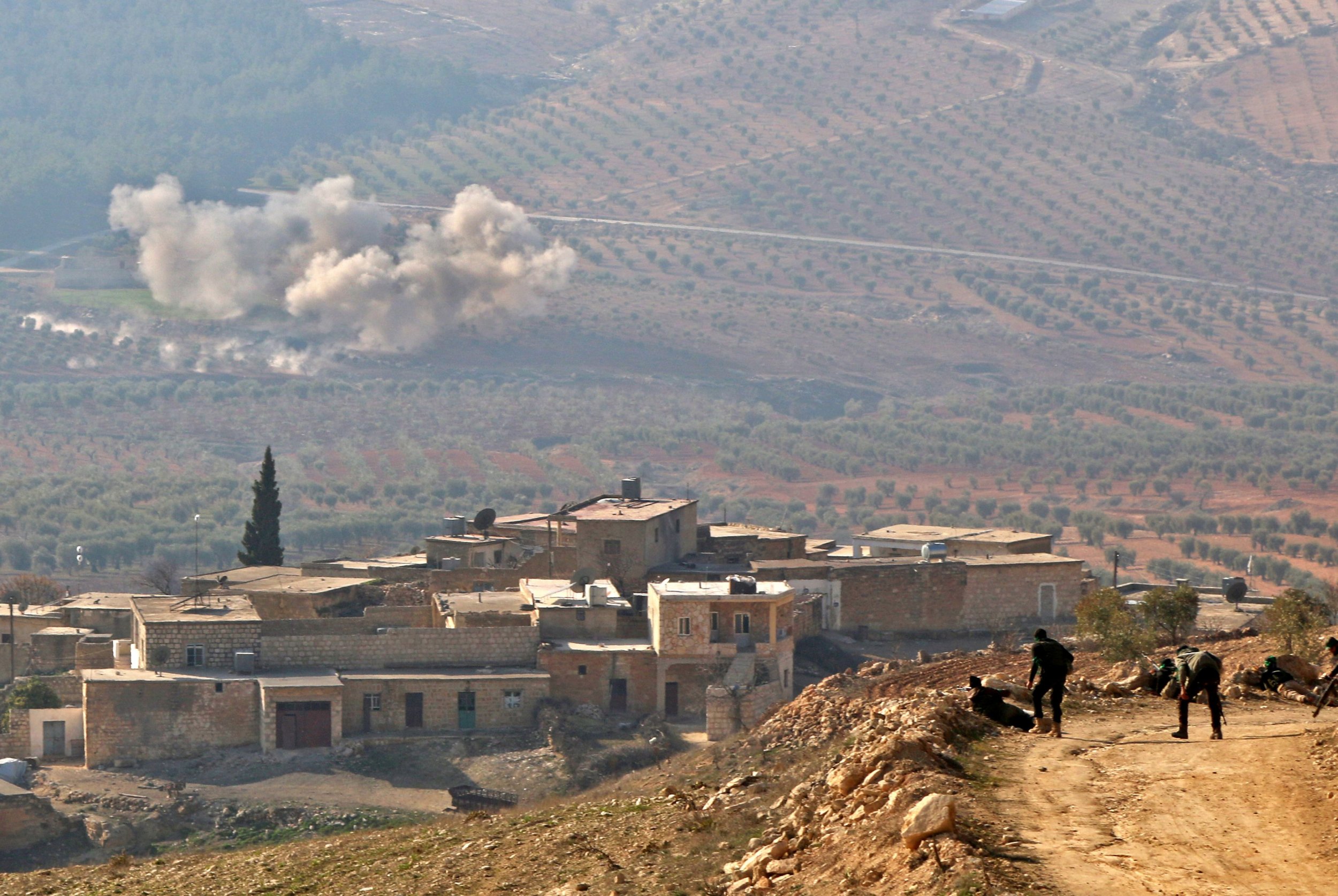 Updated | Turkey has accused Kurdish forces of using chemical weapons against Syrian rebels trying to oust them from a northwestern enclave of control in Syria.
A Twitter account affiliated with Turkey's so-called Operation Olive Branch in Syria claimed Tuesday that forces affiliated with the Democratic Union Party (PYD)—a leading Syrian Kurdish political party that commands the armed and U.S.-backed People's Protection Units (YPG)—fired a mortar shell containing toxic chlorine gas at Turkey-backed Free Syrian Army (FSA) insurgents in northern Afrin, injuring up to 20. The Syrian military and rebels have both been accused of using chemical weapons throughout the nearly seven-year conflict, but such charges against the Kurds were rare.
Related: CNN Turkey reports 'American Sniper' Bradley Cooper killed in Syria, U.S. military denies
"FSA elements were targeted by the terrorist PYD militia with a shell containing poisonous chlorine gas on the Sheikh Kharouz front north of Afrin," the account tweeted, accompanied by four images of what appeared to be men suffering from the alleged attack.
Turkey has split with the U.S.—a fellow Western military alliance NATO member—over the Pentagon's backing for Kurdish fighters alleged to have ties to the militant group known as the Kurdistan Workers' Party (PKK), which has launched attacks for decades in Turkey. Like Ankara, the U.S. entered the Syrian conflict in support of rebel groups such as the FSA that were trying to overthrow Syrian President Bashar al-Assad, but CIA funding for the insurgents dwindled as they were overshadowed by more powerful and radical groups such as the Al-Qaeda-affiliated Nusra Front and the Islamic State militant group (ISIS).
The U.S. invested more heavily in backing Kurdish fighters battling rapid ISIS advances across Syria and Iraq. In October 2015, the U.S. formed the Syrian Democratic Forces, a coalition of Arabs and ethnic minorities that has been dominated by the YPG.
As the Syrian Democratic Forces defeated ISIS in northern Syria, Turkey has protested the Kurdish presence along its border with Syria and last month launched Operation Olive Branch to dislodge the YPG from the Aleppo district of Afrin, which borders Turkey. The U.S. has criticized the Turkish operation for "impeding the task to eliminate ISIS" but has so far declined Kurdish calls for intervention.
Turkey's chlorine gas claims already have been reportedly challenged. Ragıp Soylu, Washington correspondent for Turkey's Daily Sabah outlet, said on Twitter shortly after the news broke that local sources were claiming no chemical attack had occurred, but that the FSA fighters had been exposed to some form of smoke from another source.
The YPG then released a strongly worded denial and suggested Turkey and its FSA allies were trying to "fabricate a cover for their fiasco in the north of Afrin," where the Turkish offensive has struggled to advance. The YPG claimed Turkish artillery actually shot chlorine gas-filled shells that ultimately poisoned the FSA as Kurdish fighters sought higher ground.
Newsweek received a statement early Wednesday by the U.S.-led coalition, which said it was "aware of but cannot corroborate reports that Kurds in Afrin have employed chemical weapons." It emphasized its focus on defeating ISIS and said the Syrian Democratic Forces "are in compliance with the Law of Armed Conflict and do not use chemical weapons."
The account affiliated with Turkey's Operation Olive Branch also sent Newsweek a statement attributed to Hassan Haj Ali, described as the leader of the FSA group that was attacked. The rebel leader said his forces were taken by surprise in Sheikh Kharouz as his forces "began to cough and fall and shiver" from the effects of what "turned out to be chlorine gas" from a mortar shell. He said seven individuals had been transferred to a hospital in the Turkish city of Kalis, while another 13 were being treated locally in Syria.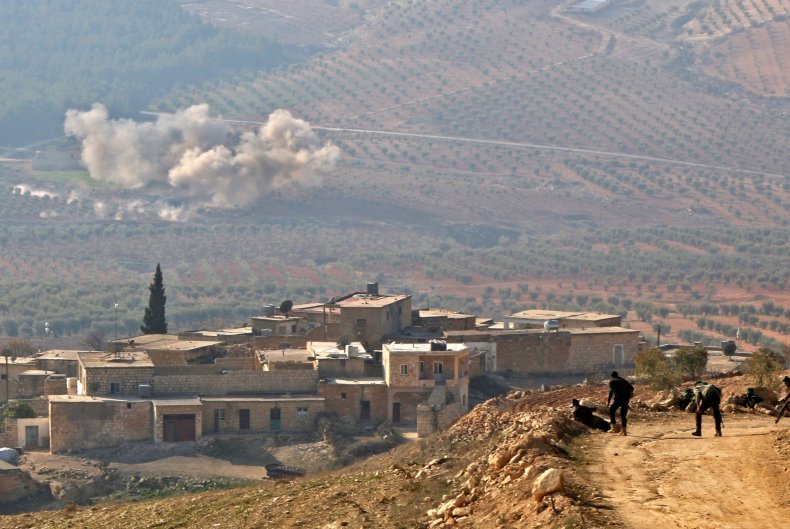 The Turkish reports came as activists and the Syrian opposition claimed the Syrian military has launched a chlorine gas attack against the last rebel-held province of Idlib and in a small, besieged pocket of control in eastern Ghouta, outside of Damascus. Nikki Haley, the U.S. ambassador to the United Nations, argued last week that Russia shared some blame because it "looked the other way" when its Syrian ally was accused of using chemical weapons.
Syria's acting chargé d'affaires to the U.N. Mounzer Mounzer denied the accusations and blamed Western support for various nonstate actors for introducing chemical attacks to Syria. He said Monday, "The U.S., Britain and France bear full responsibility for obstructing the international investigation of the use of toxic chemical materials by covering the crimes of terrorist groups in Syria," according to the official Syrian Arab News Agency.
The Syrian military, backed by Russia and Iran, waged a separate, parallel offensive to defeat ISIS and declared victory over the jihadi group in November. Assad has regained most of the ground he lost to rebels and jihadis earlier in the war, but he faced tough questions about Kurdish autonomy and Western calls for the Syrian leader to step down.
This story has been updated with additional information reported by Daily Sabah journalist Ragıp Soylu and statements by the YPG, the Free Syrian Army and the U.S.-led coalition.