Vladimir Putin Decries 'Accomplices of Terrorism' After Turkey Shoots Down Russian Jet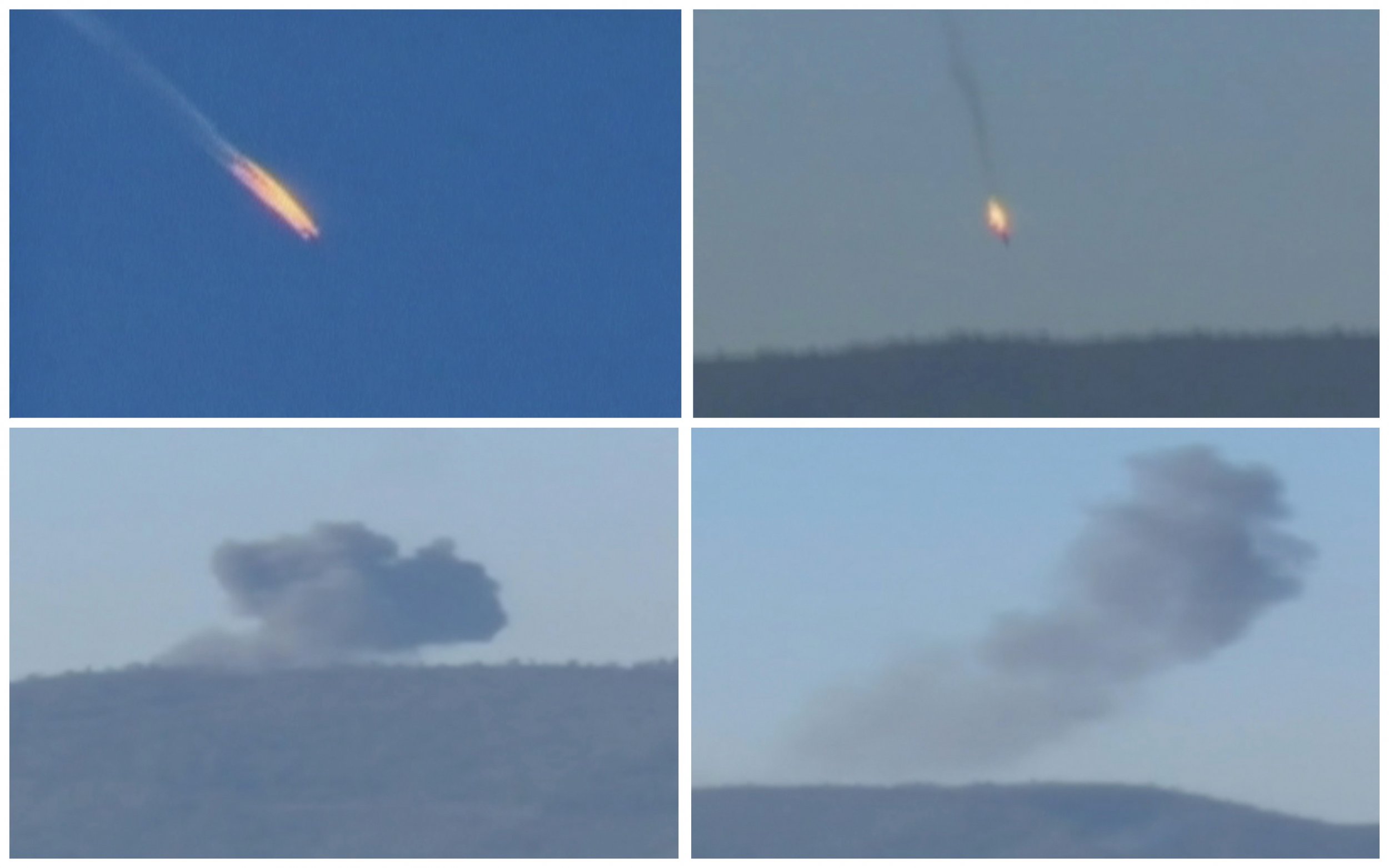 Updated | Russian President Vladimir Putin accused Turkey of endorsing terrorism by shooting down a Russian warplane that allegedly violated Turkish airspace on Tuesday morning, promising "significant consequences" for the relations between the two countries.
"Today's loss is like a stab in our backs from accomplices of terrorism," Putin told Russian state news agency Itar-Tass. "I cannot qualify what happened today in any other way."
The Russian leader said the plane posed no threat to Turkey, and Russian military officials continue to maintain that the jet never left Syrian airspace, where it was supposedly carrying out airstrikes on militants on the ground.
The Russian Ministry of Defence issued a televised statement on Tuesday evening saying that in response to the downing of its plane, Russia will fly bombers in Syria under the cover of fighter jets.
This is at least the third time Russia has been accused of violating Turkish airspace since the start of October, when Russian jets based in Syria went into Turkey twice in two days. The Turkish government warned this could affect Turkey and Russia's energy relationship, while NATO's secretary general, Jens Stoltenberg, said the alliance was prepared to send troops to Turkey if it felt one of its member territories was under threat.
Kremlin spokesman Dmitry Peskov told Itar-Tass that Russia had "reliable" information that the plane was in Syrian airspace before it was taken down, while a statement from the Russian Ministry of Defence reiterated that the Su-24 was flying "entirely above Syrian territory" throughout the duration of its flight.
Turkey's account of events is considerably different. A Turkish military official told Reuters that Turkish F-16s noticed an unidentified jet in its airspace and warned it about airspace violations 10 times within the space of five minutes before shooting it down. Only later did the Russian Ministry of Defence confirm that the plane was a Su-24 from its fleet.
According to CNN Türk, Turkey has released flight radar images of the Russian plane's course, claiming it shows the jet did enter Turkish airspace. The blue line on the graphic supposedly indicates Turkey's borders, while the red line shows the flight route of the Russian plane.
While Turkey has called for an emergency meeting with NATO allies on the matter, Putin has lashed out at the lack of direct contact between Ankara and Moscow after the incident. "What are they trying to do, put NATO in the service of ISIS?" the Russian leader said.
The fate of the jet's two pilots—who ejected before the plane crashed— is currently unknown, though reports continue to emerge, claiming that one Russian pilot was found dead on landing in Syria, while another has been captured.
Reuters cites London-based monitor group the Syrian Observatory for Human Rights as reporting that a Russian helicopter has also been forced to make an emergency landing after coming under fire from rebels. This has not been officially confirmed, however the monitor adds that the group was armed with U.S.-supplied arms.
Reuters confirmed it received a video from a Syrian rebel group that purports to show one of the Russian pilots immobile on the ground. The group claim he is dead, although the claim cannot be independently verified.
Al-Jazeera's Turkish news desk has published what appears to be the same video, however its authenticity could not be independently verified by either Al-Jazeera or Newsweek.
The plane went down in an area of northern Syria near the Turkish border known as Turkmen Mountain, Turkish broadcaster Haberturk reported. Turkish daily newspaper Hurriyet reported that the plane crashed into tents in the village of Yamadi in Syria's Latakia governorate, just across the Turkish border, and that one of two pilots had been captured by Turkmen forces in the region.
The state-run Anadolu Agency published a video showing a jet in flames plummeting towards the ground, leaving a long plume of smoke behind it.
Turkish Prime Minister Ahmet Davutoglu has been briefed on the situation by the chief of military staff. Turkey called this week for a United Nations Security Council meeting to discuss attacks on Turkmens in Syria, who are Syrians of Turkish descent.
Russia's upper house of parliament, the Federal Council, has already hit out against the downing of the jet. Deputy head of the defence committee Franz Klintsevich told state news agency RIA Novosti that the incident was "international provocation."
He said: "Russia will demand exhaustive explanations of the Turkish side in connection with the incident."
Klintsevich also said that he believes NATO and the U.S. are directly linked to the incident because Turkey is a NATO ally.
Meanwhile lawmakers from Russia's lower house of parliament (the Duma) have already drafted a letter to Putin, calling on him to sever diplomatic ties with Turkey, national daily Izvestia reports. In the letter, members of Russia's Communist Party argue that the downing of the plane is equivalent to Turkey declaring its "unlimited support" for the Islamic State militant group (ISIS).
Russia has been carrying out airstrikes in Syria since late September in support of Syrian President Bashar al-Assad. The airstrikes have ostensibly targeted ISIS though up to 80 percent of Russian airstrikes in Syria have hit other targets, including Western-backed rebel forces, according to Reuters.
This article has been updated to reflect ongoing developments.