Turkey Takes Center Stage in the Fight for Women's Rights | Opinion
In March, a man was filmed brutally beating his ex-wife on a street in Samsun, Turkey, while their 5-year-old daughter stood sobbing beside them. Viral footage of the man punching and slapping the woman, 24 year-old Emriye Metegül in the face, and slamming her head repeatedly against the pavement, shocked Turkey.
Weeks later, President Recep Tayyip Erdogan issued a decree announcing that Turkey would withdraw from the Istanbul Convention, a landmark international treaty designed to fight violence against women and domestic violence. It was a deeply disturbing move which sparked global condemnation, and months of protests by women and LGBTQ+ rights activists.
Today, Turkey's withdrawal became official—making it the first Council of Europe (COE) member ever to quit an international human rights treaty. Ironically, Turkey was the first state to sign and ratify the convention. Drafted by COE member states and opened to signatures in Istanbul in 2011, the treaty offers a legal framework to protect women from violence and promote gender equality, through legislation, education and awareness raising. It has been ratified by 34 out of 47 COE member states. The list of European countries that have yet to ratify includes: Armenia, Azerbaijan, Hungary, Slovakia, Bulgaria, Czech Republic, Latvia, Lithuania, Moldova, Russia, Ukraine and the U.K.
The treaty is a crucial tool which has already transformed the lives of millions of women and girls in participating countries. It is thanks to ratification and implementation of the Istanbul Convention that Finland established a 24-hour hotline for survivors of domestic violence; and that Iceland, Sweden, Greece, Croatia, Malta, Denmark and Slovenia introduced vital consent-based legal definitions of rape since 2018.
The Istanbul Convention is a widely accepted international instrument, which has become the gold standard for preventing and combating violence against women and domestic violence. Its impact goes beyond the COE. The U.K. and Ukraine recently made strong commitments toward ratification, and Mexico, a COE observer state, recently announced its intention to be part of the treaty.
Unfortunately, Turkey is not the only country to reject this lifesaving instrument. Last year, Poland announced its intention to withdraw, claiming that the treaty threatens "family values," while Hungary refuses to ratify it on the basis that it "prescribes dangerous gender ideologies." This dangerous rhetoric echoes the Turkish government's claims that the Istanbul Convention "normalizes homosexuality," and comes amid concerted efforts by Poland and Hungary to roll back on LGBTQ+ rights and legitimize discrimination.
Turkey's move has drawn condemnation from governments and world figures including President Joe Biden and European Commission President Ursula von der Leyen.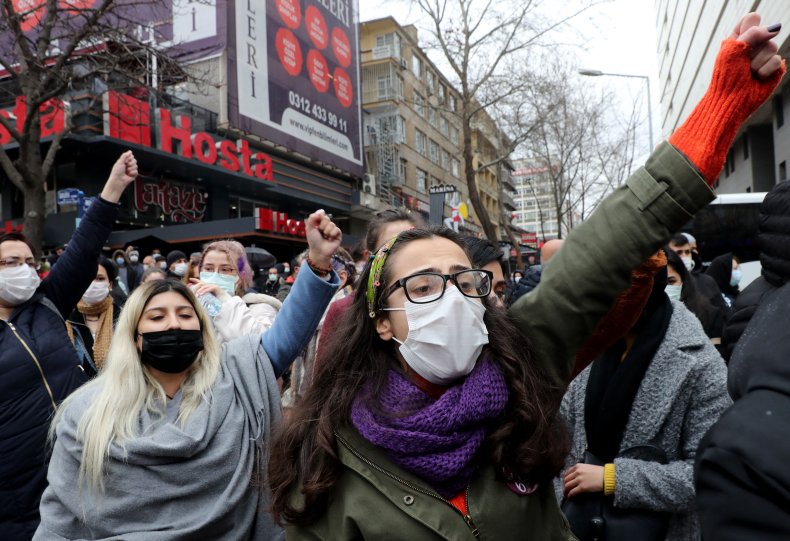 Erdogan's decision will put millions of women and girls at greater risk. The Samsun video was the tip of the iceberg; according to women's rights groups, at least 300 women were murdered in Turkey last year, and more than 100 have been killed so far this year. Failures to address violence against women in Turkey are compounded by a culture of impunity for violence, masked by so called family values.
The COVID-19 pandemic and ensuing lockdowns made the situation still more dangerous, with a dramatic spike in reports of violence against women and girls in Turkey. Instead of withdrawing from the convention, Turkey should work toward implementing it through national legislation, policies and other measures to protect women and girls from violence without discrimination. The measures Turkey has taken since becoming a party to the convention have been manifestly insufficient, as shown by judgments of the European Court of Human Rights concerning violence against women.
But there is hope. Turkey's move has had the unintended effect of shining a spotlight on violence against women in the country, and has galvanized repeated protests for months. Tens of thousands have taken to Turkey's streets to defend their rights, and millions around the world are learning about, and fighting for, the Istanbul Convention for the first time.
Today, Turkey turned its back on the gold standard for the safety of women and girls, sending a reckless and dangerous message to perpetrators that they can commit violence with impunity. But this could also be the moment when the tide begins to turn. Turkey may have set the clock back 10 years on women's rights, but President Erdogan has also thrown down the gauntlet to all those believe in human rights. And it has been picked up.
As the Time's Up and #MeToo movements made plain, gender-based violence is a global problem, faced by women, girls and LGBTQ+ people on a daily basis. We need to come together to fight it, to stand up for our rights in the face of a disturbing backlash. We need the protection of international treaties, and we must continue to stand in solidarity with women in Turkey as they face difficult days ahead.
Agnès Callamard is the secretary general of Amnesty International. She was previously the special rapporteur on extrajudicial, summary, or arbitrary executions appointed by the United Nations Human Rights Council.
The views expressed in this article are the writer's own.