Turkey Will Crush U.S. 'Terror Army' in Northern Syria, President Erdogan Vows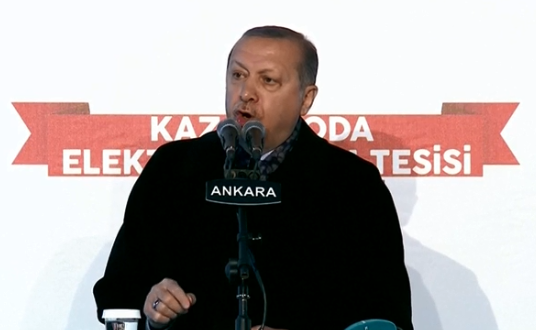 Turkey's president, Recep Tayyip Erdogan, has vowed to "suffocate" efforts to form a U.S.-led border security force in northern Syria, accusing the Trump administration of trying to create a "terror army."
The U.S.-led coalition announced Sunday it would be working with the Syrian Democratic Forces (SDF), which are led by Kurdish militia the YPG, to set up a new 30,000-strong force to secure Syria's northern border with Turkey, as well as the eastern border with Iraq.
Turkey regards the YPG as a terrorist group and warned the U.S. earlier on Monday that it would be "playing with fire" if it went ahead with the partnership.
The Turkish president spoke about the plans in a speech in the capital city of Ankara on Monday, saying, "A country we call an ally is insisting on forming a terror army on our border, despite all our objections, warnings and well-meant advice."
"What can that terror army target but Turkey?" he asked, warning, "Our mission is to strangle it before it's even born."
Related: Donald Trump is "playing with fire," Turkey says, after U.S. sets up Syrian border force
The Turkish leader warned the U.S. to "take your insignia off the uniforms of terrorists so we do not have to bury them in the ground with the terrorists."
The U.S.-led coalition has already announced the recruitment of 230 new cadets for the security force established to help secure areas recently liberated from the Islamic State militant group (ISIS).
Turkey has previously criticized U.S. support of the SDF due to the involvement of the YPG, which it views as an extension of the Kurdistan Workers' Party, or PKK, which is considered a "terrorist" organization by Turkey, the U.S. and the European Union.
"This is what we have to say to all our allies: Don't get in between us and terrorist organizations, or we will not be responsible for the unwanted consequences," Erdogan warned.
"Either you take off your flags on those terrorist organizations or we will have to hand those flags over to you," he continued. "Our operations will continue until not a single terrorist remains along our borders, let alone 30,000 of them."
Erdogan also said during the press conference in Ankara that Turkish armed forces had completed preparations for an operation against the Kurdish-controlled region of Afrin in northwest Syria and the town of Manbij.
"If the terrorists in Afrin don't surrender, we will tear them down," Erdogan told a congress of his ruling AK Party in the eastern Turkish city of Elazig last week.
The Turkish president's comments come after the country's deputy prime minister, Bekir Bozdag, accused the Trump administration of "provocative" behavior with the plans to launch the border force. Bozdag also issued a warning, suggesting that Turkey's forces "could come suddenly one night."