As Turkey's Erdoğan Blocks Twitter, Dissidents Use Graffiti to Spread Work-Around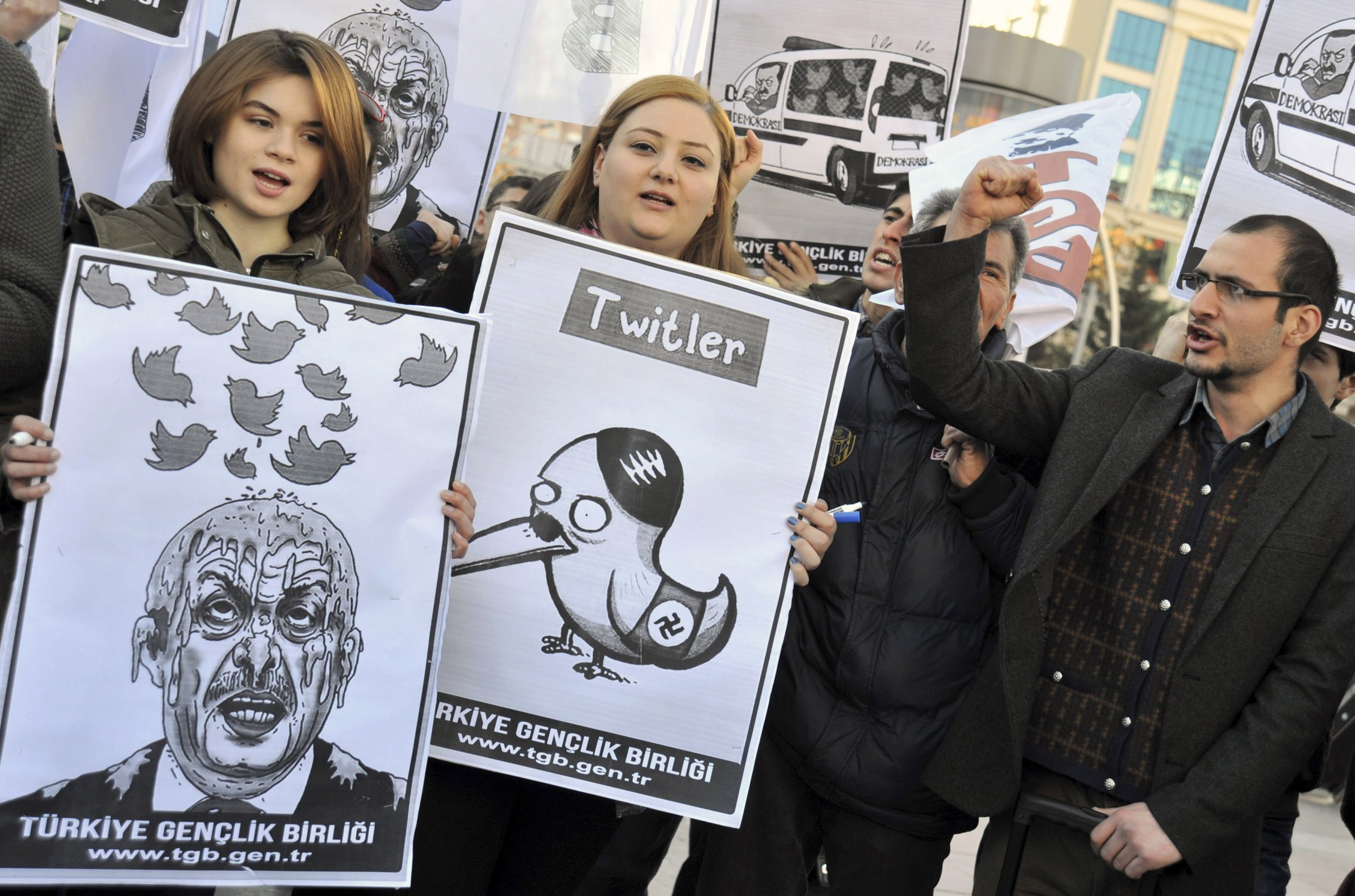 Since May 2013, Turkish protesters have used Twitter to share photos, videos and audio recordings of police brutality and expose alleged corruption within the country's government. On Friday, Turkey's prime minister, Recep Tayyip Erdoğan, officially blocked the microblogging site, after explaining that Twitter had failed to "implement court orders and rules of law" dictating that certain material would be censored.
"I don't care what the international community says," Erdoğan told a crowd at his campaign rally on Thursday. "Everyone will witness the power of the Turkish Republic." The speech, translated by the Turkish paper Hürriyet Daily News, comes less than two weeks before the country will vote for its next prime minister.
On Friday afternoon, Twitter's @Policy account tweeted that the company was opposed to Erdoğan's ban:
Similarly, White House spokesman Jay Carney told reporters that the Obama administration was "deeply concerned" about the Twitter ban, as it undermined Turkish citizens' "ability to exercise freedom of expression." The comment mirrored long-standing criticisms among many young Turkish people that Erdoğan has been stifling freedom of speech and religion inside the country.
Erdoğan has been waging a war against Twitter for the past 10 months. During the Gezi Park protests last summer, which began in earnest after police used tear gas against environmental activists, Erdoğan referred to Twitter as a "troublemaker." More recently, in February, he accused a "robot lobby" (bots created by his opponents) of attacking his administration online.
Like the "robot lobby" accusations, Erdoğan's most recent threats to block Twitter for Turkey's 10 million users were spurred by a series of audio recordings, shared on the platform, that allegedly expose corruption inside his administration. If the recordings are authentic, they implicate the prime minister in wiretapping and money laundering, as well as attempting to interfere with media coverage—the latter charge not so far-fetched, given the prime minister's position toward Silicon Valley.
"Turkey has never shied away from censorship in the past," the Electronic Frontier Foundation's director for international freedom of expression, Jillian York, tells Newsweek. When you visit a site banned by the government, it points users to the court order responsible for the blockage. York says this latest attempt at censorship "is pretty brazen. It's been a while since a country has blocked Twitter."
Turkey now joins China and Iran as the only countries attempting to block the site. Banning or otherwise censoring social media has proved difficult for leaders, as savvy users can readily get around localized censorship using the anonymous Tor network or changing their DNS settings to access the site through servers in other nations.
And plenty of people in Turkey are sophisticated about the Internet and social media. "We're not talking about Syria," says York. Almost half of Turkey is on the Internet, and many users have the resources and know-how to get around online censorship. In fact, protesters have already begun graffiting unblocked DNS addresses around the city and sharing them—where else?—on Twitter:
"I don't think this ban is going to last," York says.
According to TechCrunch, which compared Twitter activity in Turkey in the past few days, while the ban does seem to have had some negative effect on the number of tweets coming out of the country, it may have done Erdoğan more harm than good in terms of global exposure. Before Thursday, there were about 200 tweets per day around the world that mentioned both "Turkey" and "Twitter." On Friday, there were more than 80,000.
Globally, Twitter users have begun circulating a poster designed in the style of the Turkish flag but depicting Pac-Man eating Twitter's bird logo:
Twitter did not respond to requests for comment on this story.