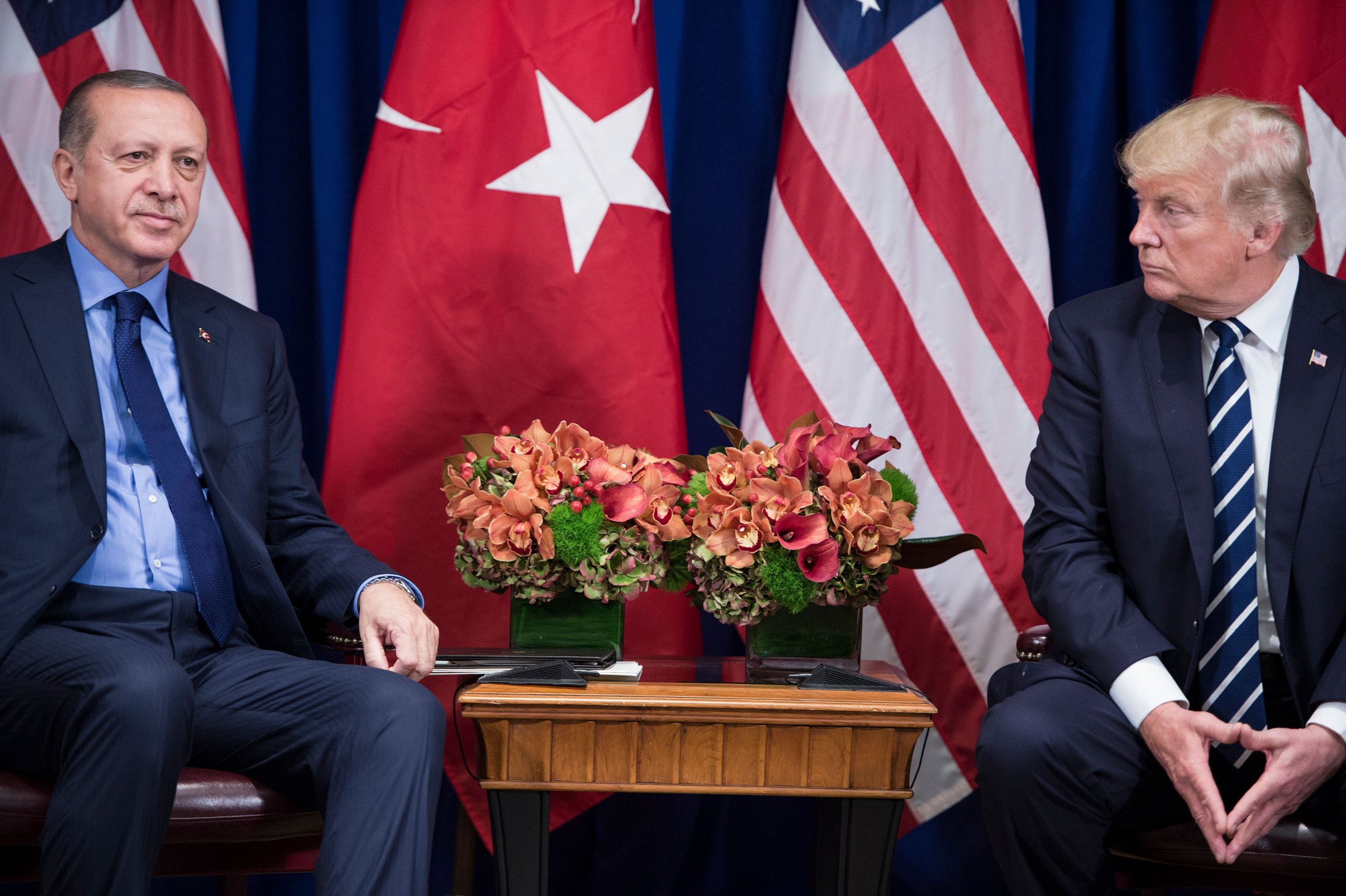 Turkish President Recep Tayyip Erdogan has ignored President Donald Trump's call for Turkey to limit its military actions in Syria, vowing to continue his fight against Kurdish rebels in the north of the country.
The White House said on Wednesday that Trump had told Erdogan "to de-escalate" the situation in northern Syria, "limit its military actions" and "exercise caution," according to his administration.
But Erdogan said in a speech in Ankara: "We will continue our fight until there is no terrorist on our border leading to Iraq."
He said the Turkish military would "clean up" the city of Manbij, the northern Syrian enclave that the Islamic State militant group (ISIS) once held but that is now in the hands of the People's Protection Units, or YPG.
Turkey views the YPG as an extension of the Kurdistan Workers' Party (PKK), a Kurdish group it has designated as an extremist organization. The group has waged a bloody insurgency against the Turkish government for several decades.
The Turkish military launched the mission dubbed Operation Olive Branch against the Syrian Kurdish force on Saturday, giving assistance to Syrian rebels with airstrikes and supporting a ground operation.
As the operation continues, thousands of Kurdish civilians have fled Afrin, and the Syrian Observatory for Human Rights (SOHR), a U.K.-based monitoring group, said more than two dozen civilians had been killed by the Turkish military.
The Syrian Kurds have called on Syrian President Bashar al-Assad to intervene and protect them from the Turkish military offensive, specifically to prevent Turkish planes flying in Syrian airspace.
"While we insist that we will continue to defend Afrin against rabid external attacks and will confront the Turkish attempts at occupying Afrin, we invite the Syrian state to carry out its sovereign duties toward Afrin and to protect its borders with Turkey from attack," the autonomous authority governing Afrin said in a statement on Thursday.
Turkey is angry at Washington's assistance to the Kurds, and tensions are high between the NATO allies. Ankara refuted Washington's assertion that Trump had warned Erdogan to limit the military offensive in northern Syria.
Official Turkish sources told Agence France-Presse news agency that the release by the White House "does not accurately reflect the content" of the phone call.
"The two leaders' discussion...was limited to an exchange of views," a Turkish official said. The official added that Trump had not shared any concerns about "escalating violence," in contradiction to the White House statement.
Erdogan took a shot at U.S. foreign policy, appearing to call the country hypocritical for telling Turkey to keep its operation short.
"How long has Afghanistan lasted? Nearly 20 years. How long has it lasted in Iraq? Nearly 18 years!" he said.