Turkey's Erdogan Offers Condolences for 1915 Killings of Armenians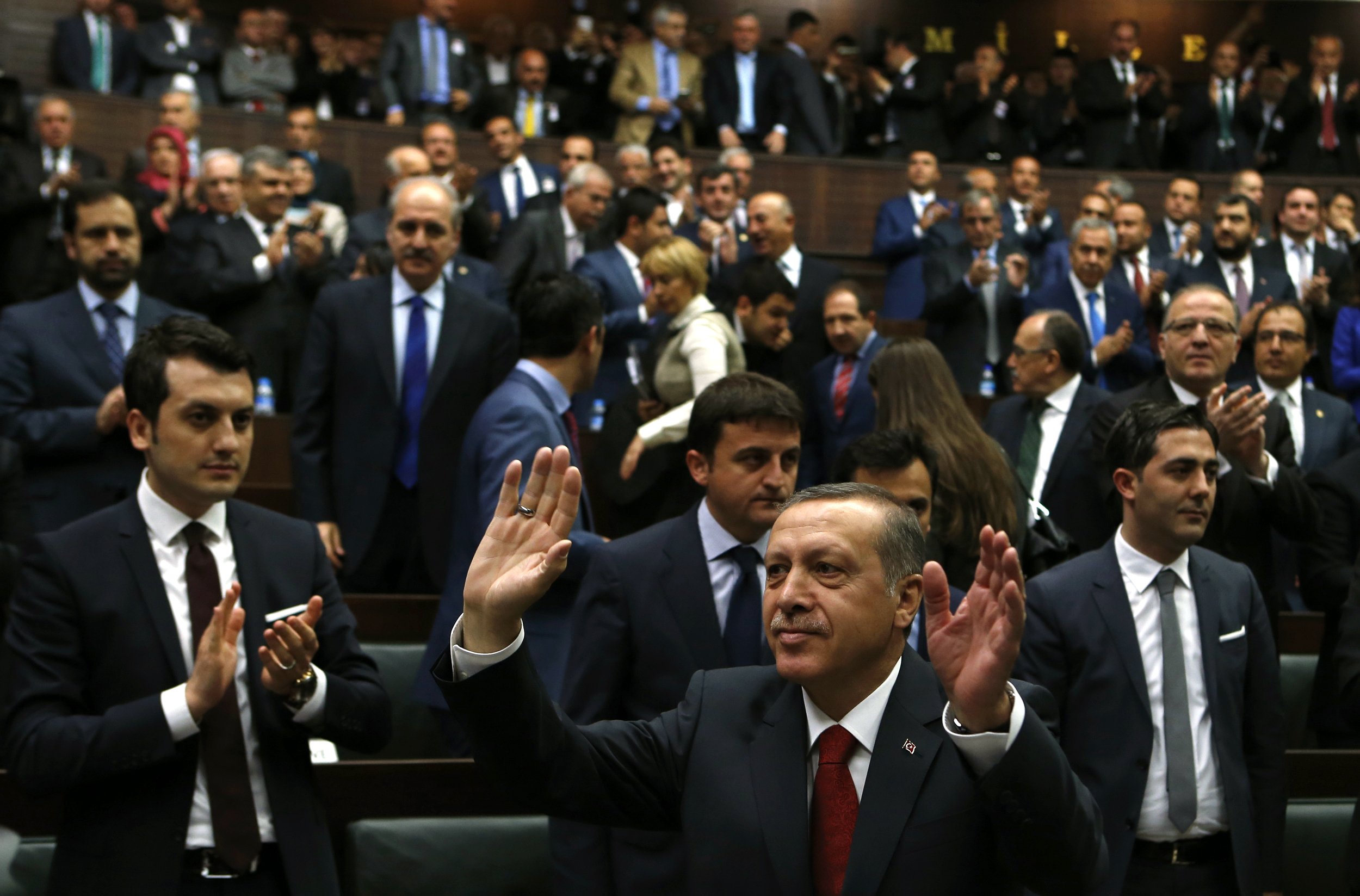 ANKARA (Reuters) - Turkish Prime Minister Tayyip Erdogan offered on Wednesday what the government said were unprecedented condolences to the grandchildren of Armenians killed in World War One by Ottoman soldiers.
In a statement issued on the eve of the 99th anniversary of the deeply contested deaths, Erdogan unexpectedly described the events of 1915 as "inhumane", using more conciliatory language than has often been the case for Turkish leaders.
Turkish government officials said it was the first time a Turkish prime minister had offered such explicit condolences and described the statement as a historic step, but Erdogan's words were dismissed as "cold-hearted and cynical" by an influential U.S.-based Armenian advocacy group.
The exact nature and scale of what happened during fighting that started in 1915 is highly contentious and continues to sour relations between Turkey and Armenia, a former Soviet republic.
Turkey accepts that many Armenians died in clashes, but denies that up to 1.5 million were killed and that this constituted an act of genocide - a term used by many Western historians and foreign parliaments.
Earlier in April, for example, a U.S. Senate committee resolution branded the massacre of Armenians as genocide.
The United States praised the Turkish move.
"We welcome Prime Minister Erdogan's historic public acknowledgement of the suffering that Armenians experienced in 1915," State Department spokeswoman Jan Psaki told a regular news briefing.
"We believe this is a positive indication that there can be a full, frank and just acknowledgement of the facts, which we hope will advance the cause of reconciliation between Turks and Armenians."
Erdogan's statement - unusually released in nine different languages including Armenian - repeated previous calls for dialogue between the two countries, and the setting up of a historical commission to probe events surrounding the killings.
"It is with this hope and belief that we wish that the Armenians who lost their lives in the context of the early 20th century rest in peace, and we convey our condolences to their grandchildren," he said.
"Having experienced events which had inhumane consequences - such as relocation - during the First World War, should not prevent Turks and Armenians from establishing compassion and mutually humane attitudes towards one another."
ON THE DEFENSIVE
Although striking a conciliatory tone, Erdogan reiterated a long-held Turkish position that the deaths of millions of people during the violence of the period should be remembered "without discriminating as to religion or ethnicity".
Turkey is a Muslim state, while Armenia is Christian.
"Using the events of 1915 as an excuse for hostility against Turkey and turning this issue into a matter of political conflict is inadmissible," Erdogan added.
Armenia has up to now declined the offer for a joint historical commission because it regards the alleged genocide as an established historical fact and believes Turkey would use such a commission to press its own version of events.
Armenia accuses the Ottoman authorities at the time of systematically massacring large numbers of Armenians, then deporting many more, including women, children and the elderly and infirm in terrible conditions on so-called death marches.
The executive director of the Armenian National Committee of America said Turkey was increasingly isolated over its version of what happened in 1915.
"Ankara is repackaging its genocide denials," Aram Hamparian said in response to Erdogan's remarks. "The fact remains that, as this cold-hearted and cynical ploy so plainly demonstrates, Turkey is, today, escalating its denial of truth and obstruction of justice for the Armenian Genocide."
No one from the Armenian government was immediately available to comment. Armenian President Serzh Sarksyan is due to address the nation on Thursday morning during an annual "genocide" day speech.
In December, Turkish Foreign Minister Ahmet Davutoglu made Turkey's first high-level visit to Armenia in nearly five years, raising the prospect of a revival in peace efforts between the historical rivals which stalled in 2010.
Turkey cut ties and shut its border with Armenia in 1993 in support of Turkic-speaking Azerbaijan, which was then fighting a losing battle against Armenian separatists in Karabakh. The frontier remains closed.