Turkish Official Slams Biden for Calling Atrocities Against Armenians 'Genocide'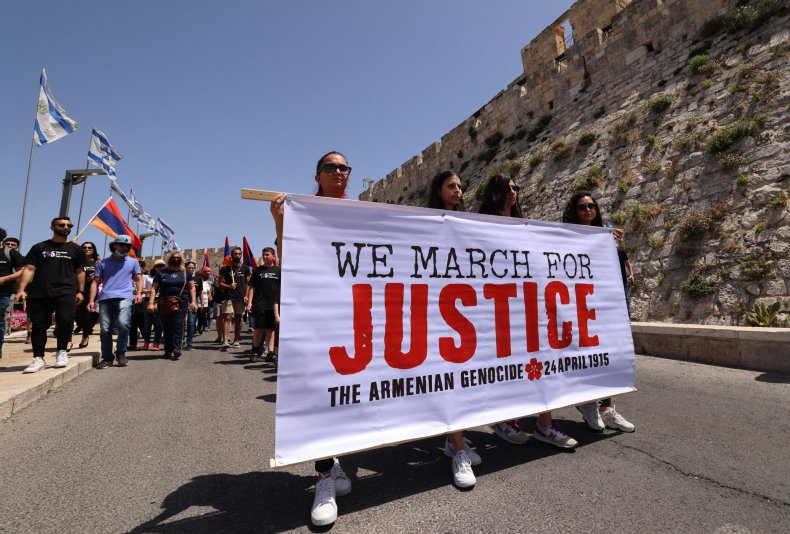 Turkey's foreign minister rebuked President Joe Biden on Saturday for calling the killings and deportations of Armenians in the early 20th century by forces of the Ottoman Empire a "genocide."
"Words cannot change history or rewrite it," Turkish Foreign Minister Mevlut Cavusoglu said in a Twitter response to Biden's statement on Saturday, which formally called the events between 1915 to 1923 a "genocide," a term that Biden's predecessors have been hesitant to use in the effort not to fray U.S. relations with Turkey, a key Middle East and NATO ally.
Cavusoglu added: "We will not be given lessons on our history from anyone. Political opportunism is the biggest betrayal of peace and justice. We completely reject this statement that is based on populism. #1915Events."
Biden's Saturday statement is historic as he is the first U.S. president to call the events starting in 1915 a "genocide." The move is likely to make relations between Ankara and Washington even more complex.
"Each year on this day, we remember the lives of all those who died in the Ottoman-era Armenian genocide and recommit ourselves to preventing such an atrocity from ever again occurring," the president said in the statement released on Armenian Genocide Remembrance Day—formally recognizing the events known as Metz Yeghern, when about 2 million Armenians were deported and 1.5 million were killed, according to The Associated Press.
While most historians consider the treatment of Armenians to be genocide, Turkey maintains Armenians defied their government, according to The Wall Street Journal.
"We honor their story," Biden's said of the Armenian immigrants who came to the U.S. on the heels of the violence. "We see that pain. We affirm the history. We do this not to cast blame but to ensure that what happened is never repeated."
Supporters of the move see Biden's statement as symbolic of his intent to make human rights the focal point of his administration's foreign policy. Armenian Assembly of America Executive Director Bryan Ardouny said to the Journal that a "U.S. affirmation of the Armenian genocide not only enhances America's credibility on human rights issues, but also helps prevent future genocides."
In a response letter to Biden's statement, Armenian Prime Minister Nikol Pashinyan said: "The recognition of the Armenian Genocide by the United States is a much-needed message to the international community, which comes to reaffirm the primacy of human rights and values in international relations. From this perspective, it sets an encouraging and inspiring example for all those who want to build a just and tolerant international society."
A number of U.S. lawmakers also reacted to Biden's statement on social media.
"By recognizing historical facts, President Biden is sending a signal to the world that truth and human rights are at the forefront of United States foreign policy," said Representative Ted Lieu (D-CA) in a tweet.
"Truth-telling and full acknowledgment of injustice can be one of the most important steps towards healing," said Representative Alexandria Ocasio-Cortez (D-NY) also responded. "Acknowledging the Armenian genocide is long overdue, and I hope this day brings some degree of peace to impacted families and communities as we move forward together."
Representative Adam Schiff (D-CA) wrote: After years of Turkish threats and intimidation...After a murderous war on the people of Artsakh...After so many heartbreaks and disappointments...Thank you, President Biden, for speaking truth to power."
Support from Washington lawmakers hasn't always been there, according to Samantha Power, Biden's nominee to lead the United States Agency for International Development. She reacted to Biden's statement with a thread detailing the historical context of Washington's slow recognition of the Armenian genocide.
Power wrote that Henry Morgenthau Sr., who was the US Ambassador to Turkey at the time, informed Washington of the violent events in July 1915: "Persecution of Armenians assuming unprecedented proportions."
But at that time, Power wrote: "Washington ignored Morgenthau's frequent & urgent pleas to respond to 'a systematic plan to crush the Armenian race.' Morgenthau confronted Turkish authorities but the Interior Minister blithely responded, 'Why can't you let us do with these Christians as we please?'"
Now that recognition has arrived, "I wish to state that your message brought to completion the process of recognizing the Armenian Genocide in the United States," Pashinyan said.
The move could make U.S. relations with Turkey a complex issue for Biden's future foreign policy decisions, though. Biden reportedly informed Turkish President Recep Tayyip Erdogan on Friday of his decision to issue the statement, marking the president's first call to Turkey since taking office. According to a Turkish government statement after the call, Erdogan voiced concerns in the conversations about cleric Fethullah Gulen, who is accused of leading a failed coup in 2016, and reportedly living in Pennsylvania.
The Turkish president, who had close ties to former President Donald Trump, also claimed the U.S. is helping Kurdish fighters in Syria who are associated with Iraq-based Kurdistan Workers' Party (PKK). The PKK has been an insurgent force against Turkey for more than three years, according to The Associated Press. The State Department has designated PKK as a terrorist organization.
Biden reiterated a focus on reconciliation with Erdogan, who he told he wanted to find an "effective management of disagreements. The two leaders agreed to hold a meeting at the NATO summit in June in Brussels, Belgium.
It's not clear if the move will mean peace for Turkey and Armenia's neighbors. Azerbaijan's ambassador to the U.S., Elin Suleymanov, said to the Journal that calling the events a genocide "doesn't help the normalization between Armenia and Turkey," referring to the closed border between Turkey and Armenia.
"It's not going to be helpful in the region," Suleymanov said.