Fighting in New York Breaks Out After Protesters Disrupt Turkish President Erdogan's Speech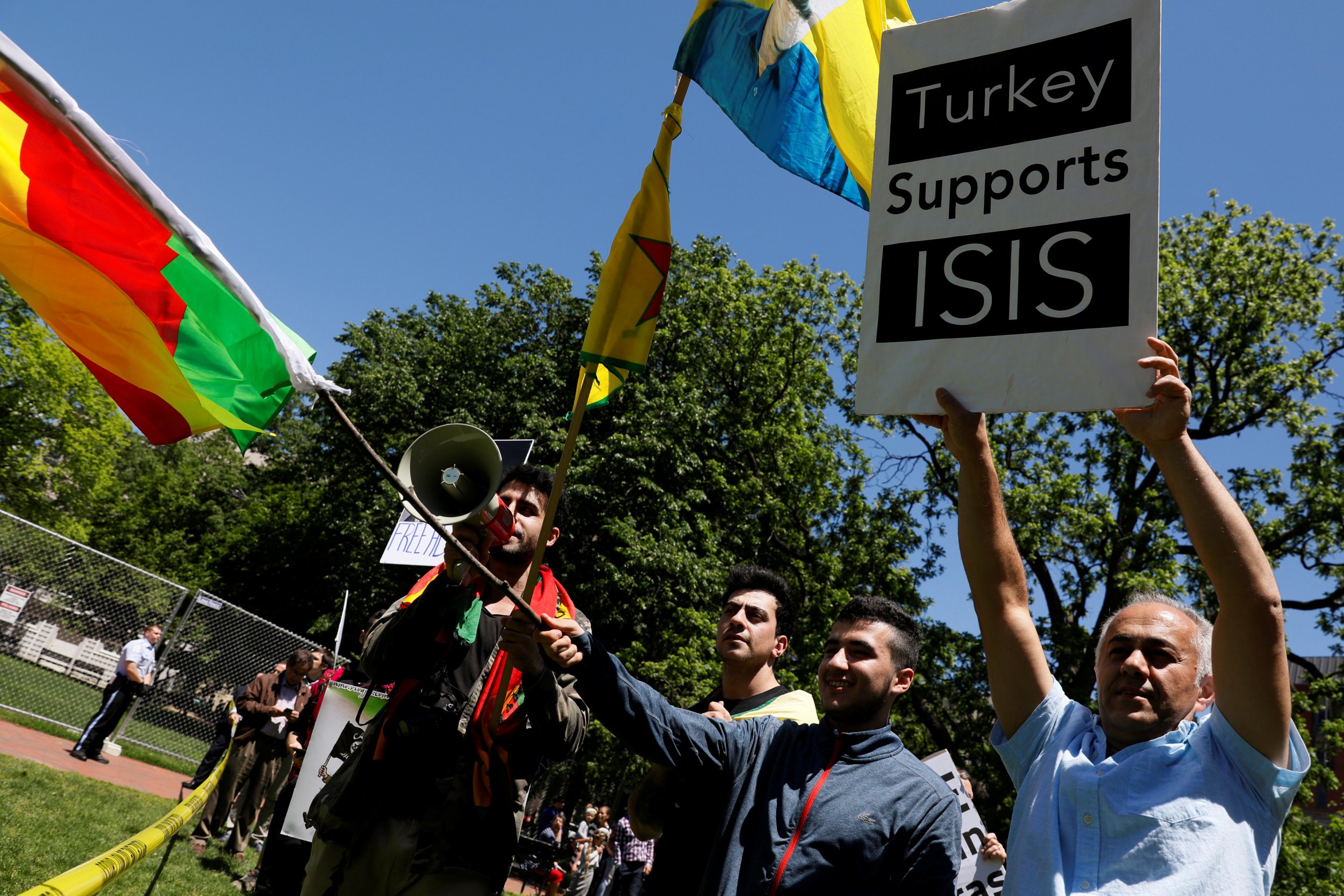 The security detail of Turkish President Recep Tayyip Erdoğan was caught up in violence on U.S. soil once again Thursday as he delivered a speech in New York City.
Erdoğan, in the city for the U.N. General Assembly this week, was addressing the Turkish American National Steering Committee (TASC) at the Marriott Marquis in Times Square.
Video shared by Voice of America's Turkish arm showed members of the audience shouting at Erdoğan in opposition to his policies toward the Kurdish minority in his country, as well as toward Kurds in northern Syria along the Turkish border. One said: "You're a terrorist! Get out of my country!"
Kurds in Turkey and Syria accuse the Turkish government of human rights abuses, and even war crimes, in its military operations against them. Turkey denies this, saying it has to conduct security operations to prevent militant Kurdish attacks on the mainland.
The video shows men in black suits moving toward the protesters, with one being hit by members of the crowd. It remains unconfirmed that members of Erdoğan's security team were caught up in the melee, and unclear as to who was throwing the punches.
Erdoğan's security detail, dressed similarly, was implicated in a mass brawl in the U.S. earlier this year: Several men become embroiled in violence outside the Turkish embassy in Washington, D.C., in May. Video showed Erdoğan's security team punching and kicking Kurdish and Armenian demonstrators. The brawl left 12 people injured. Erdogan appeared to watch the brawl from the embassy premises.
The State Department criticized the attack, and last month a grand jury in Washington indicted 15 Turkish security officials and four civilians on charges of assault in connection with the brawl.
In 2011, Erdoğan's security team was also involved in a fight at the U.N. headquarters in New York that left one police officer injured.
A member of the crowd at Thursday's speech, who posted video footage to social media, alleged that the man who shouted at Erdoğan was an American national who had volunteered for the People's Protection Units, or YPG, the Kurdish militia in northern Syria that is battling the Islamic State militant group (ISIS).
Turkey alleges that the YPG is connected to the Kurdistan Workers' Party, or PKK, which has waged a decades-long insurgency against Ankara in a conflict that has taken tens of thousands of lives.
Erdoğan tried to calm the situation after members of the audience threw punches and objects at the protesters. "My dear brothers, my dear brothers, my dear brothers, I have an important request from you: Don't let three to five impertinent people, three to five hall terrorists, ruin our lovely gathering," he said. Audience members began chanting Erdoğan's name in order to stop the protesters from being heard.
One of the protesters, Meghan Bodette, told the The New York Times: "Erdoğan should not be able to speak here unchallenged, and we challenged him because the American people need to know that a state that claims to be our ally is hindering the fight against ISIS in Syria and destroying civilian lives."
The TASC told BuzzFeed News that police arrested four of the protesters for "trespass and disturbing the event. President Erdoğan calmly and wisely restored order, and the program continued seamlessly and successfully." However, the New York Police Department said this was incorrect and that they had detained five protesters and released them shortly afterward.