Turkish President Erdogan Says West Could Have Stopped Putin at Crimea
Turkish President Tayyip Erdogan claimed Friday that if the West had spoken out against Russia's invasion and annexation of Crimea in 2014, President Vladimir Putin's current aggression towards Ukraine could have been prevented.
At the Antalya Diplomacy Forum (ADF), representatives from 75 countries discussed global issues, including the ongoing invasion of Ukraine by its neighbor. Erdogan delivered an opening speech claiming the West's insufficient reaction to Russia's annexation of the Crimean peninsula in 2014 led to the current invasion.
"If the whole West and the whole world had raised their voices against the invasion of Crimea in 2014, would we have faced today's picture?" asked Erdogan, Ukrinform reported. "But those who kept silent about the occupation of Crimea are already saying something. Is justice valid in one part of this world and invalid in another? What kind of world is this?"
"Unfortunately, the international community has not shown the necessary sensitivity and has not provided the necessary support to address this injustice," Erdogan continued.
In 2014, former First Deputy Commander of the Ukrainian Navy Sergei Yeliseyev quit and joined forces with Moscow, instead of resisting, when Russian soldiers in unmarked uniforms took control of Kyiv's ships and military bases on the peninsula. Almost all of the Ukrainian forces in Crimea failed to resist, however, a month later Russia seized and annexed it.
Putin deployed troops to the Crimean peninsula, which the Kremlin decided to take by force, violating the first principle of international law—that countries may not acquire territory or change borders by force. The Russian president justified the invasion by asserting that Crimea was mostly comprised of ethnic Russians.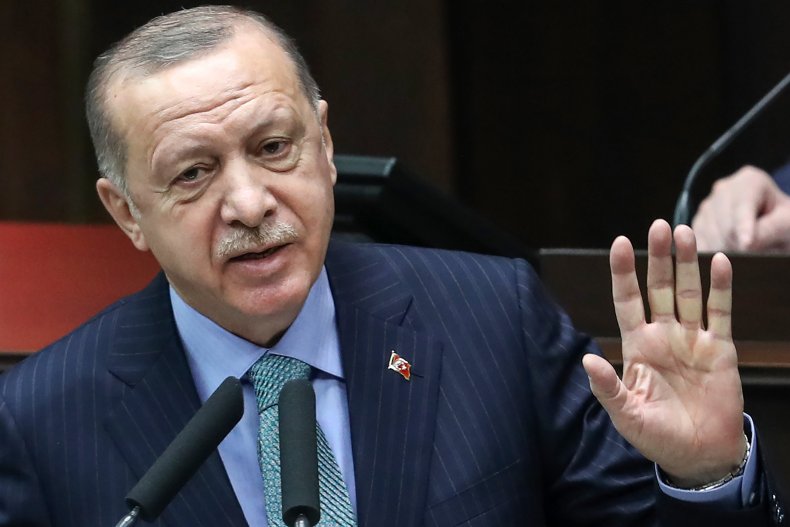 Although the U.S. imposed sanctions against Russia in 2014, Erdogan believes the world could have done more. However, it's unknown if tougher sanctions or physical interference would have influenced the current crisis in Ukraine.
"Ukraine is left alone in its just struggle," the Turkish president said. "Today, we are facing the devastating and painful consequences of problems that can be resolved through diplomacy if strong will is shown in time. When we see civilians leave their homes, children full of fear and anxiety, cities in ruins, innocent people die, our sadness grows exponentially."
Newsweek reached out to the Turkish Embassy for comment.