Mass Brawl in Washington as Erdogan Security Team Confronts Protesters After Trump Meeting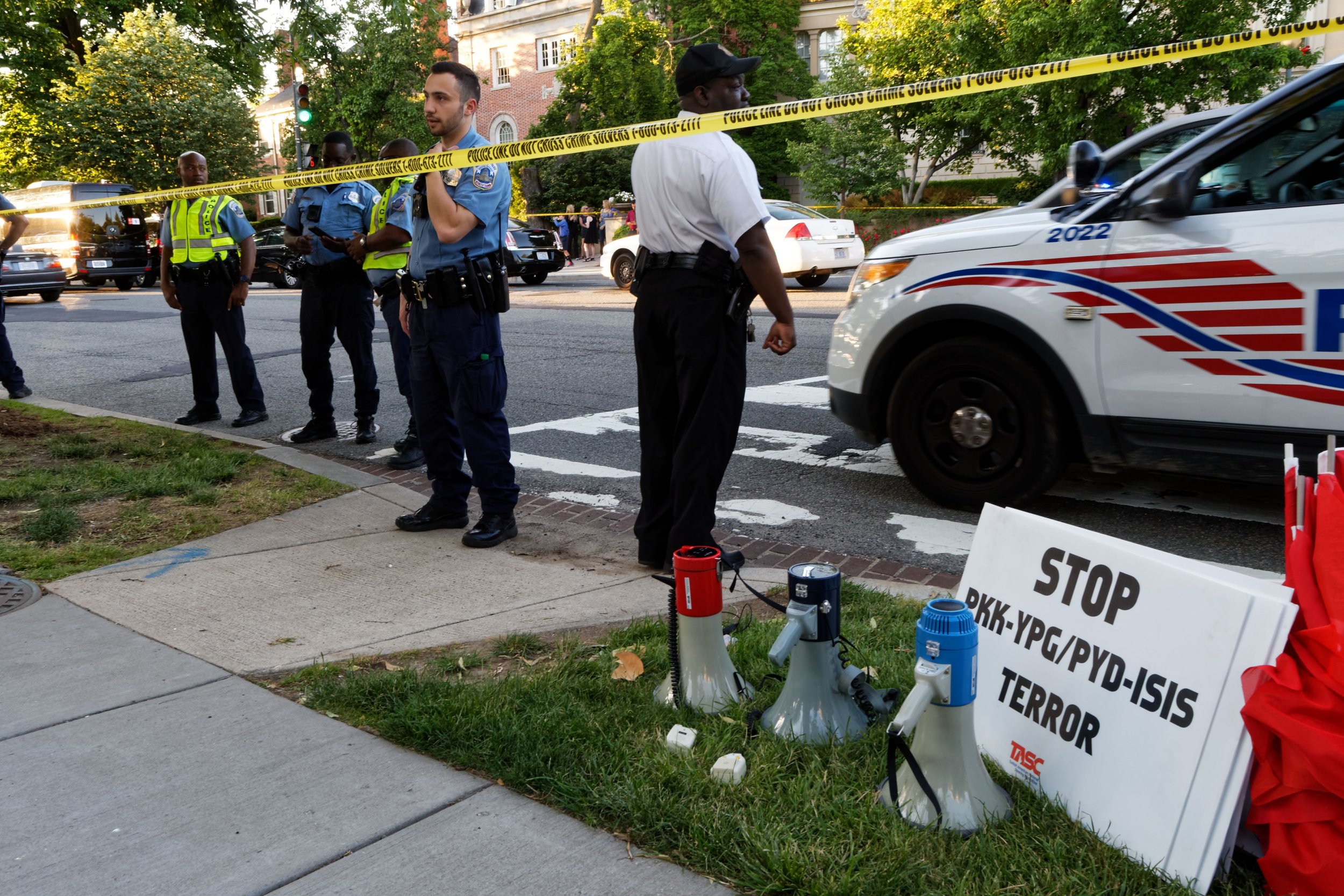 Footage has emerged of a mass brawl outside the Turkish embassy in Washington during which men believed to be Recep Tayyip Erdogan's bodyguards are seen attacking protesters just hours after the Turkish president's meeting with Donald Trump.
The brawl ensued as Erodgan's security detail and pro-Erdogan supporters confronted Kurdish and Armenian demonstrators. A video—posted by Voice of America—showed punches and kicks being thrown by both parties as the fight spills onto the grass outside the embassy.
One man holding a megaphone is shown being kicked in the face by a man in a dark suit. U.S. police officers are seen attempting to separate the two parties.
Police arrested two people as a result of the brawl, which left at least nine injured and one in critical condition. "We weren't doing anything wrong," a pro-Erdogan demonstrator, Mustafa Dikilitas told AFP news agency. "We just celebrated our president."
An anti-Erdogan protester said that supporters of the president suddenly charged at them. "Someone was beating me in the head nonstop," said Yazidi Kurdish demonstrator Lucy Usoyan, "and I thought, 'okay, I'm on the ground already, what is the purpose to beat me?'"
https://twitter.com/VOATurkish/status/864631567972540417
The protesters accused Erdogan of human rights violations. Turkish security forces have carried out several security operations in Turkey's majority-Kurdish southeastern regions in recent years. The Kurds claim Turkish forces killed civilians and maintained a siege of Kurdish areas that prevented access to food and medical supplies.
Turkey accuses much of its Kurdish population of having links to the outlawed Kurdistan People's Party, or PKK, which has waged a decades-long insurgency against Turkish authorities, with tens of thousands killed on both sides. It says Syria's Kurds, members of the People's' Protection Units, or YPG, are linked to the PKK group.
Read more: Trump and Erdogan push past differences to reaffirm "great relationship"
Trump met with Erdogan amid strained ties between the two countries. The U.S. decision to arm the Syrian Kurds in the fight against the Islamic State militant group (ISIS) angered Ankara, which fears Kurdish advances along its southern border.
"It will never be accepted, and it is going to be against a global agreement that we have reached," said Erdogan at the joint press conference with Trump.
Washington is also refusing to extradite the exiled Turkish cleric that Ankara says is responsible for the failed military coup in July 15, Fethullah Gulen. Erdogan's government embarked on a purge of state institutions following the attempt to overthrow his rule, ordering the arrest or suspension of tens of thousands of employees.
But Trump said Turkey was a key ally in the fight against terrorism, with its shared border with Syria a potential gateway for jihadists in and out of the conflict zone. Erdogan, besides his criticism of the Syrian Kurdish arms agreement, said Trump had achieved a "legendary triumph" after his election victory over Hillary Clinton.