Turkish President 'Responsible' for Country's Increasing Femicide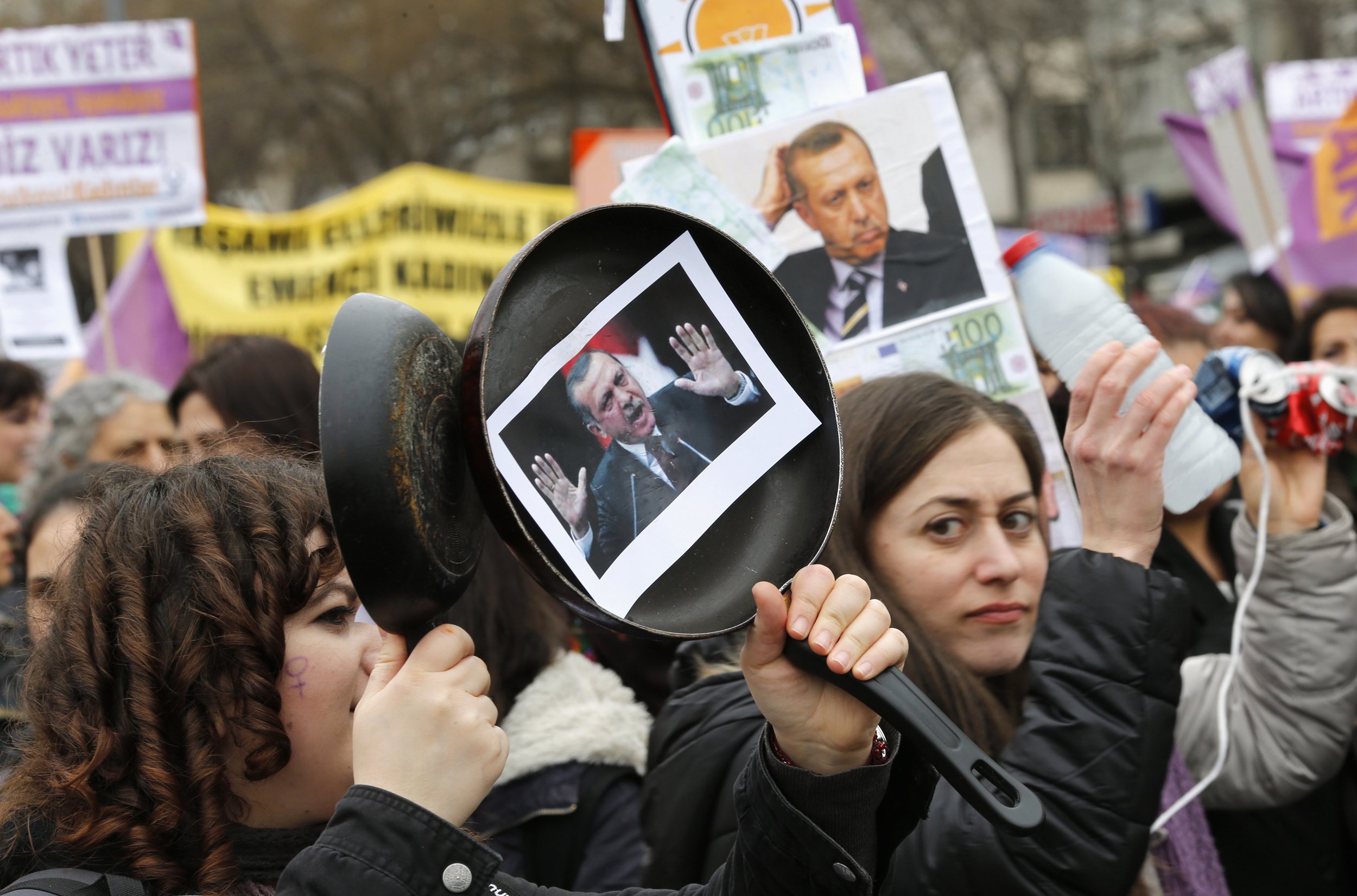 Turkish president Recep Tayyip Erdoğan is responsible for the increasing levels of femicide and violence against women in Turkey, according to a prominent Turkish NGO.
Fikriye Yilmaz of the Kadın Cinayetlerini Dırduracağız Platformu (Stop the Murder of Women Platform), an organisation on the frontline of the burgeoning women's movement in Turkey, says that last year saw the highest levels of femicide in Turkey on record. 294 women were murdered in 2014, up from 214 the previous year.
"The government doesn't take any actions to stop the violence. Erdoğan says a lot things which make him responsible for the femicide," says Yilmaz.
"The officials configure women as second class citizens who have to stay at home, and produce children so that labour power can be cheaper in Turkey," she continues. "The most important reason behind femicide in Turkey is men in power who can't accept that women want to make their own decisions about their lives."
Yilmaz's angry reaction comes in the wake of the murder of 20-year-old student Özgecan Aslan, who was killed while resisting rape in the southern province of Mersin at the end of February as she made her way home on a minibus. Her burned and dismembered body was later discovered, and three men have been arrested in connection with her murder.
The murder sparked outcry in the country, prompting the president to claim that "violence against women is a bleeding wound of Turkey", in a somewhat surprising move considering Erdoğan has previously portrayed women as vulnerable and subordinate citizens. This Sunday, a rally organised by a number of women's rights groups will be held dedicated to Aslan and to "the thousands of women who lost their lives at home, in streets or wars as a result of male-state violence", according to a statement.
Yilmaz's platform argues that the government's record of demeaning rhetoric towards women is directly contributing to the violence. In November 2014, president Recep Tayyip Erdogan said that women and men could not be treated equally. "He gave men who use violence against women justification by saying this," Yilmaz argues.
Turkey's media and legal system also are to blame for the increase, many women's rights groups say. One of the most popular soap operas on television, Seda Sayan recently portrayed a killer of two women being accepted as a guest in someone's home. "This was like showing that there is no punishment if you kill a woman," says Yilmaz.
"There is a deep divide between what the law states in Turkey, and what is carried out in practice," says Alev Scott, a Newsweek correspondent in Istanbul and author of Turkish Awakening, "Government rhetoric certainly doesn't help."
Scott highlighted to a 2005 law which stipulated that municipalities with more than 50,000 inhabitants open at least one shelter for survivors of domestic violence. However, of the 3,000 shelters that should have been created, Amnesty International discovered that only 90 existed in the whole country, 16 years after the law had been passed.
According to Scott, even the shelters that were built are not run properly, and there are numerous cases of abusive husbands managing to remove their wives from the shelters. "There is certainly a culture in Turkey that violence against women is a family matter, something that will sort itself out. The police are always unwilling to interfere, notoriously so," Scott concludes.
However, women groups are somewhat hopeful about the future, pointing out that there are increasing numbers of Turkish citizens getting involved in the struggle against the oppression, signalled by the large crowds that gathered in the wake of Aslan's murder. "Women want to feel that they are not alone, and they don't want to be silent in the face of this violence," says Yilmaz.
Zeynep Kandur, a member of president Erdogan's AKP, yesterday told the BBC: "Certain laws have been introduced to give women more rights. In 2002 there was a sentence in the constitution saying that men are the head of the family, that was removed and women have been given the right to 50% of everything that belongs to the family. So I feel that women are getting a much better deal now than they used to."