Turkish President Tayyip Ergodan Tells Vladimir Putin Israel Should be Taught a 'Deterrent Lesson' by Others
Turkish President Recep Tayyip Ergodan told Russian President Vladimir Putin that Israel should be given a "strong and deterrent lesson" by the international community for its actions against the Palestinians, the Associated Press reported.
In a statement, the Turkish Presidential Communications Directorate said Erdogan and Putin talked on the phone Wednesday. Erdogan stressed the need for "the international community to give Israel a strong and deterrent lesson" and pressed for the U.N. Security Council to rapidly intervene with "determined and clear messages" to Israel. Erdogan also suggested an international protection force to shield the Palestinians.
Erdogan previously called Israel a "cruel terrorist state" after the violent clash between Israeli police and Palestinian worshippers at Al-Aqsa mosque.
Relations between Turkey and Israel have been strained since both countries withdrew their ambassadors in 2018 over Israel's crackdown of Palestinians protesting United States President Donald Trump's decision to move the U.S. embassy from Tel Aviv to Jerusalem.
For more reporting from the Associated Press, see below.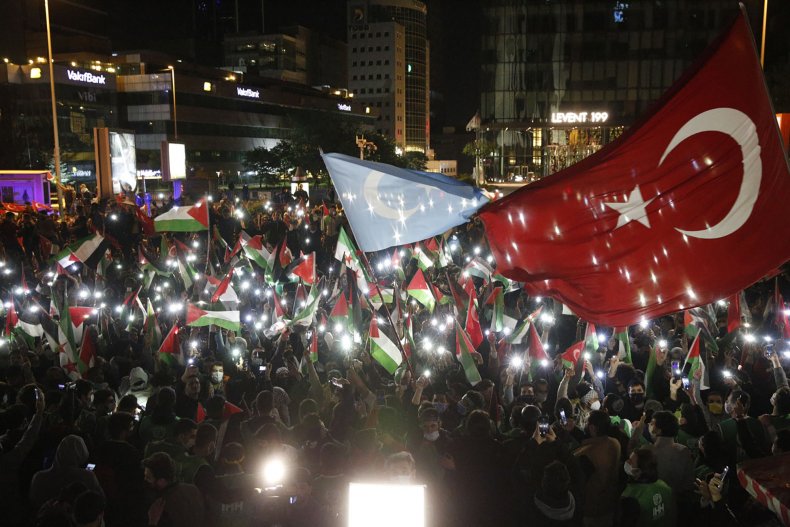 Meanwhile, thousands of people in Istanbul defied a nationwide coronavirus curfew late on Tuesday to demonstrate against Israel's attacks. A large convoy of cars drove toward the Israeli Consulate, waving Turkish and Palestinian flags. An image of the Palestinian and Turkish flags was projected onto the Israeli building.
Pakistan has also condemned Israel's actions and called for Muslim nations to stand by the Palestinians.
Prime Minister Imran Khan took to Twitter, saying: "We stand with Gaza and Palestine."
Foreign Minister Shah Mahmood Qureshi meanwhile urged Muslim nations to unite over Israel's strikes on Palestinian civilian areas.
Protesters were expected to hold a small anti-Israel rally later Wednesday in the southern city of Karachi.
The Gaza Health Ministry marks the death tolls from Israeli airstrikes on Gaza at 43, including 13 children. It said nearly 300 Palestinians in the area have been wounded in the strikes.
The head of Israel's emergency service also says one person was killed and one seriously wounded by an anti-tank missile fired from the Gaza Strip.
Eli Bein of Magen David Adom said the Wednesday morning attack hit a jeep. Israeli media reported the assault. The attack came after a night of deadly exchanges of rocket fire between Israel and Palestinians. It was an abrupt escalation of weeks of tension with roots in disputed Jerusalem.