Turning the American Rescue Plan Into Real Solutions for Families | Opinion
I recently visited a small business in eastern North Carolina—one of 4,000 child care centers that received a child care stabilization grant from my administration, made possible by the American Rescue Plan.
Like many small businesses, child care centers faced a lot of hardship during this pandemic. And that in turn created unexpected problems for working parents. But these grants have helped child care centers increase their pay to recruit and retain workers, offer parents better and more affordable child care, upgrade ventilation systems and even enhance playgrounds.
That's the kind of positive difference President Joe Biden's American Rescue Plan is making in peoples' lives. It may not always make news in Washington, but it's the reality in local communities.
North Carolina is also using this funding to offer debt-free community college for high school graduates, upgrade high-speed internet for rural towns and deliver long overdue bonuses to teachers and first responders.
But it's not just my state—and as we mark the one-year anniversary of the passage of the American Rescue Plan, it's important to recognize how Democratic governors are leading the charge to turn the American Rescue Plan into real solutions to the biggest challenges working families face.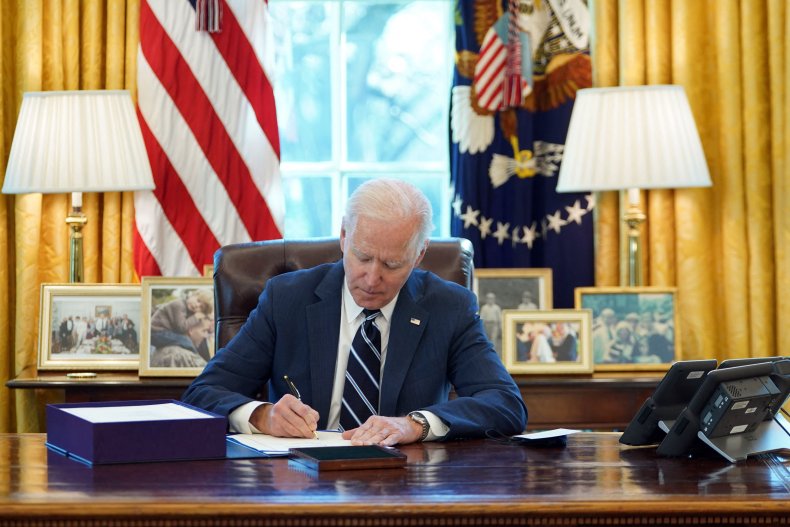 Democratic governors like Gretchen Whitmer in Michigan, Laura Kelly in Kansas and Tony Evers in Wisconsin are not only keeping kids in schools and investing in them at record levels, but they're also using the American Rescue Plan to give children and teachers the tools they need to get back on track. In Connecticut, Governor Ned Lamont's summer enrichment grants nearly doubled students participating in summer programming, with over 50 percent of students earning scholarships to attend learning programs. And in Nevada, Governor Steve Sisolak is addressing learning loss and providing literacy help for students.
At the same time, parents with young kids are saving money and getting help going back to work with expanded early childhood programs. New Mexico Governor Michelle Lujan Grisham is dramatically lowering the cost of child care, while Maine Governor Janet Mills is focused on expanding and building new child care centers, along with eliminating copays for low-income families.
Democratic governors are also using the American Rescue Plan to help families stay in their homes or even become first time homeowners. In New York, Governor Kathy Hochul launched a new program to help low and moderate income workers impacted by the pandemic stay in their homes. Colorado Governor Jared Polis is also investing in more affordable housing.
With the pain families are feeling from inflation, Democratic governors are taking action to lower costs and deliver savings on monthly bills like utilities, auto insurance and health care premiums.
Every American also deserves the security of a safe community. That's why Governors JB Pritzker, Tim Walz and Whitmer, among many others, are making sure police officers and first responders have the tools necessary to do their jobs—offering pay raises and investments to recruit and retain police, addressing mental health challenges through community safety initiatives and tackling gun violence.
Throughout this once-in-a-generation challenge, Democratic governors have been trusted leaders to get us through this pandemic, and now we're helping our states become even stronger than before.
And while there's no doubt these actions are making life better for millions of Americans, we understand many are still hurting and it's important to address that head on. That's why we're continuing to use the American Rescue Plan funding to support families as we emerge from the pandemic.
Whether it's investing in child care and improving public education, or cutting costs and increasing public safety, Democratic governors are using funding from the American Rescue Plan to do what they do best—make a positive difference in the lives of the American people.
Roy Cooper is serving his second term as governor of North Carolina. He is currently chair of the Democratic Governors Association. Governor Cooper previously served four terms as the attorney general of North Carolina.
The views expressed in this article are the writer's own.