Turning Point USA Slams Whoopi's Silence After 'The View' Issues Apology
The View issued a formal apology Wednesday to Turning Point USA (TPUSA) for an on-air discussion that linked the conservative organization with neo-Nazi protesters. Despite the public statement, Turning Point USA criticized co-host Whoopi Goldberg for remaining silent when the apology was read on-air.
On Monday, Joy Behar, one of the other co-hosts of the popular ABC News program, discussed a recent Turning Point USA summit that was held in Tampa, Florida. She said that "neo-Nazis" demonstrated outside the conference, making "antisemitic slurs" and wearing Nazi symbols. A disclaimer informed viewers that TPUSA condemned the protesters, but Goldberg said of the group, "You let them in and you knew what they were, so you are complicit." She later added that her "point was more metaphorical."
A cease-and-desist letter sent to The View from TPUSA said it was prepared to take legal action if ABC News did not retract the statements about the protesters and apologize.
On Wednesday, co-host Sara Haines read a statement on the air to address the controversy. "We want to make clear that these demonstrators were gathered outside the event and that they were not invited or endorsed by Turning Point USA," she said.
TPUSA's Twitter account wrote about the apology, noting that Goldberg did not take back her comments.
"Whoopi remained silent and has not retracted her comments that TPUSA 'metaphorically' embraced 'Nazis,'" TPUSA tweeted.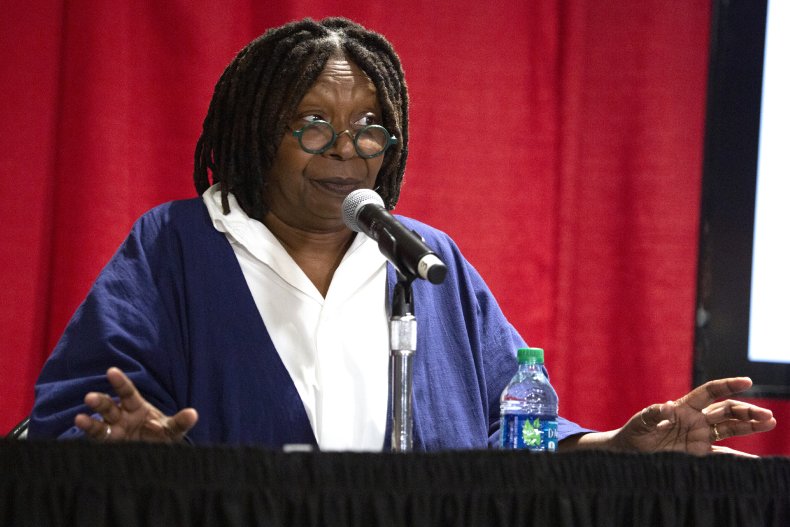 A follow-up message from TPUSA said, "In 2017, Whoopi said that a fake news story put her life in danger. This is the same person that has yet to apologize for smearing 5,000 students as Nazi sympathizers."
Charlie Kirk, a conservative activist and co-founder of TPUSA, also condemned Goldberg's silence.
"Notice how Whoopi stays curiously silent for once in her life..." Kirk wrote on Twitter.
Other well-known conservative figures have criticized The View in recent days for the Monday segment that discussed TPUSA. GOP Representative Matt Gaetz of Florida retweeted a clip that TPUSA had posted from The View. The congressman added the hashtag "#SueTheView" to his message.
Other messages on social media referenced Goldberg's suspension from The View earlier this year for saying the Holocaust was not about race but rather "two groups of white people." In that incident, ABC News said Goldberg would take a break from the show for two weeks to "take time to reflect and learn" from her comments.
Newsweek reached out to The View and TPUSA for comment.