Conservative Group Turning Point USA Can't Be Barred From Texas State Campus by Student Government, Dean Says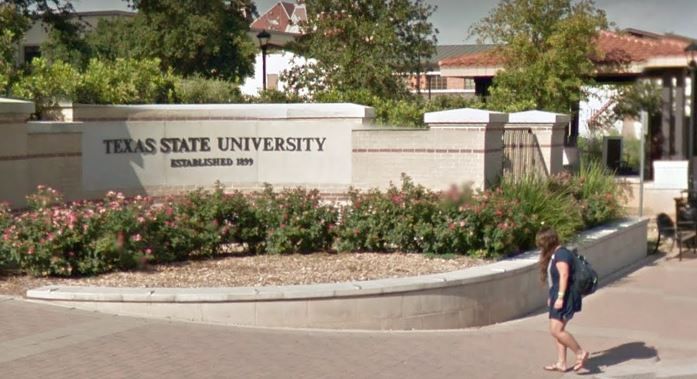 The student government at Texas State University voted to act on a resolution barring the conservative student organization Turning Point USA (TPUSA) from campus. However, it was a decision the dean of students said the student government didn't have the power to make.
On Monday, Dean of Students Margarita Arellano said in a statement that the student government had the right to act on the resolution that would remove TPUSA from campus. However, she added that Texas State University policy dictates student organizations can only be barred from campuses because of disciplinary sanctions.
Given that TPUSA is not under a disciplinary sanction, Arellano explained the organization would be allowed to remain on campus.
"Student Government does not have the authority to independently bar a recognized student organization.… Texas State supports the constitutional rights of all of our students, faculty, staff and visitors," the statement said.
Before the student government passed the resolution, Stormi Rodriguez, president of the Texas State University chapter of TPUSA, spoke during an open forum. While she was speaking, a critic shouted, "No more harassment, no more hate, remove Turning Point from Texas State." In response, a member of the student government asked an officer to remove whoever was chanting.
"This piece is a joke and it makes student government look like a joke. Last week I told you that I would make you an example and I have," Rodriguez said. "Let me tell you what this delegation has done. It has helped unite conservatives on campus and it has brought negative press to the university."
Rodriguez added that the resolution against Turning Point USA helped grow the organization due to increased attention, and claimed that Governor Greg Abbott and Texas Land Commissioner George P. Bush supported the chapter remaining on campus.
"Do you want this to be your legacy? A legacy of censoring your peers?" Rodriguez asked.
One student, who identified herself as "50 percent Hispanic and 50 percent white," said she's experienced both racism and white privilege. She explained that TPUSA was the group that taught her to embrace being both conservative and Mexican.
"The only harassment I've gotten from is from other people who want to ban us," she said.
Students also spoke in opposition to the group staying on campus, with one suggesting the organization was "built around hate." A freshman argued that people weren't trying to belittle conservatives, but said when it turns into "hate," "racism," and "fascism," they should "get the f*** off campus" because they aren't welcome.
Days before her speech on Monday, Rodriguez posted on Facebook that when she first heard about the legislation, she thought she was "going through this alone" and was "terrified." However, she thanked other conservative groups on campus for being supportive of her and helping her with every step of the process. Newsweek reached out to Rodriguez and the Texas State University student government but did not receive a response in time for publication.
On March 28, the Texas Senate passed Senate Bill 18, which would require Texas universities to allow students to engage in expressive activities on campus and establish disciplinary sanctions for students who interfere with the expressive activities of others on campus, including the speakers who students invite. The bill would also prevent campuses from denying approval for speakers based on anticipated controversy related to the event.
After Charlie Kirk, the founder of TPUSA, posted on Twitter about the Texas university's attempt to ban the organization, Governor Greg Abbott pointed to the bill and said he was looking forward to signing it. The bill is currently being considered by the House of Representatives' Higher Education Committee.