Representative Tulsi Gabbard of Hawaii called out and fact-checked Representative Tim Ryan of Ohio during the first Democratic presidential debate on Wednesday evening, after her congressional colleague and fellow 2020 contender inaccurately claimed the Taliban flew planes into American buildings.
The confrontation between the two presidential candidates came as Ryan suggested the U.S. needs to be "completely engaged," referencing Afghanistan and Iran. Gabbard, who is a combat veteran of the Iraq War, cut in, arguing that the U.S. should withdraw its forces from Afghanistan and finally bring the country's longest war to a close. After a brief back and forth, Gabbard pointed out that "the Taliban was there long before we came in. They'll be there long before we leave."
"We cannot keep U.S. troops deployed to Afghanistan thinking that we're going to somehow squash this Taliban that has been there, that every other country that has tried has failed," she said.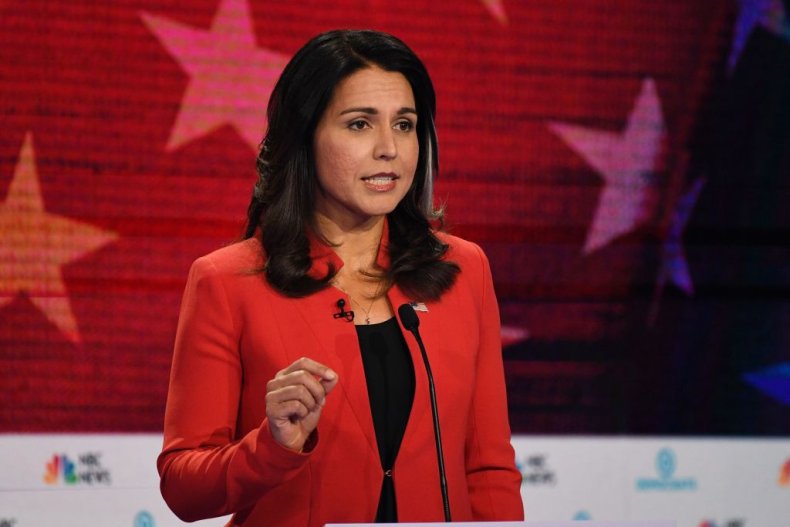 Ryan attempted to respond: "I'm not saying squash them. When we weren't in there, they started flying planes into our buildings. So I'm just saying right now, we have to–"
Gabbard then corrected Ryan, pointing out that the Taliban had not carried out the infamous 2001 terrorist attacks. "The Taliban didn't attack us on 9/11. Al Qaeda did," she asserted.
Stumbling, Ryan tried to continue, saying: "Well, I understand that," but Gabbard went on.
"Al Qaeda attacked us on 9/11. That's why I and so many other people joined the military, to go after Al Qaeda. Not the Taliban," she explained.
As Gabbard pointed out, Al Qaeda, which was led by Saudi Arabian national Osama bin Laden, carried out the 9/11 terrorist attacks, which left thousands of Americans dead. None of the hijackers were Afghani or associated with the Taliban. The administration of former President George W. Bush decided to invade Afghanistan, believing the Taliban was harboring Bin Laden and other Al Qaeda members. Bin Laden was eventually killed by U.S. forces at a residence in Pakistan in 2011, under the administration of former President Barack Obama.
Afghanistan has become the longest war ever waged by the U.S. It began in October of 2001, meaning the U.S. has been engaged in the conflict for nearly two decades. According to a January 2018 report by the Special Inspector General for Afghanistan Reconstruction, the Taliban still controlled more than 14 percent of the country. An additional 29.2 percent of the country remained contested, as the Taliban's gains and losses have fluctuated significantly over the long course of the conflict. Only 56.5 percent of Afghan's districts were under the full control of the U.S. backed government.
The ongoing war has cost the U.S. nearly $1 trillion and more than 2,300 U.S. soldiers and over 1,700 civilian contractors have been killed in the conflict. More than 20,000 soldiers have been wounded as well.
As a veteran and a congresswoman, Gabbard has been a vocal critic of America's "forever wars." During the Wednesday debate, she also issued a stern warning against starting a military confrontation with Iran, as some in Washington have been urging.
"War with Iran would be worse than war with Iraq," the representative said on the debate stage. "Donald Trump and his chickenhawk cabinet — Mike Pompeo, John Bolton, and others — are creating a situation where a spark would light a war with Iran. Trump needs to get back into the Iran deal, swallow his pride and put America first."