Gluten-free TV chef Carol Kicinski has been hit with criminal charges for allegedly breaching the U.S. Capitol building during the January 6 insurrection.
Kicinski, known as America's first gluten-free-only TV chef, allegedly breached the Capitol building, according to a newly unsealed criminal complaint. The FBI says more than 725 people have been arrested in nearly all 50 states, in cases linked to the attack on the Capitol.
FBI Task Force Officer Shawn Walsh says he discovered GPS data from a mobile device that was present the day of the riot. The device tracked Kicinski's movement and is believed to have been near the first-floor northwest doors to the Capitol building at approximately 2:19 p.m. local time on January 6.
Walsh said he used video footage from inside the building to identify Kicinski. He described her as "a white female with dark hair who was wearing a grey colored jacket, blue jeans, red shirt and wearing a blue 'TRUMP' hat with red writing on it."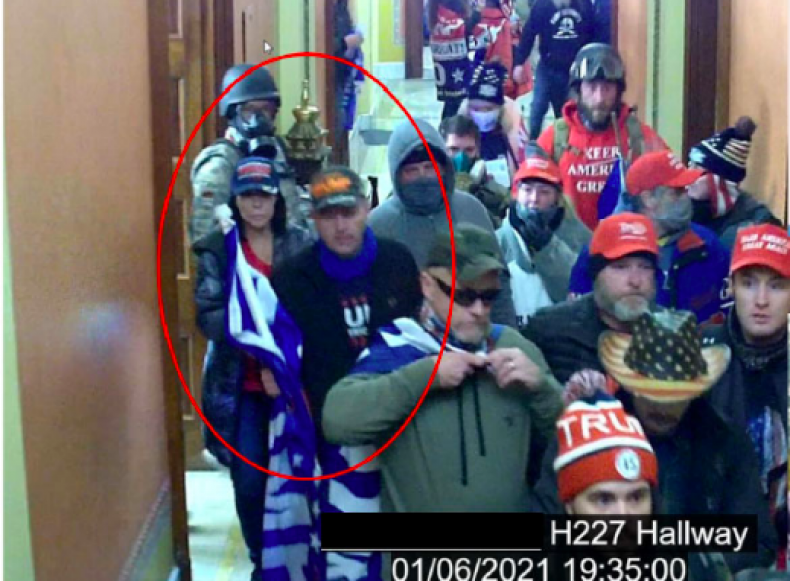 The video footage appears to show that Kicinski and a man, identified as Jon Heneghan, left the Capitol by 2:51 p.m., as they were spotted near a taxi stand at that time.
Walsh concluded there is probable cause to believe that Kicinski did "knowingly enter or remain in any restricted building or grounds without lawful authority to do" and "knowingly, and with intent to impede or disrupt the orderly conduct of Government business or official functions, engage in disorderly or disruptive conduct in, or within such proximity to, any restricted building or grounds when, or so that, such conduct, in fact, impedes or disrupts the orderly conduct of Government business or official functions."
Walsh claims Kicinski uttered "loud, threatening, or abusive language, or engage in disorderly or disruptive conduct, at any place in the Grounds or in any of the Capitol Buildings with the intent to impede, disrupt, or disturb the orderly conduct of a session of Congress or either House of Congress."
Kicinski has made appearances on Tampa, Florida, TV show Daytime through NBC affiliate WFLA since July 2009. Her gluten-free recipes are targeted toward people with celiac disease or an intolerance to gluten, dairy, peanut, grain or other allergenic elements. She is also the founder and editor-in-chief of Simply Gluten Free magazine.
The FBI says over 160 people have pleaded guilty to federal charges, including 22 felony offenses, for their part in the Jan. 6 riots. The FBI investigation is ongoing and is still seeking other suspects.
Newsweek has reached out to Kicinski for comment.