TV Reporter Hounded by Anti-Lockdown Protesters in New York Chanting 'Fake News Is Not Essential' in Viral Video
Kevin Vesey, a reporter with News 12 Long Island, was surrounded by anti-lockdown protesters during a reopening rally in Commack yesterday. The protesters chanted "fake news is not essential" at him and flouted social distancing guidelines.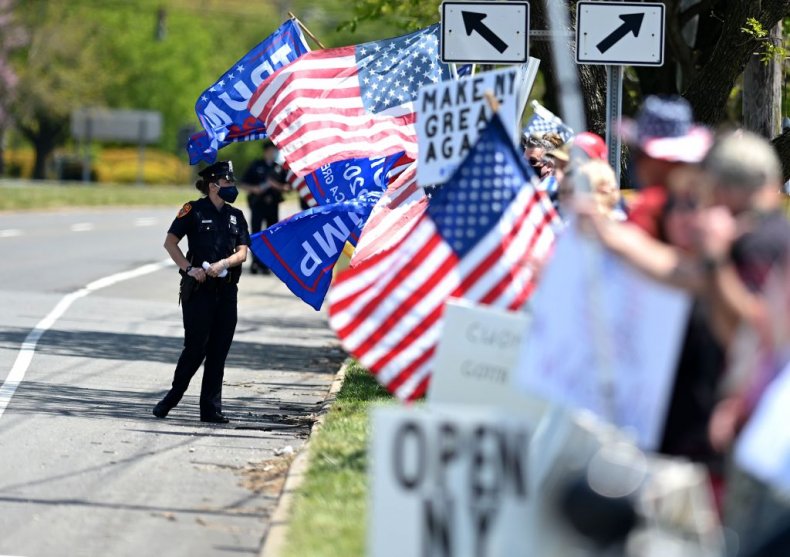 This marks the second reopening rally in the last two weeks to have taken place in Suffolk County, New York, on Jericho Turnpike. Yesterday, hundreds of people turned out for the event, organized by a pro-Trump group named the Setauket Patriots. The demonstration claimed to give a voice to those who are struggling financially under New York's lockdown measures, in place due to the coronavirus pandemic. However, Vesey's presence at the event was not welcomed.
"Why are you essential?" shouted one protester through a megaphone at Vesey before the reporter turned the camera on himself and said: "There's clearly a lot of anger here today". Vesey is wearing what appears to be a surgical face mask in one video and quickly becomes uncomfortable as protestors approach him.
"Can you please stay away from me sir," said Vesey to another protestor. Police were present at the event and according to Vesey spoke to protesters about social distancing.
"You let so much crap go on your Facebook page, you are disgusting," said one woman to Vesey as a child ran past. "You're the virus," she continued. "You like to paint us as if we are a danger being outside," she shouted through her megaphone.
The footage was captured by Vesey and later posted on social media. On Twitter alone, one video gained 2.6 million views at the time of writing.
"You have people calling us murderers," shouts one protester in the footage.
"You are the enemy of the people," shouts another in the background.
"Nobody ever painted you as murderers," Vesey responds.
"F**k you, you guys are f**king fake news," said another protester.
"I'll probably never forget what happened today," wrote Vesey on his Twitter account later in the day. "I was insulted. I was berated. I was practically chased by people who refused to wear masks in the middle of a pandemic. All the while, I was there to tell THEIR story."
The Setauket Patriots apologized for the behavior of those at the protest captured on these videos and maintain that these individuals do not represent the group. The group issued a statement on their Facebook page yesterday: "Kevin, The Setauket Patriots group, would like to apologize on how you were treated. We can tell you that the few who decided to Harass you and try to prevent you from doing your job are not members or affialiated with the Setauket patriots group in any way, shape or form. We were looking foward to you giving us fair coverage with what you documented when we first arrived. But as with all mass rally events you will always get a few idiots to disrupt an otherwise peaceful, pleasent demonstration and they should have been removed by Police."
Vesey managed to conduct a formal interview when he first arrived at the demonstration. "Businesses need to re-open," said one protester calmly while speaking to Vesey. "Who is King Cuomo to tell business owners that he can't be open or that you have to wear a mask when you walk into his store?" they said, referring to the social distancing measures put in place by New York Governor Andrew Cuomo.
Cuomo yesterday announced that five of New York's regions could begin to work again from today (15 March). Sectors that could reopen include manufacturing, construction, and curbside retail outlets. Areas to be slowly reopened include Central New York, Finger Lakes, Mohawk Valley, Southern Tier and North Country.
New York became the epicenter of the coronavirus pandemic in March. A series of anti-lockdown demonstrations, usually arranged by right-wing and pro-Trump groups, have since taken place around the U.S with protesters urging the authorities to let them go back to work. Anti-lockdown rallies have taken place in states including California and Wisconsin.
Newsweek has contacted Kevin Vesey and the Setauket Patriots for further comment.