TV Studios Delay Shooting Due to Spike In Los Angeles COVID Rates
Fans should expect a longer wait for new episodes of their favorite television shows after Hollywood delayed filming a host of popular shows this week due to the COVID-19 pandemic.
Decisions to pause filming on the shows came a week after the Los Angeles County Department of Public Health (LACDPH) sent an email to industry contacts asking studios to halt filming to help limit the spread of the virus, according to FilmLA. The virus has continued to rage out of control in California, with Los Angeles County recording a record number of deaths for a third day in a row on Thursday.
NBCUniversal studio shows including Brooklyn Nine-Nine, Good Girls, Mr. Mayor, Keenan, Never Have I Ever and Hacks have delayed their filming dates by at least a week amid the surge, according to a Thursday report from Deadline. Prior to the delay, the shows had been set to resume production beginning on January 4.
The outlet previously reported a similar delay for Warner Bros. Television productions B Positive, All American, Call Me Kat, Bob Hearts Abishola, Mom, Shameless and You. CBS Studios shows Seal Team, NCIS, NCIS: LA, Why Women Kill and Diary of a Future President are also delayed.
"Although music, TV and film productions are allowed to operate, we ask you to strongly consider pausing work for a few weeks during this catastrophic surge in COVID cases," LACDPH officials reportedly wrote in the email to the industry contacts on Christmas Eve. "Identify and delay higher risk activities, and focus on lower-risk work for now, if at all possible."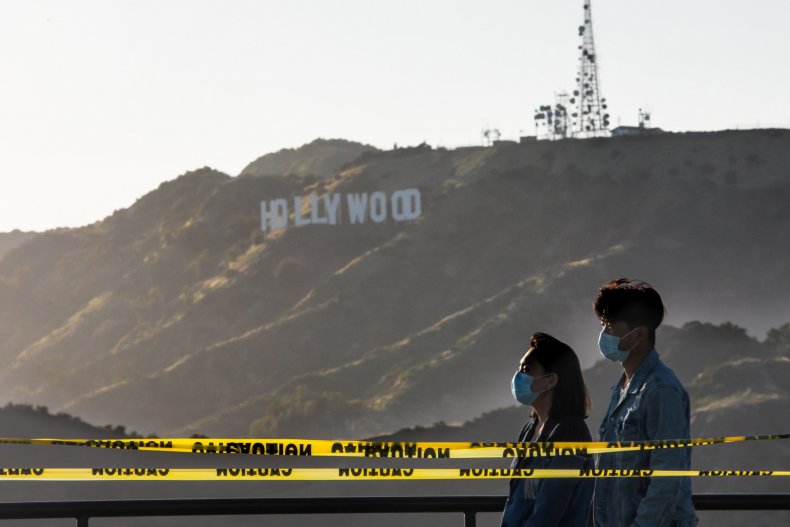 It is not clear what productions may still be filming in Southern California, nor is it clear if health officials plan to mandate that productions shut down if the surge continues or escalates. Many Hollywood productions are currently filming in locations outside California, including abroad.
Hollywood productions screeched to a halt in the early days of the pandemic but had slowly resumed by late summer, typically with the addition of several safety measures intended to limit the health risk to cast and crew. A significant number of shows had recently resumed filming in California or were planning on resuming soon, despite far more COVID-19 cases and deaths occurring recently than during the shutdown.
"Most entertainment productions will remain on hiatus until the second or third week of January if not later," Gabrielle Carteris, president of the Screen Actors Guild and American Federation of Television and Radio Artists, said in a statement on Tuesday. "We will continue to monitor this situation and its impact on production and employment in all contract areas and will take appropriate measures as needed to ensure the continued safety of our members and others."
LA County reported 15,129 new COVID-19 cases and 290 new deaths on Thursday. The virus has hit the area severely, with 770,602 total cases and 10,345 deaths in the county through the last day of 2020. The state of California has also suffered a massive toll, reporting 25,386 total deaths and 2,245,379 cases, with 428 deaths and 27,237 cases recorded on New Year's Eve.
Newsweek reached out to the LACDPH for comment.