TV's Best Halloween Episodes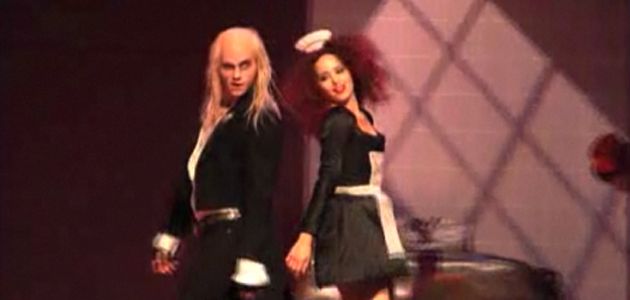 Photo: Glee does The Rocky Horror Picture Show
Halloween is one of those holidays, like Christmas, that are distinguished by their stellar television treatment. Seriously, the holiday brings out the genius in TV writers, who seem to be inspired to throw away reality and get up in the spooky and the kooky. The Simpsons Halloween episode is an annual ritual in my house, and for the occasion, the normally staid CSI splurges on the blood and guts. That's certainly why I'm looking forward to the Glee very special Halloween episode based on The Rocky Horror Picture Show. Halloween episodes have been exploited for entertainment (and ratings) purposes for years over at Roseanne, MASH, The Cosby Show and lots of other classics from TV Land. Here are a few of the best ones.
"Trick or Treat"
Original airing: Oct. 28, 1965
If you think the characters in Mad Men are manipulative, then you definitely need to check out this chestnut from the 1960s. Witch-turned-suburban housewife Samantha (played by Elizabeth Montgomery) is torn between her mother's desire that she attend a Halloween party for witches only and demands by her husband Darrin (Dick York) that she stay home. Of course, Endora, Samatha's mother (Agnes Moorehead), takes matters into her own hands and turns Darrin into a werewolf just for revenge. Trust me, hijinks ensue!
"Treehouse of Blood III: Clown Without Pity"
Oct. 29, 1992
In what is now trademark Simpsons nonsense, Homer forgets to get a gift for Bart's birthday, so he does what any dad would do—he rushes to the House of Evil for a cursed Krusty the Clown doll. Of course, the doll somehows gets a big knife and tries to kill Bart with it. Of course, it's Marge to the rescue. After seeing the doll trying to choke Homer, she realizes that it's behavior has been set to "evil." All's well that end's well.
"The Chick Chop Flick Shop"
Nov. 1, 2007
The forensic sleuths investigate a series of murders on the set of a pornographic slasher movie. Think CSI meets Boogie Nights with allusions to Psycho, with Rob Zombie and Roman Polanski thrown in for fun. Plus, there's one of the greatest lines in police procedural history: "Ah, Weatherly, how has she died for us, let me count the ways—bludgeoned, boiled, filleted ... defenestrated, decapitated, disemboweled, and, oh yeah, strangled with her own intestines. Autopsied while still alive, made to eat her own liver, fed slowly through a tree-chipper, roasted and served on a bed of Belgian endive."
"Halloween"
Oct. 27, 1994
To an angsty teenager like Angela Chase (played by Claire Danes), high school is so scary, almost every day is Halloween. In this episode, Angela travels back to 1963 to wander her ominous (and possibly haunted) school halls. It's eerie and completely weird, but every moment of this too short-lived TV series feels like it deserves a chance to be revisited.
"It's the Great Pumpkin, Charlie Brown"
Oct. 27, 1966
This is the animated classic that asks the eternal question: is the quest for true love worth missing out on in favor of trick or treating? That's the conundrum Sally finds herself in when her crush, Linus, asks her to spend Halloween night in a pumpkin patch waiting for the appearance of the Great Pumpkin instead of enjoying the festivities with her friends. It's also the source of one of the greatest bits of Peanuts dialogue ever: Says Linus, "You don't believe the story of the Great Pumpkin? I thought little girls always believed everything that was told to them. I thought little girls were innocent and trusting." To which Sally Brown responds: "Welcome to the 20th century!"
"Home"
Oct. 11, 1996
Let's just put it this way: if the banjo music from Deliverance creeps you out, then you will not be able to watch this X-Files episode. The plot is grim: Little Leaguers find the body of a dead newborn riddled with birth defects under home plate. Mulder (David Duchovny) and Scully (Gillian Anderson) are called in to investigate what appears to be murder at the hands of three inbred brothers. But I assure you, the plot only gets more twisted. I dare you to drag yourself away from the screen.
"Halloween"
Oct. 18, 2005
I bet you don't need me to tell you that the workplace can be strange, come Halloween. People who don't open their mouths the other 364 days suddenly come to work dressed like stewardesses. You find out the mail department really loves Goth. Your cubicle buddy gets drunk and throws up candy corn—it's actually worse than Christmas. With its very special Halloween episode, The Office manages to capture all the horror in 23 brilliantly hilarious minutes.