'Twas the Night Before Christmas' 2020 Poems and Parodies for a Truly Unique Year
"'Twas the night before Christmas, and all through the house, not a creature was stirring, not even a mouse," starts perhaps the one of the most well-known poems ever. Clement Clarke Moore's poem "A Visit From Saint Nicholas," more commonly known as "'Twas the Night Before Christmas" was originally published anonymously in 1823 in the Troy, New York newspaper The Sentinel. Fourteen years later, he took credit for the poem, which is considered the main source for our modern day perspective of Santa Claus, especially his physical attributes.
"A Visit from Saint Nicholas" has been satirically reimagined and updated many, many times throughout its history, and the turbulent 2020 is loaded with fodder—from the coronavirus pandemic to a contentious election—for enterprising parodists. From Jimmy Fallon to NPR, here are some of the funniest parodies for the timeless holiday poem.
Jen Fulwiler's "'Twas The Night Before Christmas"
"Not a creature was stirring, because they were in lockdown," Fulwiler quips at the start of her hilarious retelling. This version sets the scene with hand sanitizer at each chimney for Santa Claus, along with a Christmas celebration on Zoom (mentioning technical difficulties, of course).
"It's Christmas, my friends, so try to have fun," she concludes. "For in a few more days, 2020 is done!"
NPR's Night Before Christmas in 2020 Parody
The poem was rewritten and shared on NPR with a modern spin. Here, Santa Claus acknowledges the stressors many faced throughout 2020 from job loss and the coronavirus pandemic to the social justice movements. Santa says:
"Santa's whole workshop is now Work from Home
I call elves for IT help, they ask, 'Safari or Chrome?'
I tell them of toys, and they say, 'You're on mute!'
I've got grey sweatpants on 'neath the top of my suit."
(You're not alone there, Santa). The poem also thanks first responders, essential workers, and even gives Dr. Fauci a nod.
Jimmy Fallon's 2020 Night Before Christmas Parody
The comedian's monologue on Friday featured a 2020-themed retelling of the story, peppered with sound bytes, including President Trump downplaying the coronavirus ("it's like a miracle, it will disappear"), CNN journalist Steve Kornacki being dubbed "the sexiest man alive" and Giuliani speaking to reporters at Four Seasons Total Landscaping.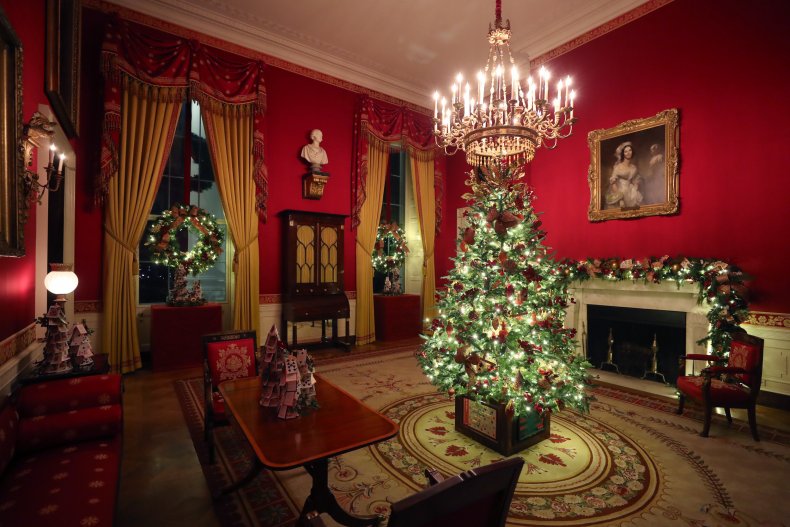 DC Press Corps' Night Before Christmas Parody
Just because there was no White House press room basement holiday party doesn't mean that there wouldn't be a special Christmas poem written about the past year. Longtime White House correspondent Greg Clugston wrote this year's parody of the poem. Published on the Austin American- Statesman, this poem mentioned the Black Lives Matter movement, Trump's October COVID-19 diagnosis and Dr. Fauci.
"Well, for the first time in more than two decades there was no holiday party in the WH press basement," Clugston said via Austin American Statesman. "Since 1998, you've allowed me to read my annual poem at the party, recapping the year's presidential and political headlines. COVID may have cancelled our party, but it didn't cancel the poem!"
"'Twas the night before Christmas and in the White House / One creature was stirring, but it wasn't a mouse," the poem began. "There in the Oval, at the desk, in his chair / Sat President Trump with a menacing glare."
The Chicago Tribune's Night Before Christmas Parody
The Chicago Tribune wrote their take on the famous poem, imagining a version read by Trump, with an emphasis on his denial of the 2020 presidential election results. The poem keeps up the rhyme scheme of "'Twas The Night Before Christmas," but is packed with Trump's typical asides and interruptions.
"'Twas the night before Christmas, and I won the election," the parody begins. "That's the truth, kids, I won the presidential election SO big. It was a landslide like nobody has ever seen. I won, not Sleepy Joe. He totally lost, everyone knows it."
The "president" then loses interest, and skips ahead.
"OK, I'm skipping some dull stuff. You know what this poem needs is a little more me. They should rewrite it to include Trump. I'm way more interesting than this 'eight tiny reindeer' and 'lustre of midday' crap. What's lustre, anyway?" (Fair question—it means a soft glow.)
As Santa said best: "Happy Christmas to all, and to all a good night!"