Tweet Accuses Disney of 'Pure Greed' Thanks to Movie Screening Rules
Disney pushes back hard against movie cinema employees watching their films for free, one employee alleged at an unspecified theater in a tweet that has gone viral.
Margaret "Molly" Raspberry, who goes by the handle @RaspberryRazz, tweeted Thursday that the media conglomerate has cracked down on free viewership.
"One of the perks of working at the cinema are free movies except for Disney, which it threatens to remove its movies from the theater if an employee sees one of their films during opening month for free," she tweeted. "We had to wait a month or buy a ticket to see a Disney film. Pure greed."
Additional tweets said the reasoning behind the decision revolved around spoilers, "including their remakes."
She said that when Captain America: Civil War came out in 2016, one of her theater's ushers allegedly nearly landed in hot water when they received a free ticket.
"We didn't realize that was 'the no free tickets to a Disney film for a month' at first," she said. "Disney apparently sent us a warning. They are petty as hell."
"My brother was a manager at a theater when I was in high school," another commenter said. "He had to watch the new movies the night before release to ensure the film was ready, and could let one person in with to help him. Guess who got to see a ton of movies at a private pre release (Even Disney)?"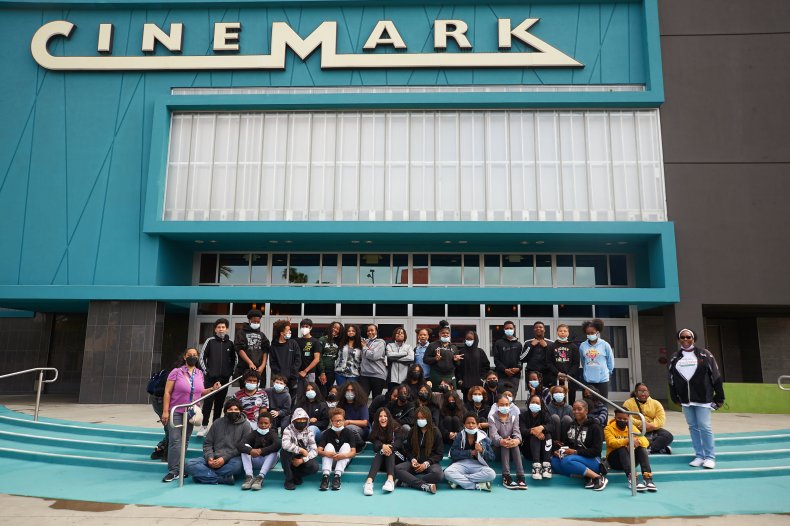 One Twitter user said he worked at a theater before the pandemic. He and his co-workers got to watch Star Wars: Episode IX - The Rise of Skywalker one night before release, but everyone in attendance had to sign a nondisclosure agreement beforehand.
In an email to Newsweek, a Disney spokesperson called the contents of the tweet "not accurate."
"On background, I can tell you that is not accurate and that theaters set their own pricing and employee policies," the spokesperson said.
The original tweet wasn't met with complete sympathy.
"Disney spends tens of millions to make a film and you're complaining you don't get to see it for free while calling THEM greedy at the same time?" one user said. "Hell of a tweet."
When one user asked why it was only pure green on behalf of Disney and not the employees who get to watch movies for free, another user said "the employees are the only reason the cinema can operate."
Industry researcher IBISWorld said that as of 2022, there were 93,874 people employed in the movie theater industry in the United States. That reflects an approximate 8 1/2 percent decrease in theater employees when compared to 2017.
Statista reported that Cinemark, one of the biggest theater chains in the country, employed 16,000 workers in 2021–a decrease from about 22,000 employees in 2019. It is described as a 27 percent decline in a two-year period.
The movie theater industry as a whole is struggling as well. A Gallup poll from January of this year stated that adults nationwide saw an average of 1.4 movies in a theater in the past year, while 61 percent of Americans overall didn't step into a theater at all the past year.
Gallup acknowledged the impact of the pandemic on the industry and theater-goers alike, and it remains unclear how many people–even those that are vaccinated–want to risk sitting in close quarters among others who may not be vaccinated. It is also undetermined if watching movies in theaters became a declining trend before COVID existed.
There have been similar allegations against Disney regarding the tweet against Disney and its practices, including one Reddit thread published at the same time as the release of Star Wars: The Force Awakens alleging that theater employees were also barred from seeing that flick in advance.
Disney has faced other ridicule lately, namely from Florida Governor Ron DeSantis regarding the "Don't Say Gay" law. However, it hasn't worked entirely in his favor as many voters have found his reactions as overboard. Republican senators in Congress have honed in on Disney content, however, calling it "radical."
"If this ends up actually making these corporations change their policy to allowing theater employees, who work these miserable shifts for these films and moviegoers, to see these Disney films for free like every other film, I'll feel like we did something right," Margaret tweeted.
Newsweek reached out to Margaret, Cinemark, Regal and AMC Theatres for comment.