The Twilight Zone: Burmese Teens Buck Authority to Party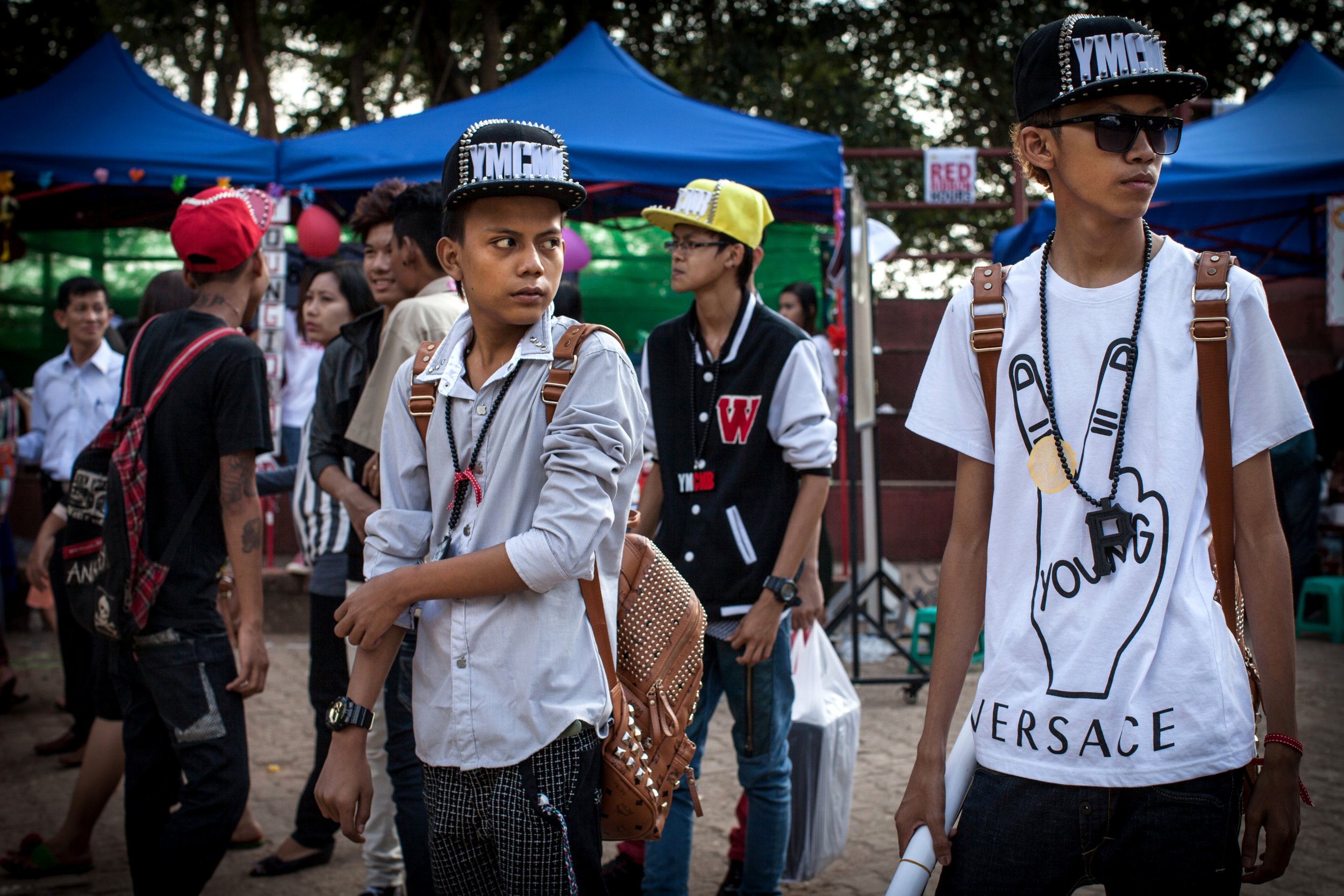 Htoo Aein Lwin stood with half a dozen other teenage boys outside the Black and White coffee bar in Yangon waiting to party.
It was only 5 p.m., not even dinner time for most Burmese, but the party was scheduled to start at six so Lwin and his buddies loitered, backpacks slung over their shoulders, flip-flops on their feet and "$" sign chains dangling from their necks.
In Myanmar's commercial capital, teenage boys sport "Bieber bobs" and girls liberally line eyes. But in this overwhelmingly Buddhist country most of them are home with their parents not long after dark.
That is because, like the quasi-civilian government that replaced the military dictatorship two years ago, Burmese parents are strict disciplinarians. Partying at night, especially for girls, is frowned upon.
"Young people in Myanmar can't go outside at night because of parents," said Arkar San, 19, who uses her Facebook name, Yuki, when talking about parties.
Partying teens and club promoters often use nicknames to sound more hip — and to maintain anonymity from family, society and government forces. Until recently, young Burmese evaded their parent's policing by attending day parties: dancing, drinking, flirting and heading home long before their Western peers head out to party.
The legal drinking age is 18, but the parties have no age restrictions. Then the government entered the picture and it became clear Burmese youth can trick their parents, but not Big Brother.
San began attending day parties, costing around $5 a throw, two years ago. She never told her parents. She didn't have to. The parties were held during the time she was normally at university studying English.
When the government banned day parties in August in response to what it claimed were public complaints, organizers pushed them back to 6 p.m. Not quite during the day anymore, but still early enough for the young to grab a drink and a dance and, like Cinderella, be home well before midnight. (A government spokesperson confirmed day parties had been banned, but would not elaborate on why.)
The evening parties follow the same structure as the day parties and remain cheaper and easier to attend than bars and nightclubs, said "John", manager of Yangon's Gossip Bar. "Our parents have a procedure. After 9 p.m. they don't want you to go out," he said.
Lwin, who is 17 and has highlighted his Bieber bob in red, sometimes stays out an hour or two later. He tells his parents where he is, but not all his friends are as forthcoming, "because in Myanmar parents think it's bad manners to go to parties." Lwin's parents tolerate the parties, which are advertised via Facebook and flyers, but would never allow him to attend a nightclub or bar.
Outside the Black and White coffee bar, "Little Mario," "misfits" scribbled across his t-shirt, was introduced as one of the party's organizers. Other promoters went by names like "Kelvin Crayon" and "Demi Light." Teens as young as 15 continued to gather until around 6 p.m., when word spread that the party had been canceled.
John said the government shut down the party because of the Southeast Asian Games, being held this month in Myanmar for the first time in over 40 years. Image is everything here. And images of drunk and rowdy teenagers are not what Myanmar's government wants to project, said Jack, former manager of the Black & White club. "Myanmar is a very complicated country," he said.
Rick Hein, part owner of Flamingo Bar, had to cancel 20 parties because of the Games before figuring out a way around the restriction. Now he holds private, invitation-only parties. Lwin kept it simple and headed home to play video games.