I was a student in London in 2001, and in September that year I traveled to New York on vacation. I had found a website where you could indicate how much you wanted to pay for your hotel per night and how many stars you wanted the hotel to have. That's how my friend Adrian and I ended up staying in the Millennium Hilton New York Downtown in the financial district. There's no way, as 19 year old student, I would have been able to afford that otherwise.
The hotel was across the street from the World Trade Center and I remember we had walked past the towers on the evening of September 10 and decided we wanted to look inside. We were actually planning to go up inside the towers on September 11. It wouldn't have been before 9am, but we were supposed to be inside the World Trade Center that day.
On the morning of September 11, Adrian and I were both asleep and got woken up at 8.46am by the shock wave from the first plane flying into the north tower. It shook the bed and there was a bit of a bang, but because the window glass was thick we didn't hear much. I thought that maybe a car had driven into the bottom of the hotel, and we went back to sleep.
Then, five minutes later, an announcement came over the hotel tannoy saying that a plane had flown into the World Trade Center and that we should all stay in our rooms because there was falling debris.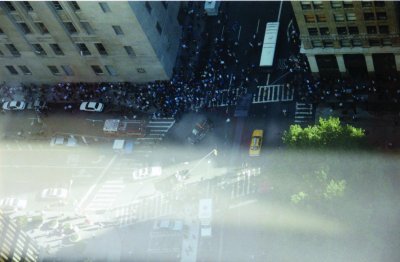 My first assumption was that a huge mistake had occurred. But when I opened the curtains of the hotel room, I saw all the people who had been evacuated from the World Trade Center and nearby subway. And just so many emergency vehicles. We put the television on and, bizarrely, watched the second plane fly into the south tower as it happened across the street from us. We felt the same shaking that had woken us up and realized what that had been. After that, we were told that we had to leave the hotel. I left everything: my passport, travelers checks, clothes and cell phone.
I think I was still applying normal logic to an abnormal situation, because when I saw the fire trucks I assumed they would put out the fire and then we would go back to the hotel and everything would continue as normal. Of course, that didn't happen.
We were ushered up the street into the general mayhem and for the first time in my life, I saw blood on the road along with shoes and someone's glasses. It was alarming. Thank God the area we were evacuated to, one block away, was on higher ground, because we began to see people jumping out of the towers, but we never saw them land. It was absolutely horrifying. I remember that I kept thinking, "why don't these people have emergency parachutes? Why is jumping the only option available?"
We were surrounded by other people who had been evacuated from their buildings and we all just stood there staring in disbelief. There was devastation but with clear blue sky as a backdrop. Between the twin towers were all these bits of metal or paper that were catching light, it looked like phosphorescence.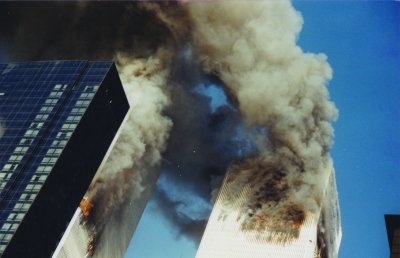 We stood there for about 15 minutes and then I felt an intuition that we had only run one block away and perhaps that wasn't far enough, so Adrian and I ran another four or five blocks away and ended up somewhere on West Broadway.
When there's a crisis, barriers between people dissolve. Everyone on the street was talking to each other. I spoke to a woman who was distraught because her husband worked in the twin towers and she had just dropped her son at school close by. She couldn't go to get either of them. I just hugged her. It was all you could do.
I remember watching the smoke and the fire on all sides of the towers and it dawned on me that the top of the towers could fall, and fall anywhere. I remember telling Adrian that we should go. As I said that, the South Tower fell. The sound of a 110 storey tower falling is inexplicably loud. It was deafening.
We ran up West Broadway with a stampede of people, because buildings full of people were running out onto the street. We ran like a herd together. It was this mass exodus. I turned around once and the wall of dust was coming towards us like something out of a movie.
We ran for blocks and blocks. Nobody was screaming apart from one woman. Everyone was just running.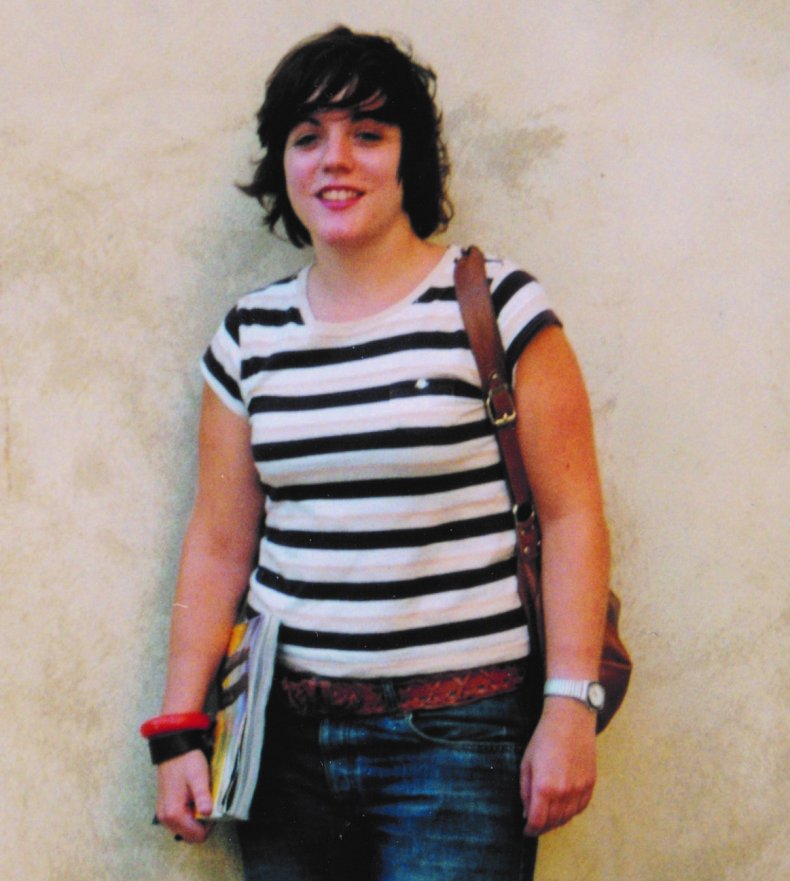 But as we ran towards midtown, it became strange. Everyone had been evacuated from their buildings but people didn't know what was happening. I could hear wild speculation in the conversations around us. We found the British Consulate on our map and walked there, where I was able to call my Dad. That was when it hit me and I burst into tears.
We were stuck in New York for 10 days, because flights were grounded. I had to get a new passport and buy clothes because I didn't have any. But everyone was so kind. A woman gave us a discount on our clothes and suddenly everyone in the city was talking to each other. The antidote to terror is that kindness.
When I was back in London I remember seeing reports on the news that terrorists were going to hit London next and I completely lost it for a couple of weeks. I thought that I could survive one terrorist attack, but not two.
There were rumours about anthrax being put into the water supply. I remember filling up all the water bottles and any bottles I could find in my house with water, in case that happened. One day my body temperature dropped and I couldn't stop shaking. It just seemed that the world was so different to what I had thought it was.
I still jump quite a bit when I hear a bang, and I'm not a fan of fireworks anymore. Even now, with situations like the pandemic, I want to prepare for the worst case scenario. There is a lingering feeling of being told to evacuate from that hotel on September 11 and doing it all wrong. The hotel actually survived the attack and I went back a year later to collect my belongings. I still have my room key.
I look back at my 19 year old self and I think one of the reasons I wasn't more scared was because at that age, you think you're invincible. After September 11, I became much more aware of the whole world.
Several years ago, I saw a play called Come From Away in Toronto, it's about how Canada opened up an airstrip after 9/11 for all the planes that couldn't land in the U.S. I was on my own and I just cried my eyes out. It reflected the tragedy, and also the kindness, that day.
Katherine Hardy is a singer and the pictures editor for The Art Newspaper and an illustrator for the Royal Academy of Arts. You can follow her on Twitter @kardyology.
All views expressed in this article are the author's own.
As told to Jenny Haward.