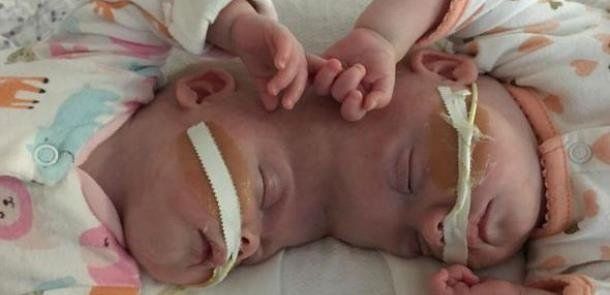 Update | Just in time for Thanksgiving, a set of twins born attached at the head are headed home from the hospital after over a year, ABC News reported today.
One of the twins, Abby Delaney, had previously been cleared to be discharged. But her sister, Erin, required additional monitoring. The girls had been separated in June during an 11-hour surgery at the Children's Hospital of Philadelphia. Thirty doctors participated in that surgery.
Survival rates for conjoined twins are quite low. About half are stillborn, according to the University of Maryland Medical Center's website, and many don't survive more than a day. Twins born attached at the head, called craniopagus twins, only make up about 2 percent of all conjoined twins, which makes them one of the rarest subtypes. Estimates of how often twins are born conjoined can range, but one puts the frequency between one of every 50,000 births and one of every 100,000 births.
Despite the odds, Erin and Abby have made it home—and they are not even the only set of craniopagus twins to go home after separation surgery this year. CNN reported in September that Jadon and Anias McDonald, another set of twins born conjoined at the head, left a rehabilitation facility after about a year in recovery. Those children's surgery, done in 2016 at Montefiore Medical Center in New York City, took 27 hours.
Both sets of twins are expected to need more surgery in the future as they grow.
Conjoined twins are born because of a hiccup that happens very early in an embryo's development, according to the Mayo Clinic's website. Instead of remaining in one clump, cells that make up an embryo will partially split about two weeks after conception. (Another theory is that separate embryos may somehow join together.) Exactly where the embryo splits off—and where it remains attached—determines what parts of the body conjoined twins will share. Besides being conjoined at the head, twins have been born attached at the hip, the chest or the spine.
Surgeries like the ones that the Delaney and McDonald twins went through were pioneered in part by Dr. Ben Carson, a neurosurgeon by training. Carson was also a candidate for the Republican nomination for president in 2016 and is the current head of the U.S. Department of Housing and Urban Development under President Trump. Carson separated two conjoined German twins in 1987, The Washington Post reported. An account of the surgery was also published in Carson's book, Gifted Hands.
Correction: An earlier version of this story carried a headline stating the twins left a year after surgery. The surgery was five months ago; their hospital stay began a year ago. The headline has been updated to correct this error.